Since 2013, the Dementia Singapore has been offering a series of community-based arts programmes with the support from the National Arts Council (NAC).
These programmes, also known as the Arts & Dementia programme, involve persons with dementia from Dementia Singapore's New Horizon Centres (NHC) and the Family of Wisdom (FOW) Centres. The programme aims to provide a safe public space for inspiration and meaningful engagement to persons living with dementia and their care partners. Between April 2018 and March 2019, the programme has expanded to encompass "Let's Explore Peranakan Museum: Museum Tours", "A Walk-Through Kampong Gelam", "Take A Photo with Me", and "Mould Your Dream Pottery".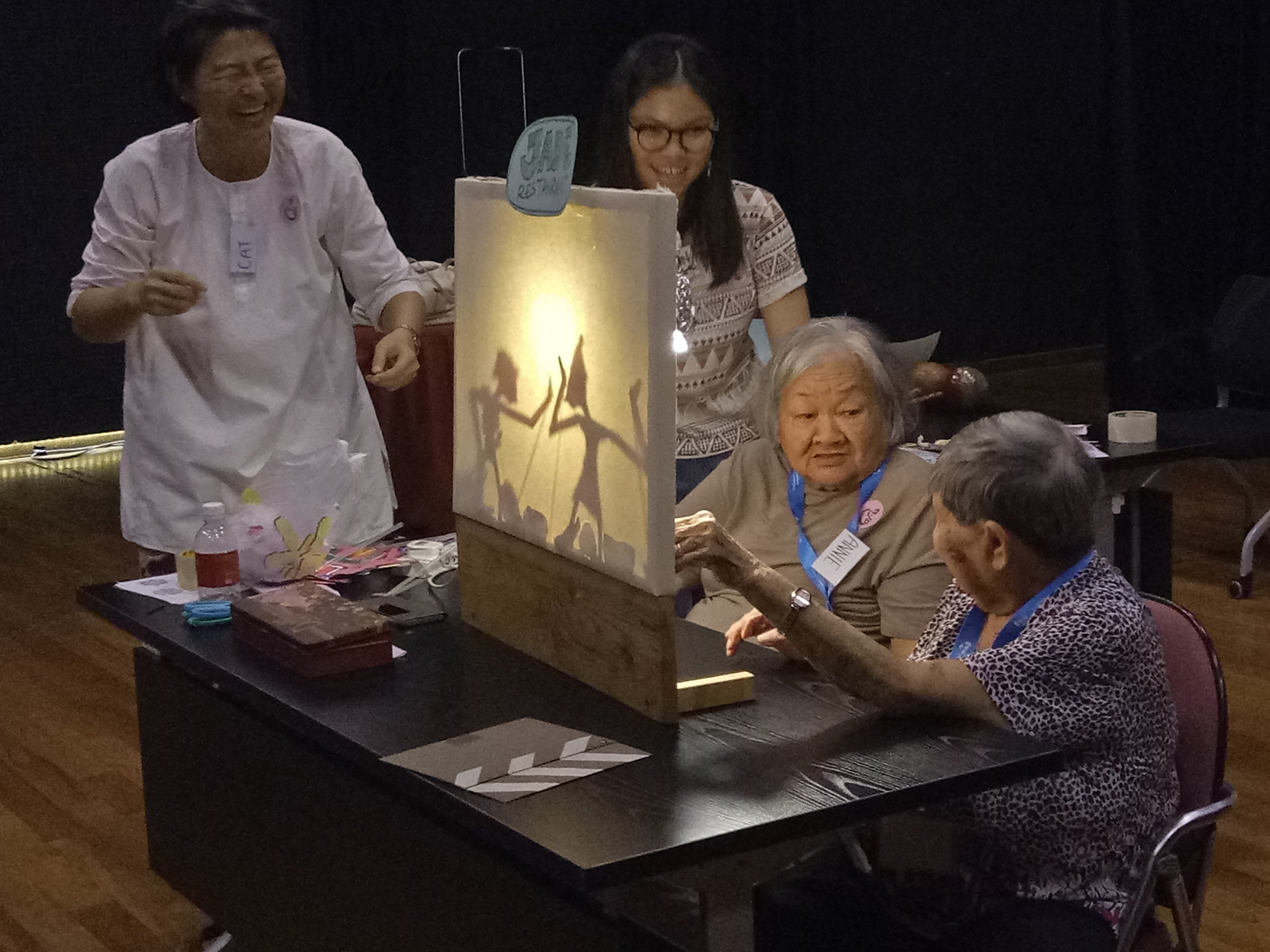 A Walk Through Kampong Gelam – "Wayang Kulit"
The programme aims to use arts as a non-pharmacological approach to dementia care. It offers a platform for persons with dementia to connect with their past through reminiscence. This maintains their sense of self while increasing their creativity and self-esteem by gaining new skills.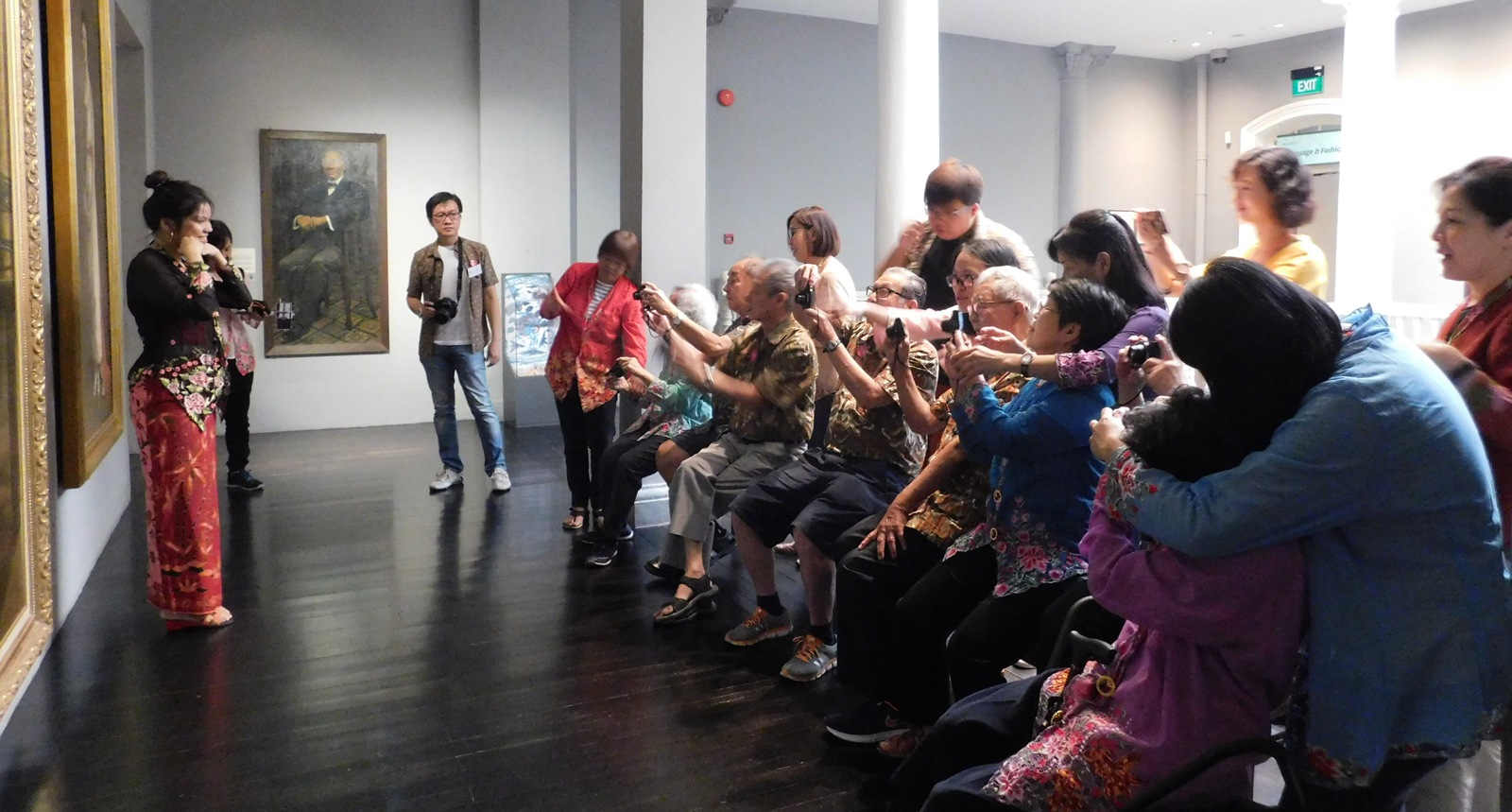 Photography Tour: Dementia Singapore clients taking photos at The Peranakan Museum. The photos that they captured were exhibited at the Amek Gambar exhibition in 2018.
For instance, persons with dementia attending "Take A Photo with Me" were brought to The Peranakan Museum (TPM) to explore the cultural traditions and distinctive visual arts of the Peranakan community. The collections reflect rich cultural connections and thus, have potential to evoke strong emotional memories which provide a stimulating and educational experience. With a camera and freshly-acquired photography skills, the persons with dementia immersed themselves in Peranakan culture, where they exercised self-expression and creativity through photo-taking.
Persons with dementia also participated in a photoshoot wearing Peranakan outfits. This was an empowering moment for the clients, as the thoughtful and respectful gesture of the photographer reinforced their sense of self-worth, and the photographs were later given to them as a keepsake. The photographs taken by clients were also later showcased at the TPM's Amek Gambar social campaign space between September to October 2018, which was in conjunction with World Alzheimer's Month.
Persons with dementia who participated the programme were invited to the exhibition. Seeing the portraits of themselves wearing the Peranakan outfits encouraged them to exchange their personal stories, thoughts and feelings through interactive storytelling and reminiscence.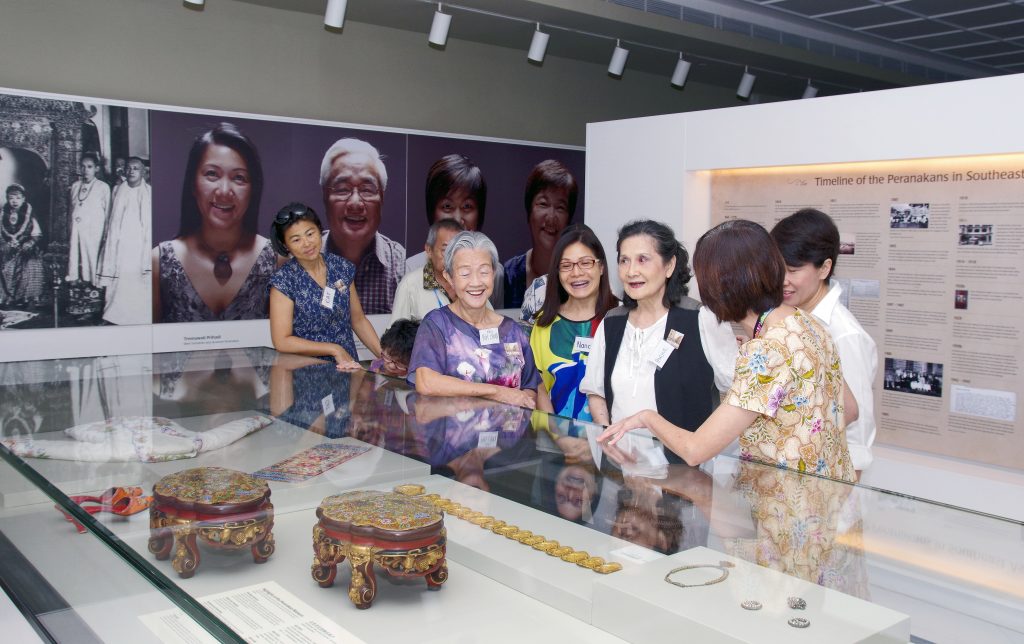 Peranakan Museum Tour – a guided tour with experienced docent
In 2019, Dementia Singapore started a new partnership with the National Museum of Singapore (NMS). Besides visits to the galleries at NMS, persons with dementia were also involved in art-making sessions which provided multisensorial stimulation and creative engagement. These art pieces were later showcased at NMS.
Family for Life 2018 event at NMS: Families and friends attended a workshop and also spent time appreciating the art pieces done by Dementia Singapore clients.
One such event was NMS's Family for Life event in September 2018. During the event, an art workshop was held together with a showcase for members of the public to participate in. In a separate event which will be held in April 2019, the art pieces from a Recycled Crafts project with FOW clients will be showcased during the Food Packaging exhibition at NMS. In March 2019, two training workshops for new facilitators from the NMS will be conducted. This training aims to equip NMS with a pool of trained facilitators to independently run arts-programmes for persons with dementia and their care partners. Dementia Singapore and NMS are also in the midst of working on a new gallery tour which builds upon the Quiet Thursday programme, and would be inclusive for persons with dementia.
Overall, the programme creates a safe environment which promotes meaningful experiences through interactive storytelling, reminiscence and creativity.
---
What's Next?
As an expansion to the Arts & Dementia programme,  'Journey with Arts & Dementia', or JADe, was launched in 2019 with the support from Chua Foundation. JADe is a capability-building arts programme which aims to train individuals to spearhead and lead in various reminiscence engagements for persons with cognitive impairment and dementia. Dementia Singapore remains committed to finding ways to involve and inform the community on the use of the arts and reminiscence engagement to benefit more persons with dementia and their families.
Find out more about JADe here. 
---
Research Report on "Impact of the Arts & Dementia Programme"
On 3 December 2019, Dementia Singapore released a report on this programme. Its findings emphasised that implementing non-pharmacological arts-based programmes for those with dementia have proven positive outcomes, along with a progressive shift of societal attitudes towards dementia.
Download the following resources:
---
Feedback on the Programme
From our Clients
"I helped my dad at the provision shop. I know how to speak Malay as well and I have lots of Malay friends at the kampong." – Mr Lim
"You can always ask me to join the group if you still continue with the sessions. I like to do anything with Arts & Craft." – Madam Chan
From our Employees
"I see that they are very engaged when it involved memories that are significant or joyous. They seemed satisfied and proud of their work when they received praises." – Elaine Lum
"They have a chance to experience culture and recall their memories during the outings. Overall, I feel that our clients enjoyed themselves as they are "playing" & "telling" together during the sessions. For some clients, the change was obvious as they were very quiet in the first two sessions but opened up in subsequent sessions when they felt more familiar." – Adele Wong
From our Caregivers
"This is a new experience which I can come with my husband to the Malay Heritage Centre." – Mr Gan's wife
"Everyone involved in the photography tour has done a good job in guiding the clients, patiently and cheerfully interacting with them." – Mdm Ng's daughter
From our Volunteers
"It's a programme that let clients unleash their creativity. It's encouraging to see them so focused in their tasks." – Shirley Koh
"One to one volunteer pairing helped increase sustained engagement with the client. The group interactions increased a positive and fun atmosphere with each other. As they got to know each other, there was joy, empathy and a sense of belonging. My client loved the recap photos and videos and recalled previous activities." – Josephine Lum
From our Artists
"It has been a personal growth for me. Dementia is a malfunction of the brain that causes one to forget. But through the five years, it taught me that some things are also best to forget." – Stanley Koh