FOW is a care model in Singapore which Dementia Singapore (formerly known as Alzheimer's Disease Association, ADA) started in September 2013.
This three-hour enrichment programme is conducted in a small group setting, where persons with dementia are grouped according to their stage of dementia, spoken language, age and educational profile. Each group size varies and is facilitated by 3 to 4 staff. The session provides a continuum of community care for persons with dementia who have completed sessional therapy outpatient programmes and are discharged for community care.
FOW's cognitive and physically stimulating activities are designed with a social element to foster greater interaction and promote neurogenesis for persons with dementia. FOW complements a full-day dementia daycare programme with shorter hours.
---
Objectives of the FOW programme
Improve the well-being of persons with dementia

Improve or maintain persons with dementia's cognitive function

Engage persons with dementia and caregivers through social interaction and meaningful activities

Provide respite and emotional support for persons with dementia and caregivers

Promote mutual self-help amongst caregivers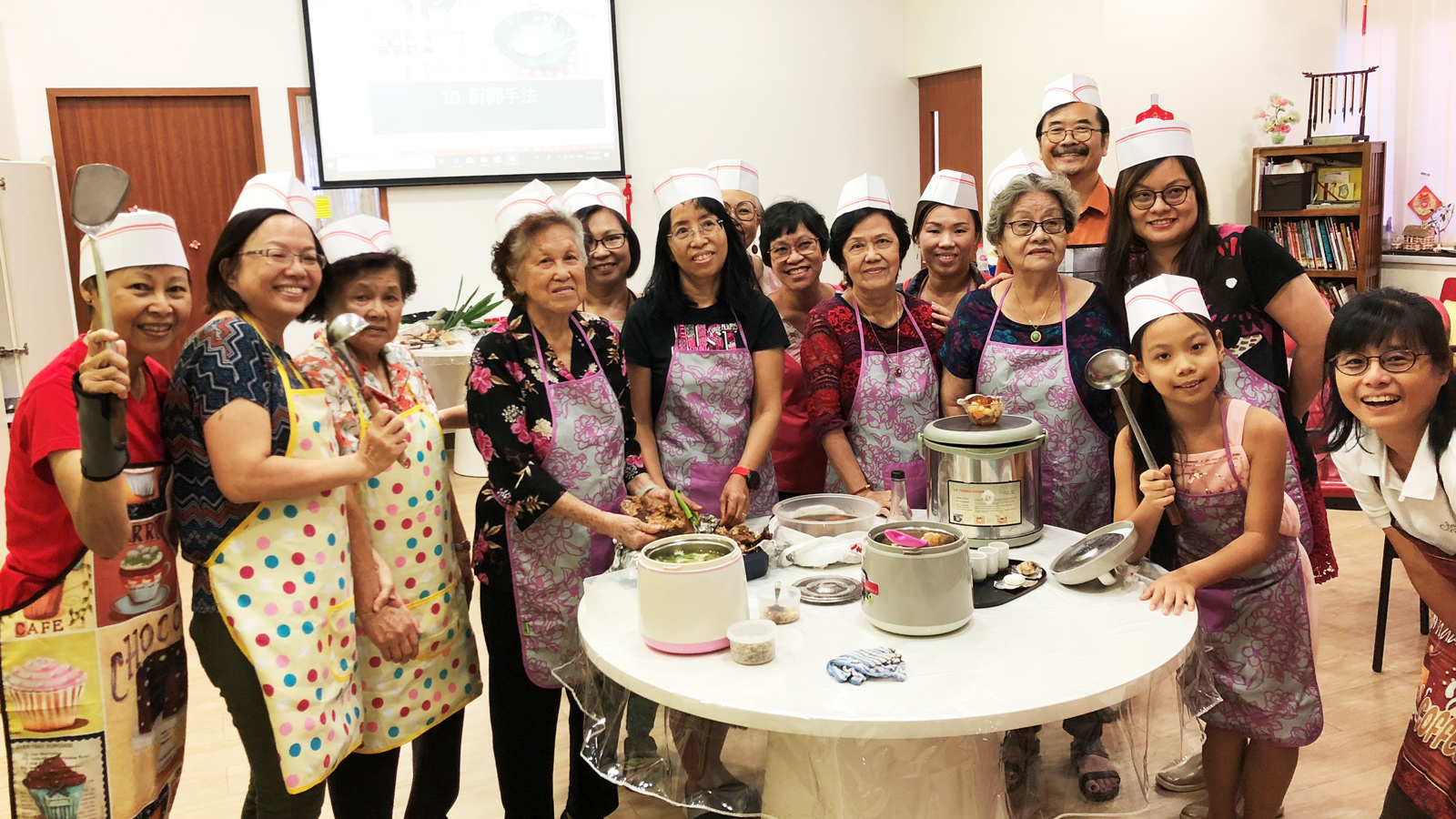 ---
Admission Criteria
Persons with dementia must attend with an accompanying caregiver

if s/he have an unsteady gait or requires assistance during toileting.

Diagnosis of dementia by a medical doctor (excludes persons diagnosed with MCI)
Medical condition(s) must be stable and non-infectious
Admissions will be approved on a case-by-case basis
---
Location
Family of Wisdom (Bendemeer)
20 Bendemeer Road, #01-02, BS Bendemeer Centre,
Singapore 339914
Monday to Friday: 9.30am–12.30pm / 2pm–5pm
8020 5006 / 6389 5385
6293 6631
[email protected]
Note: With effect from 1 November 2021, the Family of Wisdom (Tiong Bahru) programme has been discontinued and the Dementia Social Club has been introduced in its place. A new care model, it aims to empower caregivers and persons with dementia, including those with young onset dementia, to make contributions to the Club and the community-at-large.
---
Admission Process
Potential clients are admitted by referral only, received after he/she has been assessed by Centre Staff at the Centre. The assessment of the potential client will be done through an one-to-one assessment at $50 (before GST).
Upon acceptance to the Family of Wisdom, a one-month refundable deposit is required based on the number of sessions the client is attending. This amount will be refunded in full if/when the service is terminated and if there are no outstanding dues. In the event there are outstanding dues , Dementia Singapore Ltd reserves the rights to offset this amount against the deposit. Payment canbe either in cash, PayNow, internet banking or by cheque, made payable to "Dementia Singapore Ltd – Acc 1".
---
Service Fees
For clients who require one-to-one (individual) sessions, it can be arranged subject to availability of staff and space. Charges for individual sessions will be higher than group rates.
Types of Sessions
Fees Charged per Session
Centre-Based
Mild dementia
(3 hours)
$80
Moderate dementia
(3 hours)
$80
Moderate with BPSD / Moderate-severe
(2 hours)
$160
Rates quoted above are before GST. All Centre fees charged are subject to GST.
Clients will be charged based on the number of sessions he/she has attended in a month.
"Home-based" and "virtual engagements" is available upon request. Please speak to our Centre Manager to find out more.
Refer to our Care Services booklet to have an overview of our services for caregivers, and persons with dementia.