Milestones
---
2011-Present
2022

February

March 

August

September – World Alzheimer's Month (WAM)

October

November

2021

August

September 

After 31 years as Alzheimer's Disease Association (ADA), the association transited to a Company Limited by Guarantee on 1 September.  Now known as Dementia Singapore, the organisation continues to cement itself as a national body for dementia care and services. Singapore's President Halimah Yacob commemorated the milestone and encouraged further collaboration between the organisation and the Government to build a dementia-friendly Singapore.
To kick off World Alzheimer's Month (WAM), Dementia Singapore organised the Walk2Remember national virtual steps challenge for the second year running. This year's challenge was co-organised by community partners, including AWWA, AMKFSC Community Services, Tan Tock Seng Hospital, and TOUCH Community Services. New records were set, with almost twice the number of participants (over 6,000), and 851 million steps made. Walk2Remember is supported by Cerecin.
On 6 September, Dementia Singapore launched the first localised business toolkit that aimed to help businesses create dementia-inclusive workplaces. The "Business Toolkit for a Dementia-Inclusive Singapore" is supported by Dementia Singapore's long-term corporate partner, Musim Mas Holdings.
On World Alzheimer's Day on 21 September, in collaboration with Singapore Sports Hub, the dome of the National Stadium was lit up in purple and yellow in solidarity and support for the dementia community.
Dementia Singapore and the Agency for Integrated Care launched DementiaHub.SG on 21 September, Singapore's first one-stop resource portal on dementia. The portal hosts a wealth of resources – including articles, medical research, infographics, and how-to content – efficiently curating and consolidating all dementia resources onto one common public platform.

November

On 1 November 2021, Dementia Social Club replaced the Family of Wisdom (Tiong Bahru) programme. As a new care model, it aims to empower caregivers and persons living with dementia, including those with young onset dementia, to make contributions to the Club and the community at large.
On 23 November, Dementia Singapore launched CARA, its pioneering Dementia Membership Programme. As the first-of-its-kind in the world, the mobile app provides a safe return function, curated care solutions, resources, and lifestyle rewards for persons living with dementia and caregivers in Singapore. CARA is supported by the National Council of Social Service and Agency for Integrated Care.

2020

January

At the annual Singapore Health Quality Service Awards (SHQSA) on 14 January, where ADA was a first-time entrant for this year's Awards, ADA was proud that five of our long-serving employees received Silver Awards.

February

On 17 February, ADA received the Learning Enterprise Award and became a member of the Learning Enterprise Alliance (LEA). As a member of the LEA, ADA is committed to using our workplace to optimise and promote continuous learning and performance.

March – the onset of COVID-19

As the COVID-19 pandemic surged, ADA took most programmes and services online, many of which will continue to be implemented post-COVID. Among others, stand-out innovations and launches include:

Memories Café, in a partnership with XR-Media Lab from Singapore University of Social Sciences, piloted a 360-degrees livestream format.
Family of Wisdom piloted one-to-one weekly virtual sessions with clients. The activities done virtually were also personalised to the clients' interests such as music, cooking or arts and crafts, as well as their stage of dementia, spoken languages and literacy level.

The Wayfinding Project – a mural painting project of retro items – was launched in Kebun Baru. In partnership with Nee Soon Town Council, Kebun Baru grassroots, artists, community volunteers and persons with dementia, the project was a significant step in transforming Kebun Baru into a more dementia-friendly community.

April

ADA, together with Lien Foundation, launched the Dementia Language Guidelines, titled 'Changing Words, Touching Lives' to detail out appropriate and inappropriate words and phrases to use when dealing with or speaking about dementia in four languages. 

May

Having been connected to ADA since its inception, and after working with ADA for the past 19 years, ADA bade farewell to Mrs Theresa Lee, ADA Deputy CEO, who embarked on her retirement in May 2020.
On 5 May, together with the Agency of Integrated Care (AIC) and with support from the Ministry of the Environment and Water Resources (MEWR), ADA launched a new initiative titled 'SPOC-19', an initiative that aims to help families who may have concerns regarding those with dementia who unintentionally breaks safe distancing measures during COVID-19. Through three identifiers, including the ADA Memo, the initiative was highly effective and provided assurance to those impacted by dementia. The identifier(s) are set to be replaced in Q4 of 2021 by a new dementia membership programme that will provide even more benefits to the dementia community.*SPOC-19 stands for 'Support for Persons living with Dementia Over the COVID-19 period' 

June

New Horizon Centre (Bukit Batok) was appointed by the Agency of Integrated Care (AIC) to be a Designated Senior Care Centre in Singapore. From 5 June 2020, the Centre reopened amidst the Circuit Breaker to serve seniors, with or without dementia, residing in the West who had inadequate family support and intensive care needs.

July

In July, ADA launched the Meeting Centre Support Programme (MCSP) to support persons living with mild to moderate dementia and their caregivers through an evidence-based, person-centred approach. Following the format of a social club, two pilot Meeting Centres were progressively launched in Bendemeer and Kebun Baru.

August

Due to the increasing challenges brought about by the COVID-19 pandemic, ADA made the difficult decision to close down ADA Café on 26 August 2020.
Family of Wisdom (Toa Payoh) centre, which held its activities within the ADA Café premises, also ceased operations on 26 August 2020.

September – World Alzheimer's Month

Supported by Cerecin, ADA launched our inaugural national steps challenge, the ADA Walk2Remember 2020. From 1 to 21 September, the virtual steps challenge drew a total of 3,400 participants and a total count of 380,232,900 steps.
On World Alzheimer's Day on 21 September 2020, ADA unveiled a community-collaborated LEGO Mural titled "ADA Build with Us 2020 – Presented by Musim Mas", at Kebun Baru Community Club. To fit in the finishing pieces and to conduct a fireside discussion, the virtual, livestreamed event featured Mr Henry Kwek, MP of Kebun Baru and Adviser to Kebun Baru GROs, ADA CEO Mr Jason Foo, Mr Francis Leong, Vice Chairman of Kebun Baru Active Ageing Committee, and Ms Emily Ong, a person living with young onset dementia and dementia self-advocate.
ADA officially launched Post Diagnostic Support on 24 September 2020, a care programme targeted at newly diagnosed persons with dementia and their families, to support and ease them into the world of dementia awareness, care connections and resources.

October

November

December

Co-organised with the Alzheimer's Disease International (ADI), ADA hosted ADI's first-ever virtual biennial conference – the 34th International Conference of ADI. The virtual conference gathered more than 1,700 delegates from over 100 countries from 10 to 12 December 2020.
ADA Academy was appointed as one of eight Learning Institutes under the Agency for Integrated Care Learning Network with a sole focus on dementia education.

2019

With the support of the National Council of Social Service, ADA piloted "Voices for Hope" in January 2019. It is the first empowerment, self-advocacy programme in Singapore that aims to equip persons with dementia and their caregivers with relevant skills to step up and actively share their stories, needs, and views on public platforms.

In March 2019, ADA was the first in Asia to introduce the Educational Dementia Immersive Experience (EDIE) developed by Dementia Australia. This virtual reality application offers users first-hand experience on dementia and aims to enhance training for caregivers, professional care staff, industry partners, and social services.

The first national survey on dementia in Singapore was released in April 2019 in collaboration with the Singapore Management University. With more than 5,600 people in Singapore surveyed including persons with dementia, caregivers and the general public, it revealed that nearly 3 in 4 persons with dementia feel rejection and loneliness, and more than half feel that others act as though they are less competent due to their condition, citing stigma as the reason.

Following the survey, proactive steps were necessary to raise awareness on dementia and reduce the stigma surrounding the condition. ADA developed a #DespiteDementia campaign which aims to fight the dementia stigma. #DespiteDementia emphasises that with support from families and communities, it is still possible to live a fulfilling and meaningful life. The first out of three videos was launched on 21 September 2019, on World Alzheimer's Day at the World Alzheimer's Month Carnival, Orchard *SCAPE.

On 29 October, ADA Headquarters officially moved from 70 Bendemeer Road, Luzerne Building to a new space at 20 Bendemeer Road, BS Bendemeer Centre. Housing together our Caregiver Support Services, Academy, Family of Wisdom (Bendemeer) and our corporate services, ADA occupies the first floor of the building, making it wheelchair accessible and convenient for everyone.

In December 2019, ADA released a research report on the Impact of the ADA's Arts & Dementia Programme, which demonstrated that implementing non-pharmacological arts-based programmes for those with dementia have positive outcomes, along with a progressive shift in societal attitudes towards dementia. The report, which received a research grant from the National Arts Council, involved 165 people, comprising of 44 persons with dementia, 46 caregivers, and 75 members of the community.

With positive evidence-based results on ADA's Arts & Dementia programme, and with the support of the Chua Foundation, ADA piloted a capability-building programme "Journey with Arts & Dementia" (JADe) in October 2019. JADe aims to train individuals to spearhead and lead in reminiscence engagements for persons with cognitive impairment and dementia in the community.

2018

Singapore's President Halimah Yacob has accepted ADA's invitation as Patron

ADA participated in cashless payment technologies such as the PayNow platform in its fundraising drives

Commemorated World Alzheimer's Month by being involved in 15 activities in September with various stakeholders and partners including schools, hospitals and museums.

Organised the World Alzheimer's Month 2018 Conference, themed "Every 3 Seconds, someone in the world develops dementia. Are we ready, Singapore?". The one and a half day conference on 21 and 22 September saw more than 450 participants.

Organised a fundraising charity concert entitled "Love for All Seasons" and raised more than $30,000.

2017

Organised the first Dementia Roundtable that involved government and industry partners and international affiliates from Dementia Alliance International on 24 November. It centred on young onset dementia, including the support they needed and the engagement of communities to build a more dementia inclusive society.

Held the World Alzheimer's Month's symposium focused on young onset dementia on 25 November. The event was titled "The Dementia Symposium 2017 – It Can Strike Early" and saw 400 participants.

A third Centre for Family of Wisdom programme was set up at Toa Payoh

Updated ADA's Mission – To be recognised as Singapore's leading organisation in dementia care – a catalyst, enabler, educator and advocate – that inspires society to regard and respect persons living with dementia as individuals to lead purposeful and meaningful lives.

Established a new Community Enabling pillar within ADA to engage the community so that persons with dementia and their families can live with dignity, choice and confidence in the community.

2016

ADA participates in a pilot project for the proposed Networked Care application, eCareApp in conjunction with SAP SE (German MNC), Sierra Solutions and ACE Seniors.

Launch of a series of Experiential Art Support Therapy.

Open house following renovations at New Horizon Centre Toa Payoh. Gracing the event was MP for Bishan-Toa Payoh, Dr Ng Eng Hen.

ADACafé @ AgapeV opens to the public on 24th October.

2015

"Still Alice" Charity Movie Premiere in January.

Arts & Dementia Programme's exhibition@Jurong Community Library in September.

ADA's 25th Anniversary Symposium in October.

Commemorate ADA's 25th Anniversary in November.

2014

Piloted Dementia Café at Crossings Café. This was later renamed Memories Café when Canon Singapore adopted the programme.

A second centre for Family of Wisdom programme was set up (Tiong Bahru).

ADA started its consultancy work to tap on its acumen as a Centre of Specialisation for dementia care to impart its knowledge to other care institutions that plan to provide dementia care in their facilities.

The National Neuroscience Institute (NNI) collaborated with ADA to pilot a project at our FOW programme centre in Tiong Bahru to offer respite to families coping with Young Onset Dementia. The programme, called ESTEEM, is still ongoing.

ADA trailblazed in its use of assistive technology for dementia by piloting a project to employ robotic animal toys to occupy unsettled clients and free up staff resources while boosting staff morale.

Jurong Point Shopping Centre participated in a Dementia-Friendly Mall programme as part of ADA's efforts to cultivate a Dementia Friendly Community. Educational posters were put up in the shopping centre's washrooms. Retail staff were invited to talks on how to interact with persons with dementia with empathy, while improving interior design features to make shopping more enjoyable for such customers.

2013

ADA's Arts & Dementia programme received a grant from the National Arts Council.

Due to increasing demand for training and caregiver support services, ADA relocated both its main office and Caregiver Support Centre (CSC) to Luzerne Building in Bendemeer Road. The new premises are bigger and better-equipped, allowing more pilot projects to be undertaken. Thus, the unit on the 6th floor was christened the ADA Resource & Training Centre (ARTC) which was set up with funding from The Singapore Ireland Fund. CSC subsequently moved from Central Plaza to the third-floor unit in Luzerne Building in July 2013.

With funding from the Kwan Im Thong Hood Cho Temple through the Community Foundation of Singapore, the Family Caregiver Training Programme (FCTP) kicked off at the ARTC in May.

A pilot project named the "Family of Wisdom" programme (FOW) received funding through donations raised from 'The Pitch' competition organised by the National Volunteer & Philanthropy Centre, to operate short three-hour day care sessions to provide caregiver respite.

In April, ADA officially launched its Facebook page. Promising to complement our website with frequent social interaction and relevant newsflashes, the page is set to bring ADA closer to the computer-savvy segments of society.

In October, ARTC became host to the regional office of Alzheimer's Disease International (ADI), of which ADA has been a member since 1995. The regional presence of ADI signals its commitment to facilitate more dialogue and cooperation among member associations in the Asia Pacific.

2012

New Horizon Centre (Bukit Batok) initiated a pilot run of the Arts & Dementia project by ADA's PCC Steering Committee. Six clients were selected for a PCC tour of the Peranakan Museum on 7 February 2012.

ADA's completed Phase 2 of all its pilot projects, namely the Person-Centred Home-Based Intervention, Eldersit Respite Care service and Extension of Day-Care Hours. With this success, CSC was granted a new funding from MOH to ramp up the Eldersit Respite Care and Home-Based Intervention Programme for the next 5 years.

Four of ADA's staff members were awarded the Health Manpower & Development Programme (HMDP) by AIC.

Won the Outstanding VWO (voluntary welfare organisations) Award 2012 (Innovation) – Winner of the NCSS Pitch (People's Choice) on 11 October.

The Person-Centred Care Steering Committee organised its inaugural Symposium entitled 'The Future of Dementia Care: Setting The Standards Today For Tomorrow' on 20 October.

A Chief Executive Officer for ADA was recruited.

2011

Awarded the Outstanding VWO (voluntary welfare organisations) Award 2011 (Innovation) – Winner of the NCSS Pitch (Judges' and People's choice).

Corporate website was enhanced to provide more information and guides on dementia, and caregiving for caregivers and the general public.

Piloted a 'Eldersit Respite Care' service project to provide greater support to caregivers. And The 'Extension of Day Care Hours' pilot project launched in 2010 was extended to New Horizon Centre (Toa Payoh).

Implemented a pilot project on Person-Centred Care culture change in care practices at New Horizon Centre (Toa Payoh). Communal dining for clients in the Early Dementia Programme was introduced. The project is part of the Person-Centred Care (PCC) and Dementia Care Mapping Steering Committee's Consultancy work for ADA.

Accreditation of New Horizon Centre (Tampines) as a Day Rehabilitation Centre in October by the Agency for Integrated Care (AIC) and Ministry of Health (MOH).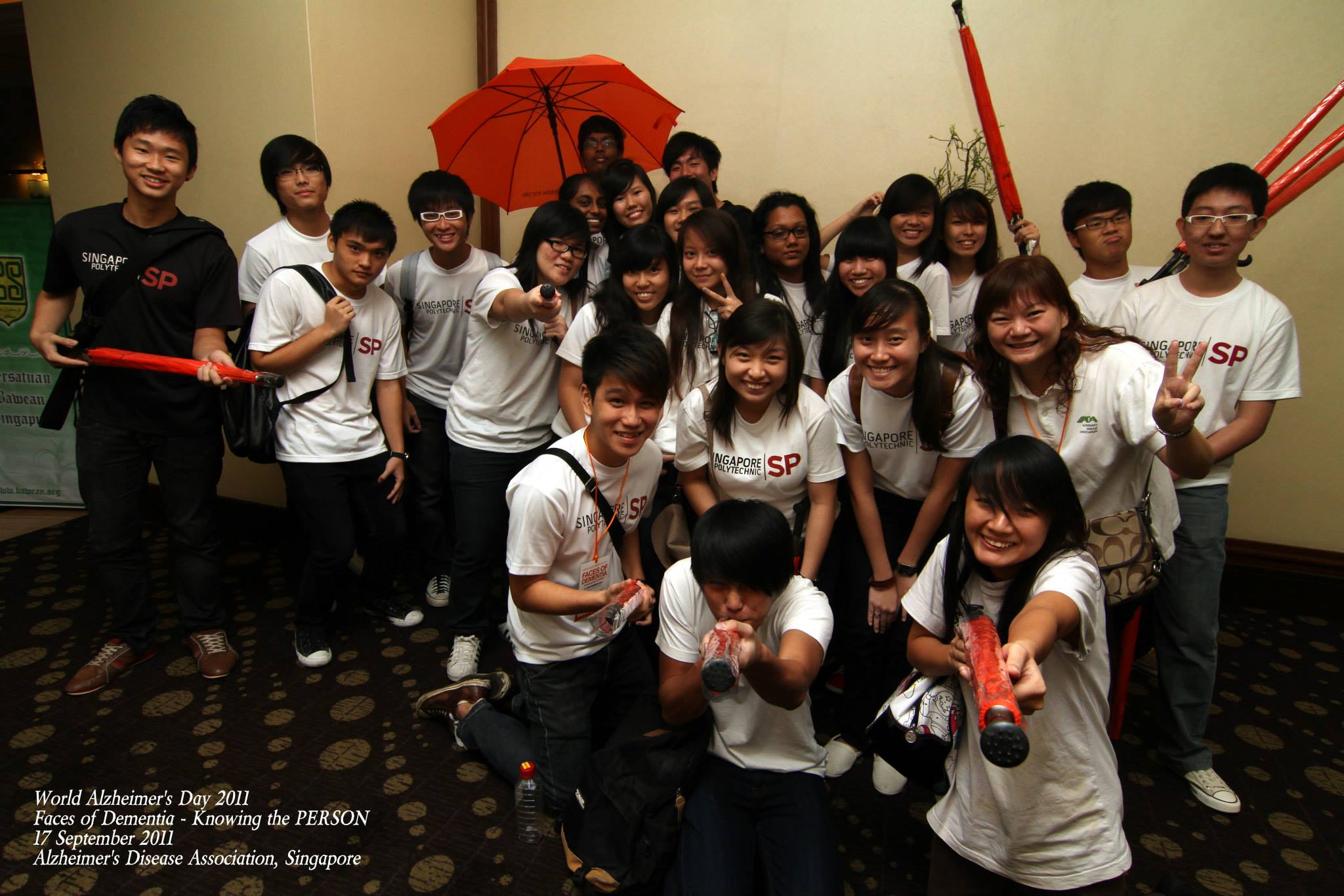 ---
2001-2010
2010

ADA celebrated 20 years in service.

ADA won the Inaugural NCSS Outstanding VWO (voluntary welfare organisations) Award 2010 (Collaboration).

ADA initiated 2 pilot projects, namely the Extension of Day Care Hours on 1st Saturday of the month in New Horizon Centre (Bukit Batok) from 8am – 4pm, and also the Home-based Intervention service.

In September, New Horizon Centre (Tampines) relocated to its new premises.

With our expansion of services, a second Caregiver Support Centre was set up in Tiong Bahru Central Plaza, at the Social Service Hub.

2009

ADA hosted the 24th Conference of Alzheimer's Disease International in Singapore. Dementia Awareness Week was held in conjunction with the Conference. Activities included a Mass Exercise cum Walk of 5,000 participants, a Short Film Competition on Dementia and a play entitled, 'Don't Forget To Remember Me'.

ADA produced a Guidebook on Early Dementia Programme Care Model.

New Horizon Centre (Jurong Point) was officially opened on 25 July 2009 by Mr Lim Boon Heng, Minister in the Prime Minister's Office.

Our Caregiver Support Service Programme was expanded with the setup of its own premise, the Caregiver Support Centre at Bukit Timah.

2008

ADA signed a Memorandum of Understanding with Bradford University to provide the strategic leadership role to introduce and implement Dementia Care Mapping in Singapore and to provide training.

A decision was made to start our fourth Centre at Jurong Point Shopping Centre to cater to the needs of people with early-stage dementia and young-onset of dementia. A Gala Dinner cum Auction event "Vintage Glamour" was held on 4 December 2008 to raise funds for the new Centre.

In collaboration with the NCSS, we initiated a "Safe Return" identification card scheme for persons with dementia.

ADA organised its 1st Conference for Family Caregivers of Persons with Dementia with the theme "Building Positive Relationships".

The Straits Times ran a 6-page Special Report on Dementia to commemorate World Alzheimer's Day 2008, featuring ADA.

2007

Launched the 1st Dementia Care Mapping (DCM) training course in Singapore in conjunction with Bradford University.

The NCSS appointed ADA as a Centre of Specialisation.

A research project to study the profile of family caregivers of persons with dementia was conducted.

A concert "Celebrating Abilities" performed by clients of our New Horizon Centres was held.

Launched a manual cum DVD entitled "A Journey Together – An Activities Kit for Caregivers of People with Dementia" for people caring for persons with dementia.

2006

ADA won the bid to host the 24th International Conference of Alzheimer's Disease International in Singapore in 2009.

An Early Dementia Programme at New Horizon Centre (Bukit Batok) was implemented after renovations were completed there.

Implemented a Person-Centred approach at the New Horizon Centres using the Well-being Profiling from the Dementia Care Mapping tool.

New Horizon Centre (Toa Payoh) and Caregiver Support Service embarked on monitoring service standards using the NCSS Programme Evaluation System and Outcome Management.

Strategic Planning discussion held – ADA reviewed its directions for the next 3 years – to review its mission, setting a vision and identifying a set of core values.

Fund raising on a different note – Teochew Opera and Music Performance was jointly organized with the Teochew Poit Ip Huay Kuan.

2005

A Charity Dinner was held in May with the launch of a corporate video of ADA.

Launch of the first local children's story book on Alzheimer's disease – "Where's Grandma".

Hosted the 1st Alzheimer's University Programme with 35 participants from 14 Asia-Pacific countries and the 8th Asia-Pacific Regional Meeting of the Alzheimer's Disease International.

ADA, together with Australia and Korea, was part of the Steering Group in coordinating the report "Dementia – An Epidemic", which was targeted to be released in September 2006.

A Well Being Profiling research project for persons with dementia was carried out jointly with Alzheimer"s Australia Western Australia. The intent of this project was to develop an effective system for evaluating emotional care provided to people with dementia.

Caregiver Support Services expanded its programme to include talks and training sessions in Mandarin and Malay for caregivers.

2004

An Early Dementia Programme was implemented at New Horizon Centre (Toa Payoh) after renovations were completed there.

ADA organised its 1st Flag Day in conjunction with the commemoration of World Alzheimer's Day in September.

One person with dementia gave a public talk about her diagnosis and illness at the annual World Alzheimer's Day public forum on the theme "No Time To Lose".

Awarded  funding from National Council of Social Services (NCSS) & VWO (voluntary welfare organisations) Capability Fund to run Specialised Caregiver Support Services for caregivers of people with dementia.

A pilot support group "Living with Memory Loss" was started.

2003

ADA held its 2nd "Memory Walk" fund raising walkathon event at the Bukit Gombak Stadium, in commemoration of World Alzheimer's Day. The Guest-of-Honour was Mr Ang Mong Seng, Member of Parliament for Hong Kah GRC.

2002

ADA was successful in applying to take over one of the Senior Citizens' Health Care Centres under the management of the Home Nursing Foundation, as its third daycare centre. New Horizon Centre (Tampines) was officially handed over to ADA on 1 January 2002, providing a model of integrated care, integrating rehabilitation for stroke clients, and dementia care for persons with dementia

Plans for an Early Dementia Programme got off the ground for implementation in 2002 at New Horizon Centre (Toa Payoh).

Physiotherapy and Occupational Services were introduced at New Horizon Centres (Toa Payoh and Bukit Batok).

ADA organised its 1st "Memory Walk" fund raising walkathon event held at the Toa Payoh Stadium. Mr Lim Hng Kiang, then Minister of Health and Second Minister for Finance was the Guest-of-Honour.

2001

An Executive Director for ADA was recruited.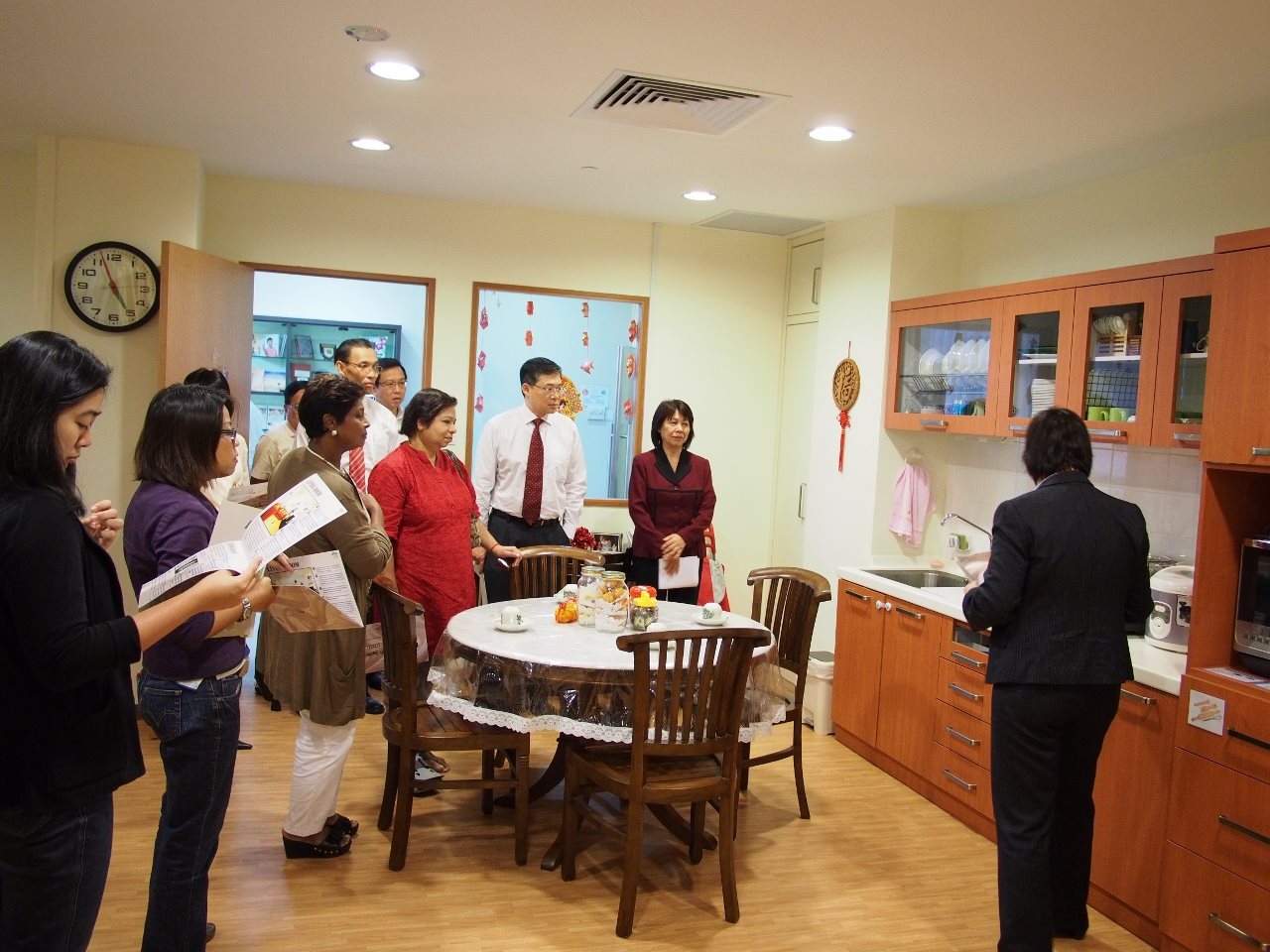 ---
1990-2000
2000

ADA enhanced its regional role by hosting the 2nd Asia-Pacific Regional Conference on Dementia Care. A Consensus Statement on Dementia from the 2nd Asia-Pacific meeting was written and published.

A Charity Dinner was organised in conjunction with World Alzheimer's Day 2000.

New Horizon Centre (Toa Payoh) relocated to its new premises on 13 May.

A Community Outreach Programme with volunteer nurses from the then "Woodbridge Hospital" was started.

1999

ADA organised the 1st Asia-Pacific Regional Conference of Alzheimer's Disease International in Singapore. Representatives from 12 countries participated in the Conference.

1998

World Alzheimer's Day was commemorated with a fund-raising dinner.

Our newsletter was redesigned to reflect a more professional image of the Association. A Chinese version of newsletter was launched.

A series of public talks on "The Importance of Early Dementia Detection" were held at Community Centres and Polyclinics.

Community home visits made in Toa Payoh.

1997

ADA developed its own corporate website.

Organised a Charity Dinner which raised $71,200.

Commemorated World Alzheimer's Day with a public forum on "Alzheimer's Disease: A Race Against Time", and a seminar for General Practitioners.

1996

The late Dr Wee Kim Wee became a Patron of ADA.

ADA organised its first World Alzheimer's Day with an exhibition at Parkway Parade and Bishan Junction 8 shopping centres.

1995

ADA started sourcing for a third day care centre.

The New Paper and DFS Singapore adopted ADA, and raised funds for our Association.

ADA joined Alzheimer's Disease International as a member.

1994

New Horizon Centre was featured in a documentary on Dementia on television.

A 3-day workshop on Managing Dementia was organised for caregivers.

ADA started its first training attachment at New Horizon Centres, for post-basic nurses and foreign medical specialists; thereafter, yearly attachments for nursing and social work students were hosted.

1993

A Dementia Management Training Package for staff and caregivers was developed in collaboration with Tsao Foundation.

Newsletter circulation increased from 3,000 to 5,000 copies.

We developed a presentation package for publicity talks for fundraising events.

ADA started a second centre, New Horizon Centre (Bukit Batok).

Official Opening of the Centre on 12 Nov by Dr Aline Wong, then Minister of State for Health.

An Open House was held in conjunction with Senior Citizens' Week.

1992

Singapore Council of Social Services handed over the management of New Horizon Centre (Toa Payoh) to Alzheimer's Disease Association on 1 January.

ADA started sourcing for a second day care centre.

Support group meetings (in English and Mandarin) for caregivers were started.

ADA published its first newsletter. A logo for the Association was created.

ADA had its first fund-raising event, a Charity Carnival at Orchard Road, and raised $40,000.

1991

The New Horizon Centre at Toa Payoh was officially opened on 16 March by Mr Wong Kan Seng, then Minister for Community Development.

In conjunction with the opening ceremony, ADA co-organised with the Gerontological Society, a seminar on Dementia as part of promoting awareness of the complex disease.

1990

Alzheimer's Disease Association (ADA) was formed. Our first Dementia Day Care Centre, New Horizon Centre (Toa Payoh), a pilot project of the Singapore Council of Social Service, was set up.