For several decades now, we have been commemorating World Alzheimer's Month (WAM) with individuals and organisations across the world every September. WAM this year was an especially momentous one as it marked the historic debut of Dementia Singapore's refreshed identity on 1 September 2021, after 31 years as Alzheimer's Disease Association.
As part of our rebranding exercise and WAM, Dementia Singapore rolled out a series of exciting launches and initiatives to the public.
Stepping up for the dementia community
Kicking WAM off to a great start was our national virtual steps challenge, Walk2Remember. This year's challenge was co-organised by our partners, AWWA, AMKFSC Community Services, Tan Tock Seng Hospital and TOUCH Community Services, and supported by Cerecin for the second year running.
As with 2020's edition, Dementia Singapore hoped to bring the wider community together to walk for and with those impacted by dementia, in appreciation of them, and to emphasise that they will not be left behind in this rapidly changing and developing society.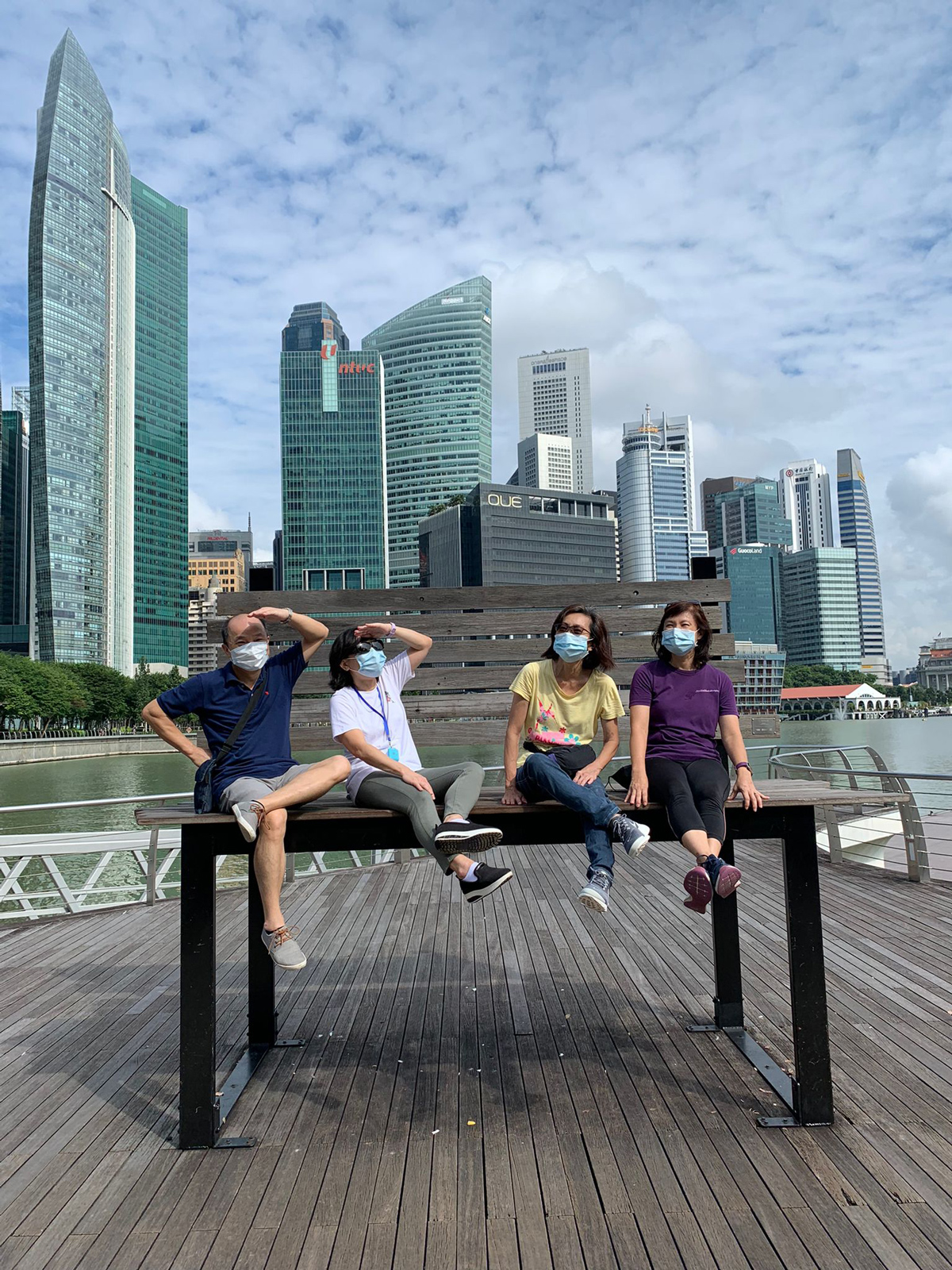 Dementia Singapore's Voices for Hope graduates also stepped up to show their support for Walk2Remember 2021, organising a leisure walk together and enjoying the sights of Singapore.
Records were broken all around, with almost twice the number of participants (over 6,000) this year despite the COVID-19 pandemic, and a whopping 851 million steps taken over the course of 21 days. It was truly a heartening display of solidarity that we hope to continue in the years to come.
As part of the challenge, 22 lucky participants walked away with prizes from Fitbit, with twelve participants winning a Fitbit Versa Smart Watch (worth S$228) each for completing 100,000 steps and ten participants winning a Fitbit Inspire HR (worth S$129) each for completing 50,000 steps. Congratulations to all our winners!
Fireside Chat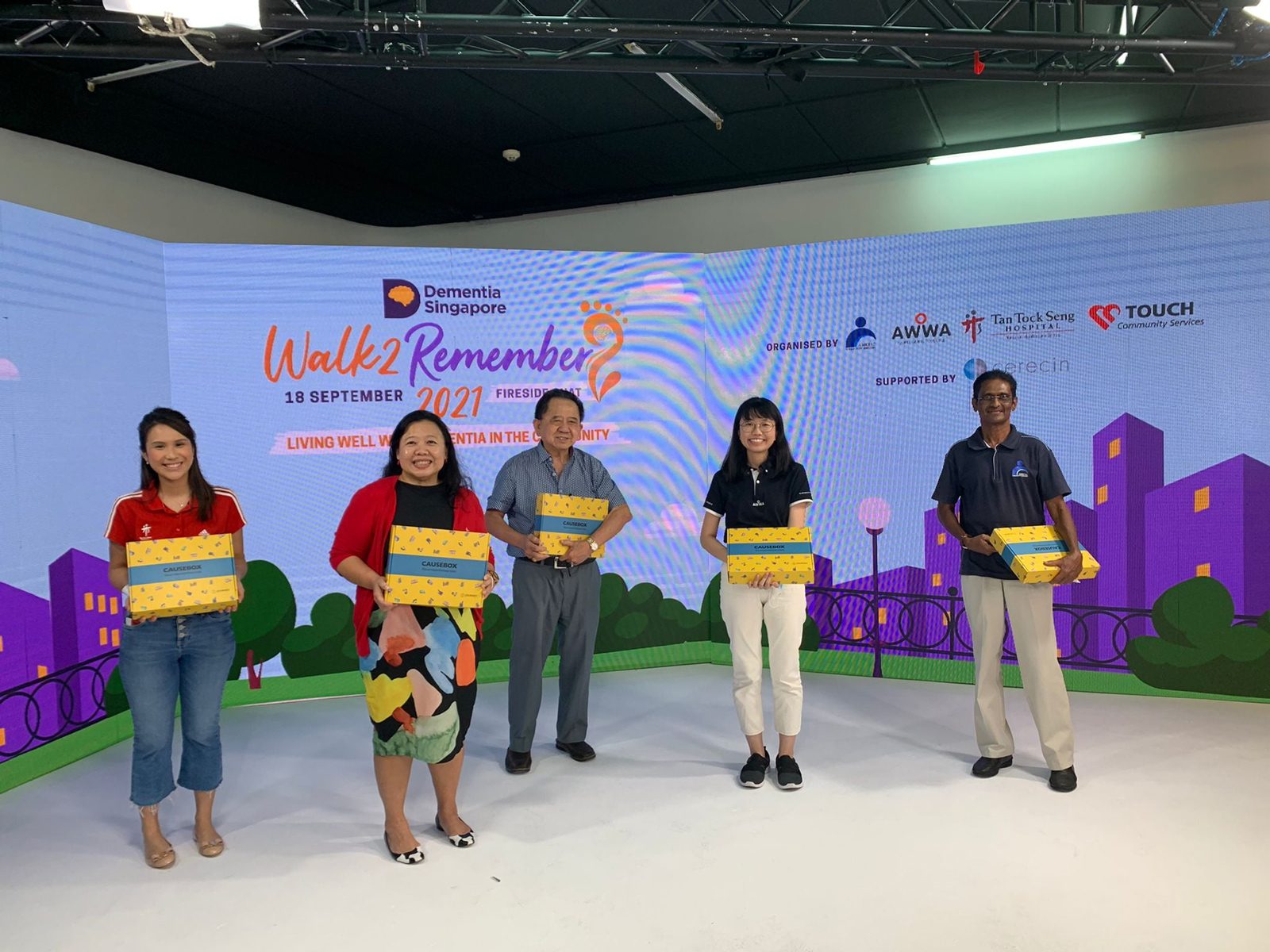 Speakers of the Walk2Remember Fireside Chat included our Voices for Hope graduates, Thomas and Michelle Ong and representatives from AWWA Dementia Day Care Centre (Yishun), Tan Tock Seng Hospital and AMKFSC Community Services.
In the final week of the challenge, on 18 September 2021, a fireside chat about dementia and its coping and rehabilitative strategies was also livestreamed on Walk2Remember's official Facebook page. Among the panellists were our Voices for Hope graduates Thomas Ong, a person living with dementia, and his daughter, Michelle Ong who is his caregiver, who had an insightful discussion about what it means for them to be live well despite dementia.
A toolkit to empower businesses to be dementia-friendly and inclusive
Following our official transition to Dementia Singapore and the Walk2Remember 2021 flag off was the launch of the first localised business toolkit, the "Business Toolkit for a Dementia-Inclusive Singapore" on 6 September 2021.
With the growing prevalence of dementia in Singapore, one of the main motivations behind the toolkit was to benefit and bolster the dementia community within the workplace. The toolkit hence helps businesses create dementia-inclusive workplaces, by acquainting them with a three-stage framework of Awareness, Friendliness and eventually, Inclusiveness.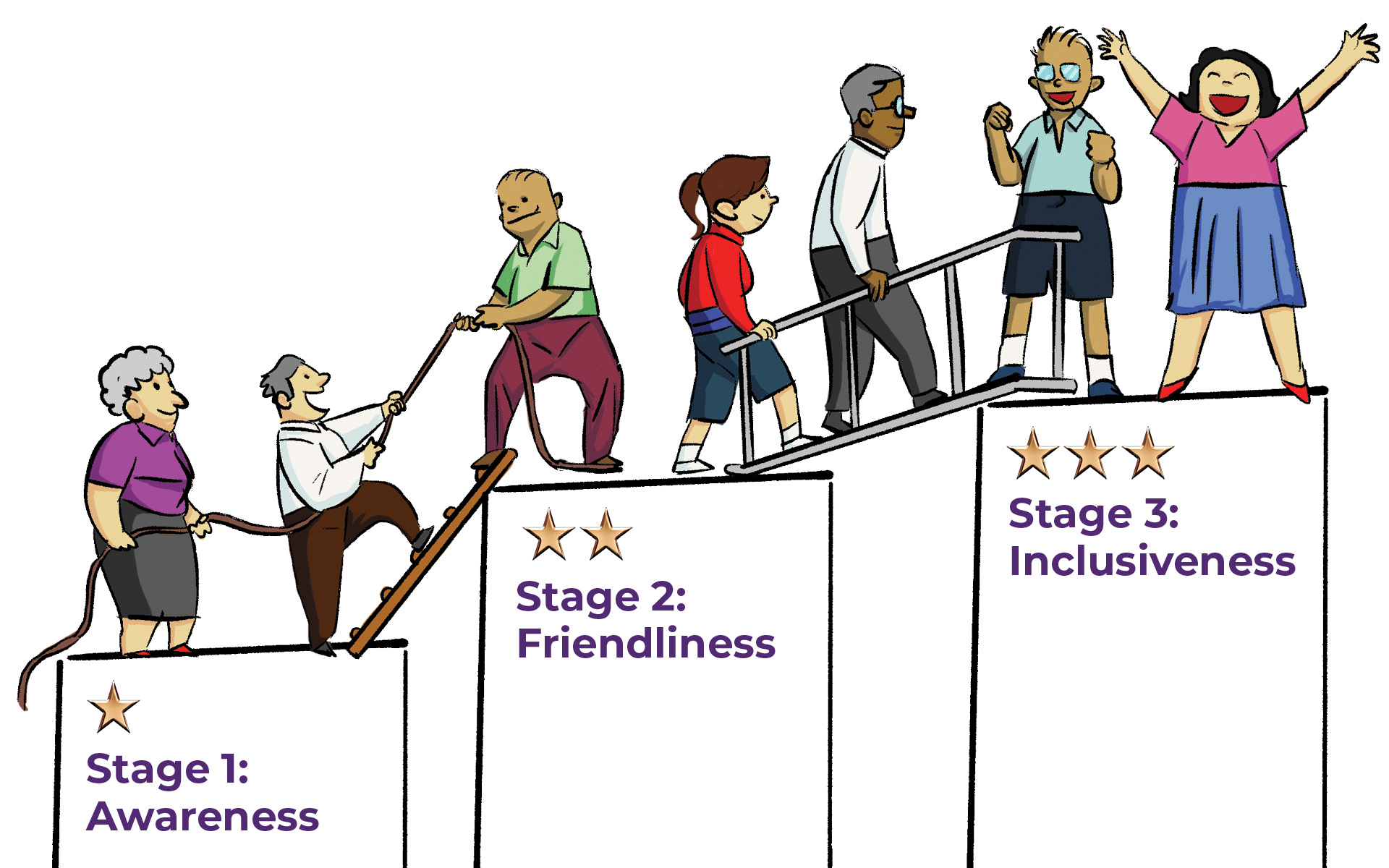 The toolkit contains resources and checklists at every step of the way, guiding businesses through each stage as they progress to become dementia-inclusive.
In conceptualising this toolkit, Dementia Singapore had worked closely with local businesses to identify the gaps in their understanding of the condition and to determine how the information can be better presented in a clear and accessible manner.
The toolkit also contains personal experiences from persons with dementia and their caregivers to help businesses better understand their challenges, as well as case studies of other organisations that have successfully made the move to become dementia-friendly and inclusive.
The Business Toolkit for a Dementia-Inclusive Singapore is supported by Dementia Singapore's long-term corporate partner, Musim Mas Holdings.
A one-stop portal for all things dementia
The highlight of the month, World Alzheimer's Day on 21 September 2021 saw the launch of DementiaHub.SG, Singapore's first, one-stop resource and knowledge portal on all things related to dementia.
Developed in collaboration with the Agency for Integrated Care, the portal hosts a wealth of resources, including articles, medical research, infographics and how-to content, efficiently curating and consolidating all dementia resources onto one common public platform.
Ultimately, it seeks to enable persons living with dementia, caregivers, care professionals, and members of the community and corporations, so that more people are better equipped with the most relevant, comprehensive and up-to-date information to enhance the quality of life of persons living with dementia.
The launch was met with great success and a wonderful reception by the media, with all 4 language newspapers, The Straits Times, Lianhe Zaobao, Berita Harian, Tamil Murasu, major television channels, radio stations and online news platforms covering it.
Shine for dementia
On the evening of World Alzheimer's Day, in collaboration with Singapore Sports Hub, the dome of the National Stadium was lighted up in a fantastic display of solidarity and support for the dementia community.
The dome was illuminated from 7pm, against the glorious sunset and city skyline, till 11pm in purple and yellow which are Dementia Singapore's corporate colours. Purple is the symbolic colour universally associated with dementia, while yellow represents positivity and contrast against the negative dementia stigma.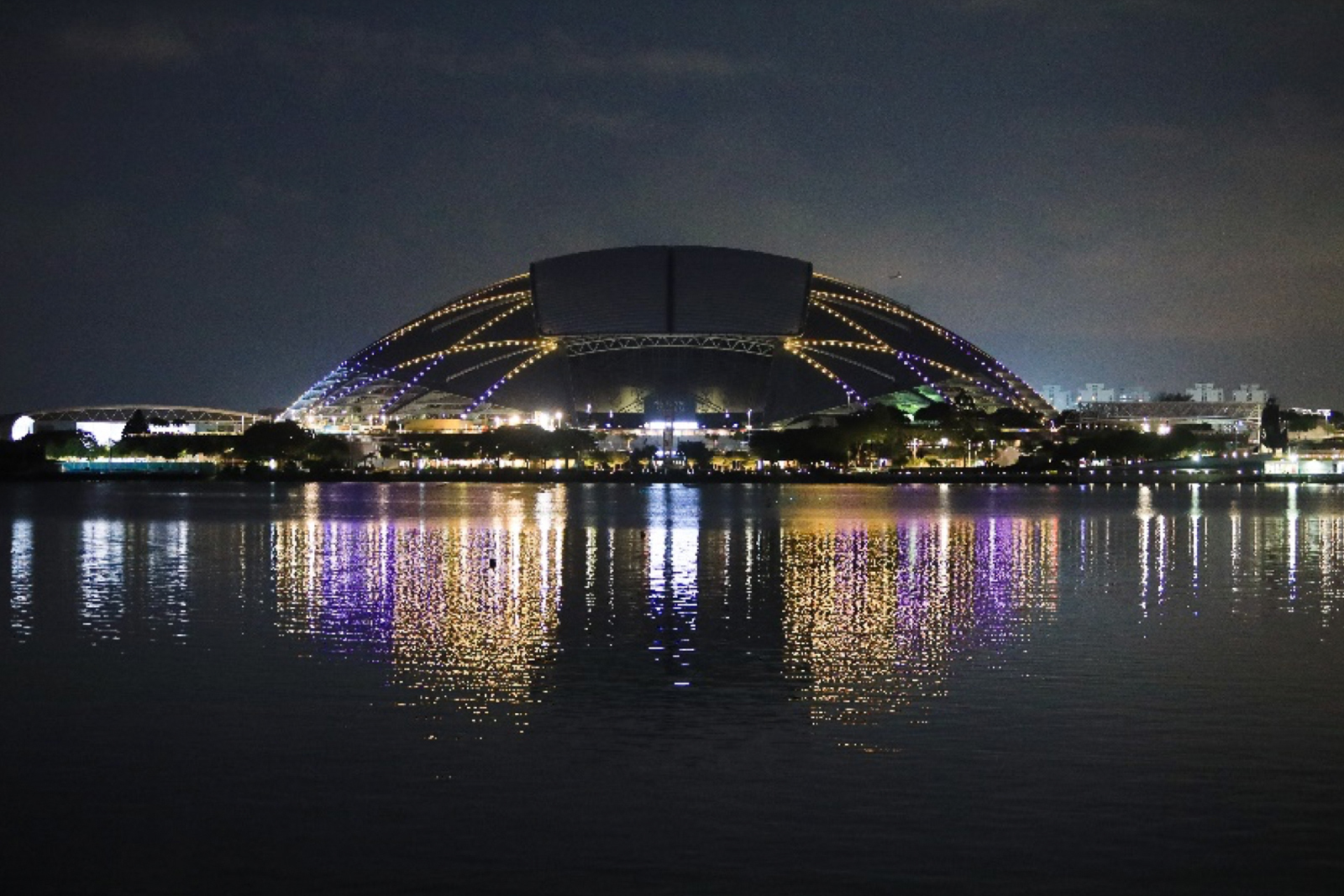 #ShineforDementia: As the illuminated dome of the Stadium painted the sky purple and yellow on World Alzheimer's Day, members of the public were also encouraged to share their snaps on social media to shed light on dementia.
Indeed, WAM 2021 was a month full of firsts for Dementia Singapore and we are grateful to everyone who had helped to make it a roaring success. A special thanks goes to the members of the public, our partners and media friends who continue to support our initiatives and amplify the dementia cause. Here's to many more years of working hand-in-hand on this journey towards a dementia-inclusive society!