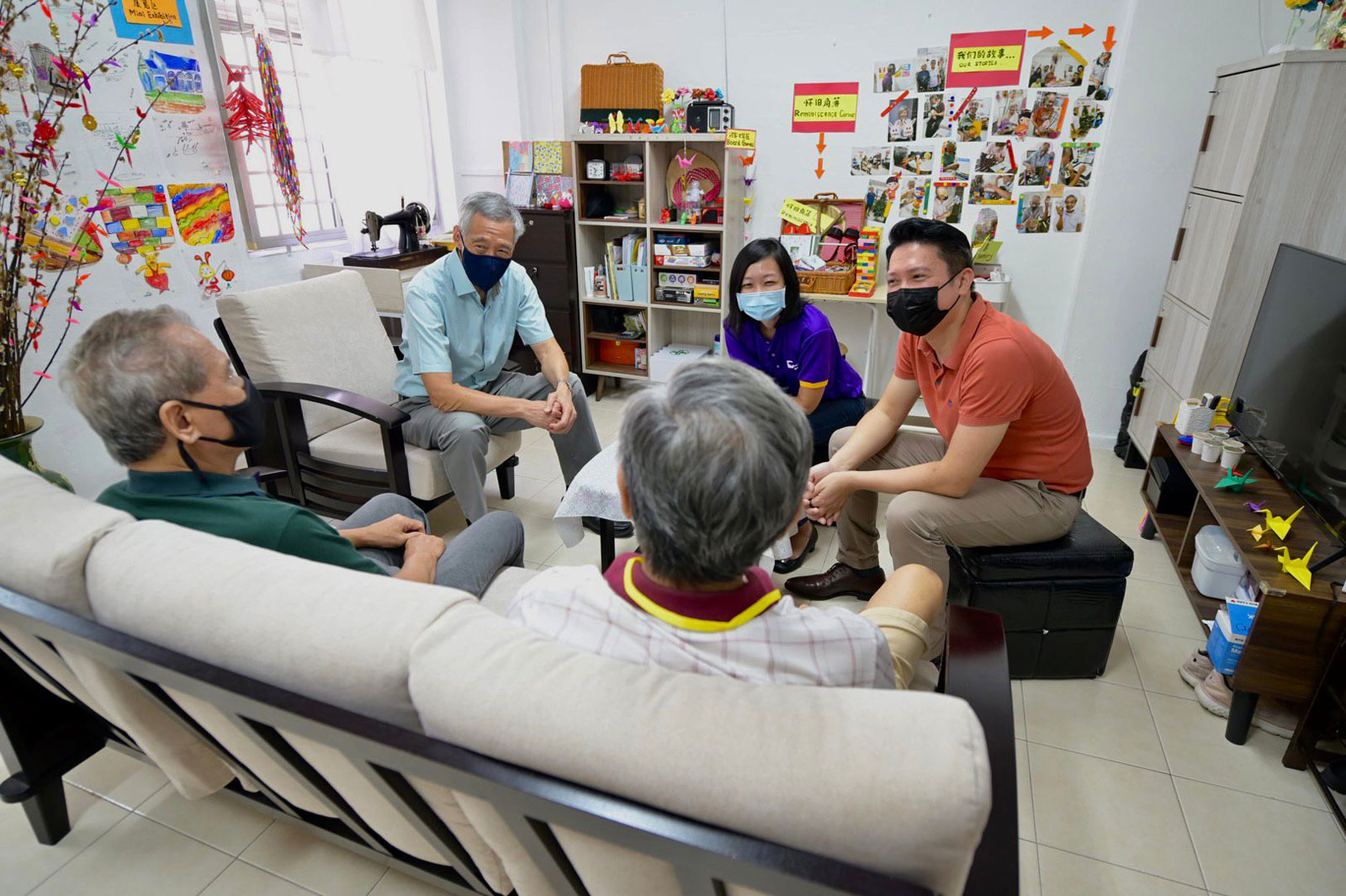 PM and Host Adviser interacting with seniors in Activity Room (Photo: People's Association)

Aimed at providing support and community care for frail and vulnerable seniors, IDeAL@115 also caters to at-risk residents and those living with dementia.
The Launch of IDeAL@115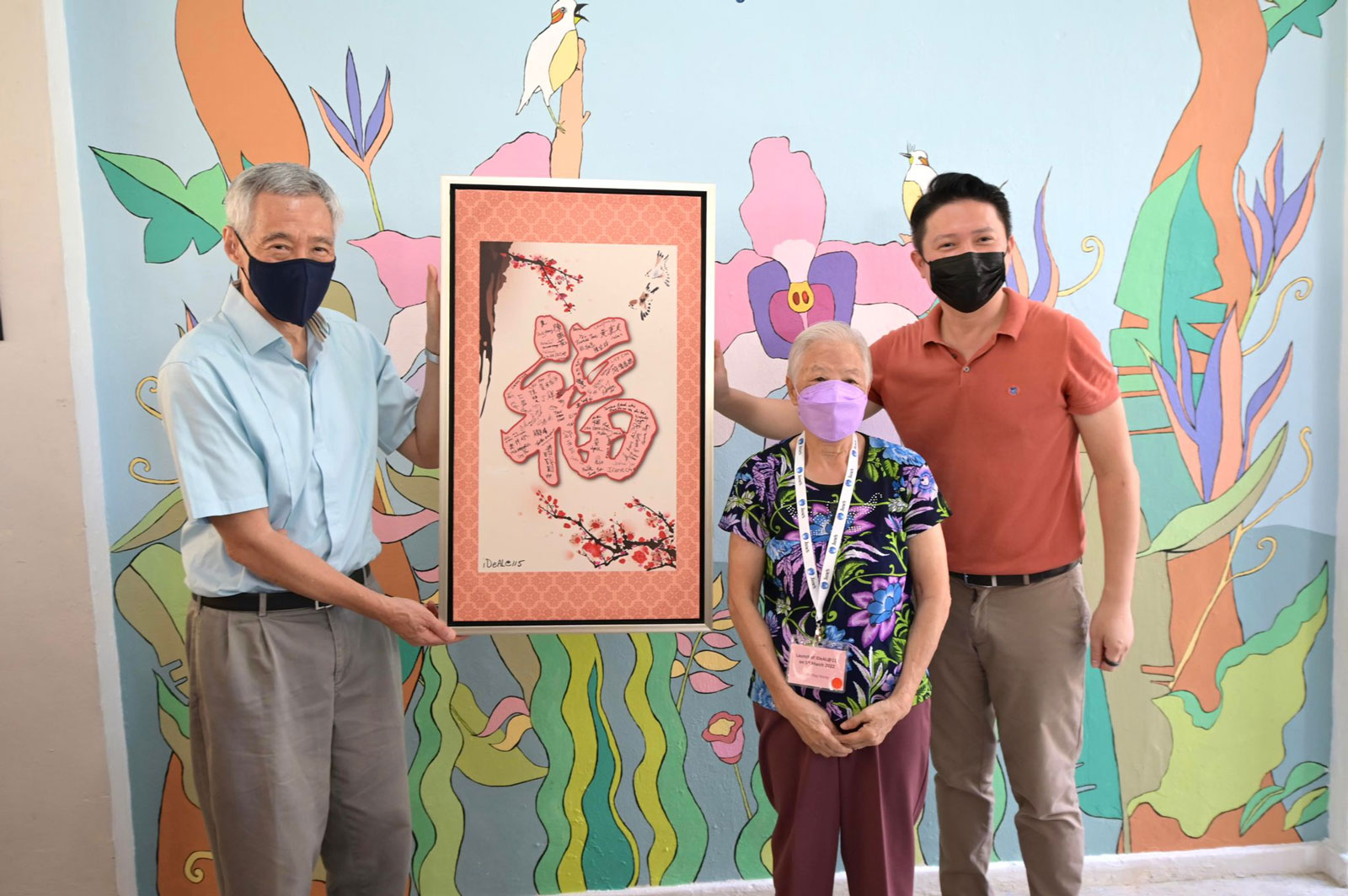 Prime Minister receiving a gift from 94-year-old resident (Photo: People's Association)
In a big step towards building a dementia-inclusive society, Dementia Singapore has partnered with Kebun Baru Grassroots Organisations to launch IDeAL@115 – a new model of care for seniors, both with and without dementia – to age in place within their communities.
IDeAL@115 was launched on 5 March 2022 by Guest-of-Honour Prime Minister Lee Hsien Loong and Mr Henry Kwek, Adviser to Kebun Baru Grassroots Organisations. Together with representatives from People's Association (Kebun Baru), Ang Mo Kio GRC Grassroots Organisations and Dementia Singapore, PM Lee and Mr Kwek toured the IDeAL@115 premises, learnt more about the digital health innovations and dementia care activities, and interacted with some of the block's more senior residents. PM Lee and Mr Kwek concluded the visit by painting the finishing touches on a wall mural – signifying the coming together of all community partners for a successful IDeAL@115 launch.
About IDeAL@115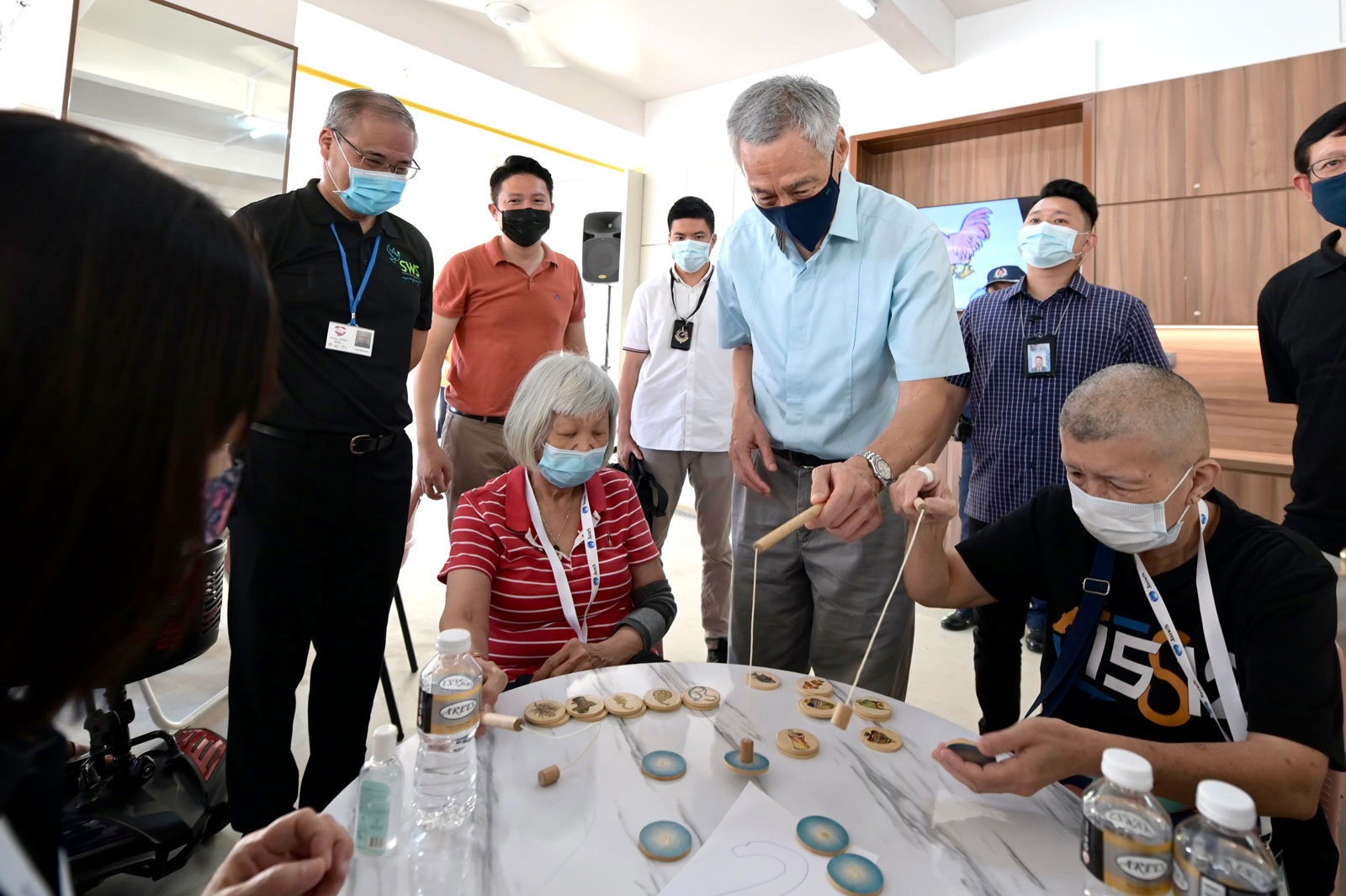 At the void deck of Block 115, activities are also organised to promote neighbourliness and strengthen the bonds among residents (Photo: People's Association)
IDeAL@115 – which stands for the Integrated Dementia (Home-based) Assisted Living project – is housed within Block 115 Ang Mo Kio Avenue 4. The block consists of one-room rental units, home to many vulnerable, frail and lower-income seniors.
Said Mr Henry Kwek, Adviser to Kebun Baru Grassroots Organisations: "Some of Singapore's most vulnerable seniors live within our rental flats. Some of them are in frail health and lack social and familial support. Over the years, our befrienders have mapped out their health, financial and social needs. But befriending is not sufficient; we learnt that they require a much higher level of support from all of us. We also learnt that social care is the secret ingredient to improving the health of our frail."
"As such, we decided to retrofit Block 115, to offer in-situ assisted living services for frail seniors. We do so by fusing together healthcare, social care, technology and financial support from our partners, our volunteers, and government agencies. We care for them like they are our family, and our services are offered for free," Mr Kwek, who is also Member of Parliament for Kebun Baru SMC, added.
Block 115 currently houses about 220 residents. As of March 2022, IDeAL@115 serves 40 of the most in-need residents, with a view of expanding the pilot over time. Of the 40 beneficiaries of IDeAL@115, about 10 of them are living with dementia.
Spread across four units located on Level 2 of Block 115 Ang Mo Kio Avenue 4, IDeAL@115 comprises:
Administrative Office: To facilitate coordination between different healthcare and assisted living service providers, community partners and volunteers, to meet the needs of the seniors. The Office also leverages assistive technology such as tracking devices, teleconsultations, fall detection devices and remote monitoring, to empower the seniors to live with dignity and autonomy within a familiar, safe and secure environment.

Telehealth Room: For seniors to be regularly assessed on their health status, as well as counselling or consultations with other service providers, pro bono doctors, community nurses, counsellors, physiotherapists, psychiatrists and occupational therapists.

Activity Room: To conduct small group cognitive activities according to the seniors' interests.

Central Kitchen: Together with a shared laundry area, the Kitchen provides support to seniors who require assistance in their basic activities of daily living (BADLs) and instrumental activities of daily living (IADLs).

Tapping on technology as well as coordinated services and activities from the community, the IDeAL@115 pilot aims to maximise the seniors' potential to live in the community, age in place, and lead independent lives for as long as possible with Person-Centred Care support, delaying the time that the seniors will need to be placed in a long-term care facility.
Since its operation in November 2021, various community partners, foundations, corporates, donors, and volunteers have stepped forward to support the pilot project. Volunteers from Salem Welfare Services befriend seniors to provide support and companionship to the seniors, as well as updates on their social well-being to the staff of IDeAL@115. St Luke's Eldercare not only helps conduct senior-friendly exercises weekly to keep them active and healthy, but they also provide physiotherapy for seniors who require it. IDeAL@115 also receives daily food donations which the volunteers cook and distribute, resulting in delicious healthy lunches for the seniors.
Dementia Singapore and Kebun Baru hope that IDeAL@115 will prove to be a viable and sustainable solution for the country's growing silver population, especially those living with dementia, to age in place.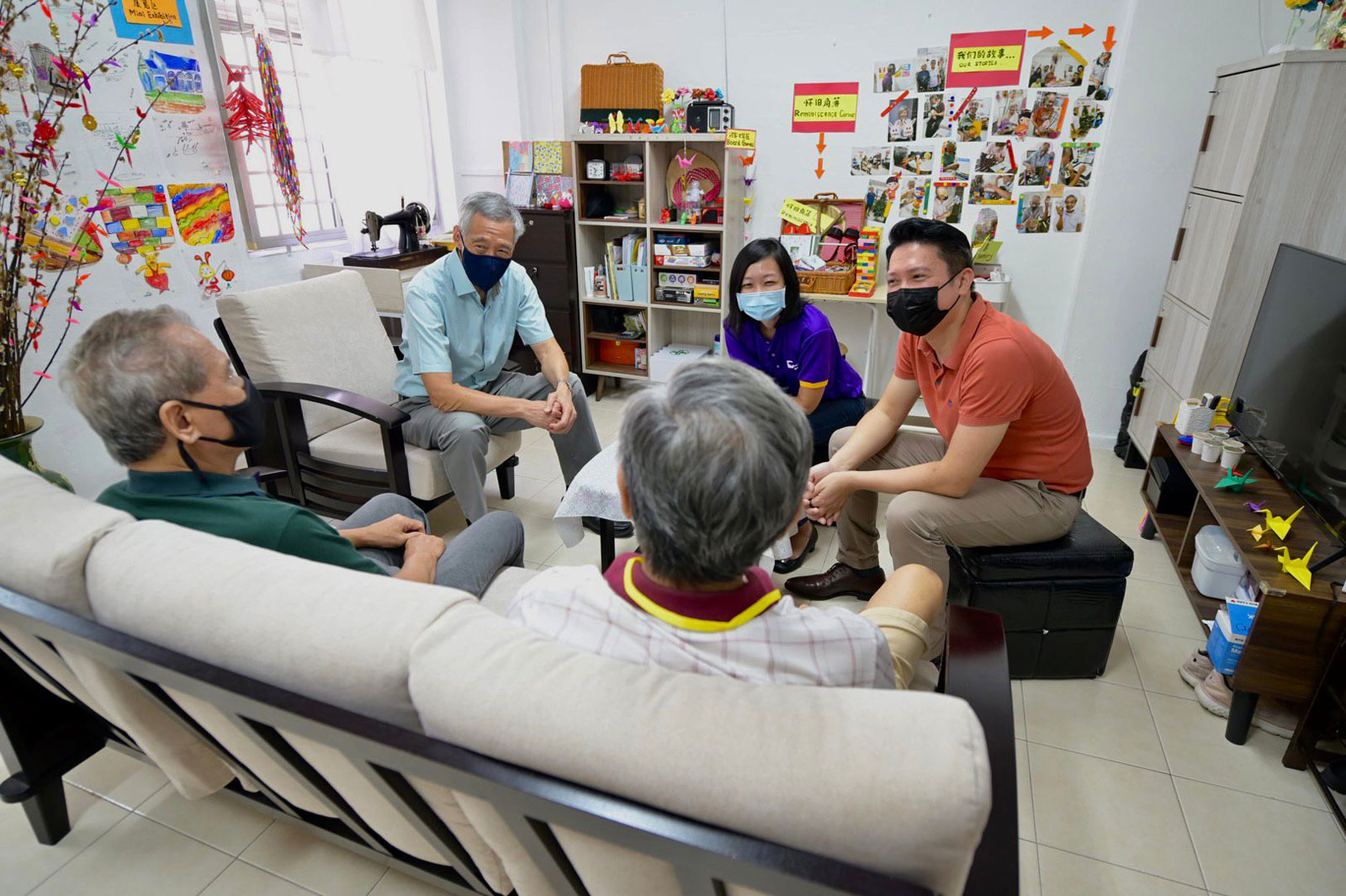 PM and Host Adviser interacting with seniors in Activity Room (Photo: People's Association)
Said Dementia Singapore CEO Mr Foo: "Dementia Singapore advocates ageing in place – this can only be possible by having an inclusive, dementia-friendly community. More importantly, we should always give persons with dementia a choice on how and where they want to live."
Download the press release here.