ADA recently embarked on the Recycled Arts Programme for persons with cognitive impairment or dementia. It is a pilot programme that aims to provide purposeful engagement and improve their overall well-being.
To kickstart this programme, Gosip Café at Thomson Plaza has graciously offered their public space to allow persons with dementia and caregivers an opportunity to meet others of the same condition and have fun through arts in an environment that accepts them.
"It's the least we can do being in the community. And it's not just about supporting. It is a responsibility we all play to make a community. Every person has strengths and a part to play. Since we started sharing info about this upcoming programme with our customers, they feel comforted, and are glad to bring their loved ones with dementia to our café," says Benjamin Tan, Co-Founder of Gosip Cafe.
As the association continues to encourage members of the public to be educated on this progressive condition and reduce the stigma, ADA envisions this programme to be community-led and self-sustaining.
Volunteers Needed!
If you stay around the Thomson area, are keen to interact with seniors, enjoy up-cycled art, and can commit once a month from March 2019 to June 2019, come volunteer with us!
Simply head down to Gosip Café and fill in a form. Do note that there is a one-time registration cost of $20.00 as a volunteer leader. One session of classroom training will also be conducted to equip you with the skills to interact better with persons with dementia.
We hope that with your involvement, we can slowly (but surely!) transform Singapore into a dementia inclusive society, where the abilities of persons with dementia are valued and appreciated. The schedule for volunteers is as follows:
| | | |
| --- | --- | --- |
| | Date | Time |
| Classroom Training (All Volunteers) | 28 March 2019 | 10am – 4.30pm |
| Group A Art Sessions | 9 April, 14 May, 11 June | 2 – 4pm |
| Group B Art Sessions | 23 April, 28 May, 25 June | 2 – 4pm |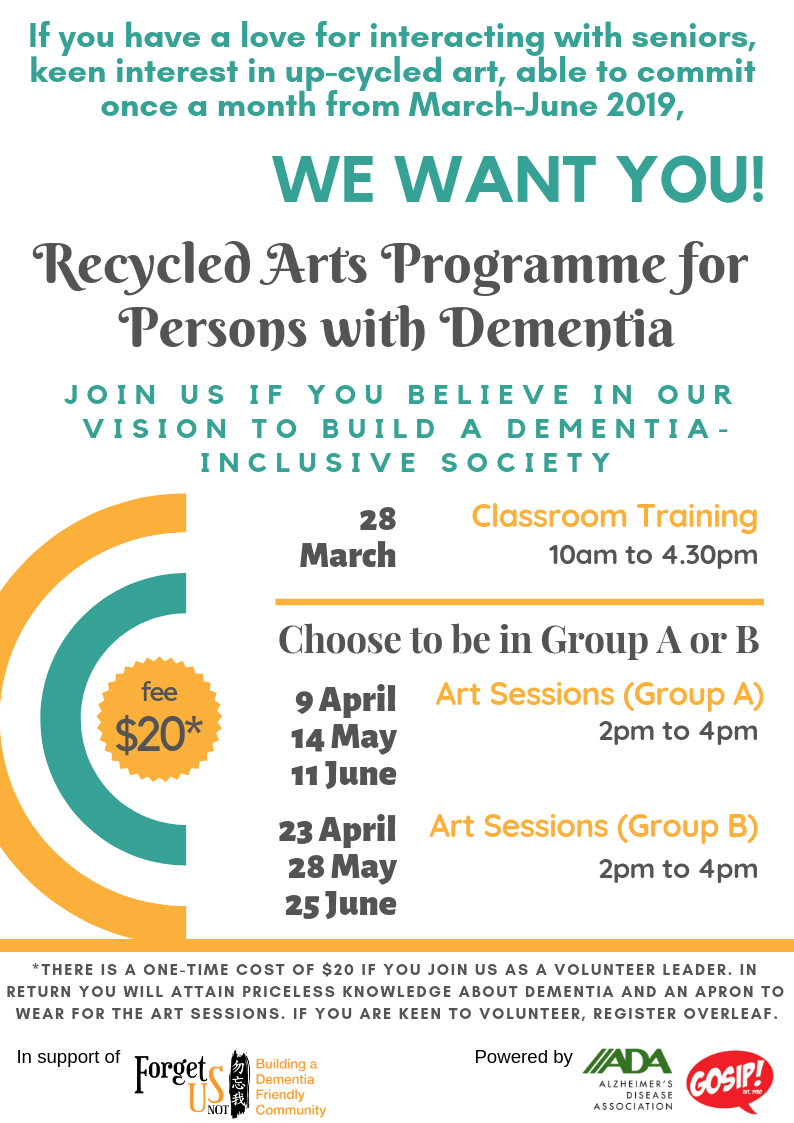 Participants are welcome!
Are you a caregiver of a person with dementia? Seize the opportunity and spend some time bonding with your loved ones through the Recycled Arts Programme! It'll be a wonderful opportunity to spend the afternoon making interesting crafts like an elegant pandan rosette, and quirky bags made from old shirts.
The sessions will also be a chance for you to meet other caregivers, exchange caregiving tips, and learn from each other. If you would like to register, head down to Gosip Café to sign up. There are limited spaces, so register early to secure your spot.
Each session will cost $15 per participant, with different crafts for every session. Sessions will be from 2 to 4pm on 9 and 23 April, 14 and 28 May, as well as 11 and 25 June.