On 3 to 6 September 2019, ADA organised a series of lectures and workshops by Professor Dawn Brooker from the University of Worcester and Director of the Association for Dementia Studies (ADS).  An inaugural visit to Singapore, she was accompanied by Ms Isabelle Latham, Senior Lecturer at ADS.
ADA invited Professor Brooker and Ms Latham to share deeper understanding of the application of the VIPS framework, which has influenced much of our work in providing person-centred dementia care through the direct provision of services for people living with dementia, as well as training and consultancy services for other dementia care providers including day care centres and nursing homes.
During their visit, Prof Brooker noted some distinct differences in the way things were done in the UK and Singapore. Care homes in the UK are more 'home-like'. People do not share bedrooms and they can wear their personal clothes and items; and physical restraint is not used often. "In Singapore, there seems to be a lot more community engagement and support available for people through day services. I was amazed to see people living with dementia contributing at ADA Cafe for an example," said Prof Brooker.
Through the two workshops and two public lectures, a total of 256 participants benefited from Prof Brooker and Ms Latham's practical experiences in training and guiding organisations in person-centred care delivery.  Sharing on care culture and the implementation of Nameste Care in care homes in the UK left participants inspired to do more for people living with dementia in nursing homes in Singapore.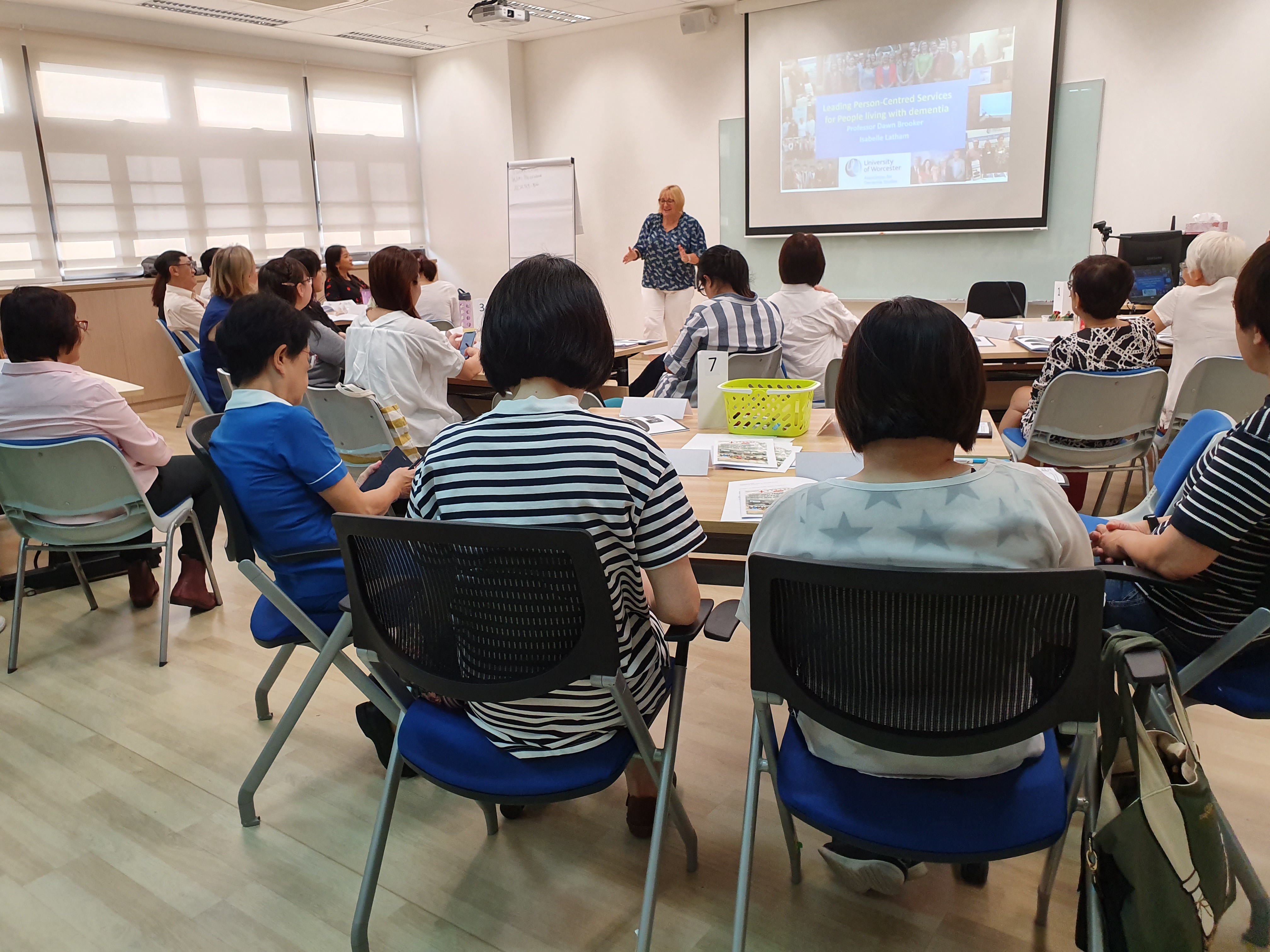 Ms Koh Hwan Jing, Head of ADA Academy, shared how Prof Brooker described the implementation of Person-Centred Care often feels like a "Sisyphean Task". "However, Prof Brooker added that if we choose to collaborate in an effective manner, among care team members, between organisations in the community care sector, and with strong leadership which embraces the philosophy of care, we will be able to empower front line care staff to push the quality of care up gradually to reach the 'top of the hill'," Ms Koh added.
Dr Donald Yeo, Clinical Neuropsychologist and Associate Trainer with ADA, was most impressed by how the VIPS framework can be used in building and infusing person-centred and individualised care practices across the organisation. "Within this practical model of dementia care, senior management has a pivotal role in protecting front line staff as they are strongly empowered to discover unique ways of unlocking the infinite potential in persons living with dementia. This is particularly critical when caring for persons experiencing advanced stages of dementia," he elaborated.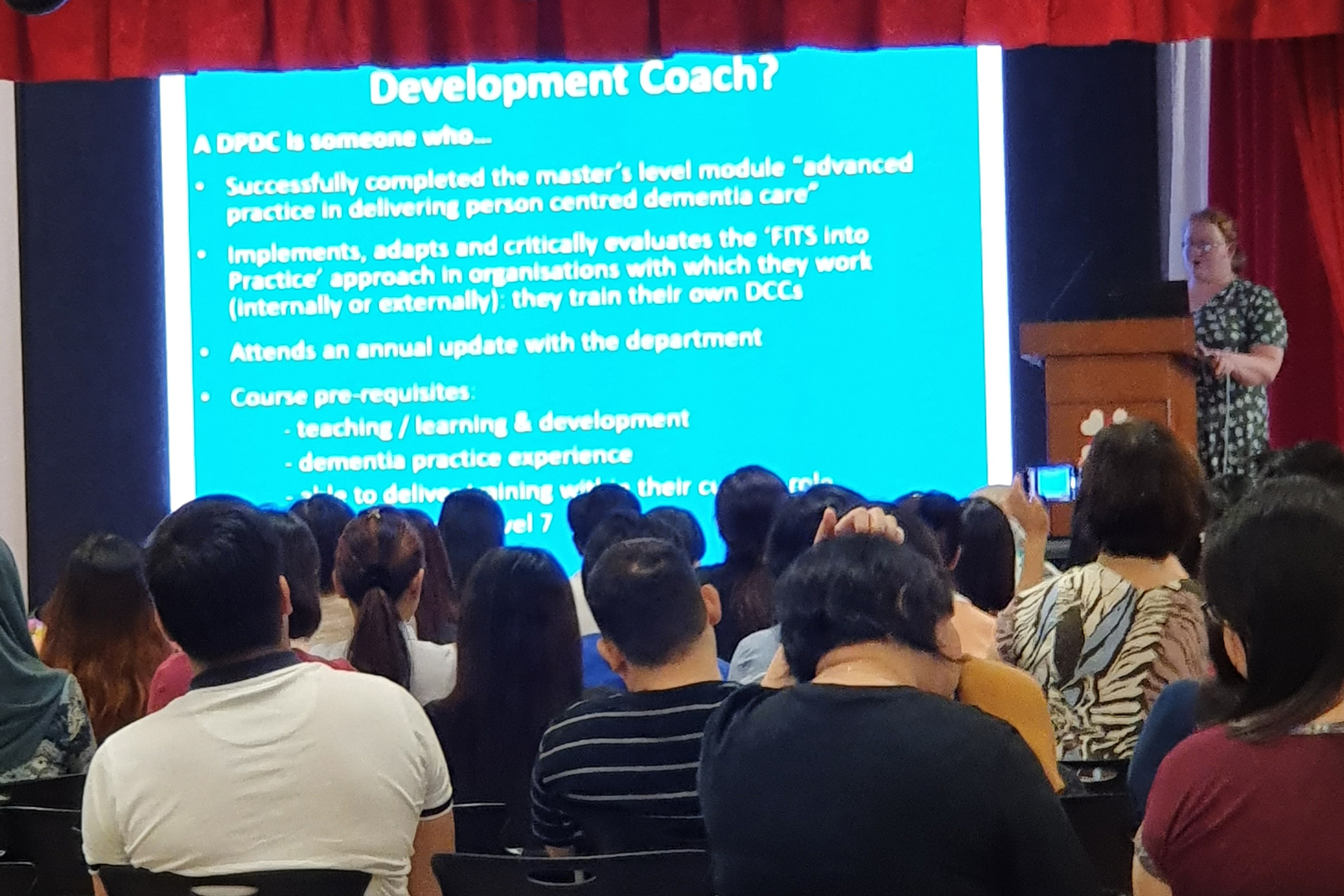 During Prof Brooker and Ms Latham's five-day trip to Singapore, ADA was also privileged to partner with Kwong Wai Shiu Hospital, St Luke's Hospital and Apex Harmony Lodge, where walk-about visits and round-table discussions were held in the hope of more collaborations, and to raise the standards of effective dementia care in Singapore.
"At the end of the visit, I could identify some 'game-changers' – these are people who can visualise and see how things can be done differently and are not afraid to push the boundaries. Such spirit holds promise for people living with dementia in Singapore. I hope our visit inspired everyone to keep trying new things and challenge the status quo," Prof Brooker encouraged.