Across the globe, the COVID-19 pandemic has impacted communities and daily activities in unprecedented ways. Physical volunteering had to cease, leading ADA to redesign its volunteering initiatives to ensure that people who are keen to serve with a heart can continue to support the dementia community.
With a few adaptations and a little creativity, the ADA team leveraged technology to offer skills-based, service-based, and event-based volunteering opportunities virtually. Using the Zoom platform, volunteers were able to connect with clients and caregivers online, and engaged them through various activities such as singing, low-impact exercise sessions, and even digital bingo games, the latter of which was designed by SilverActivities. ADA is grateful to have such enthusiastic volunteer friends dedicated to spreading joy to persons living with dementia, especially during this challenging time.
Project CURAE is one such group. The team of secondary four students from Hwa Chong Institution—Brandon, Darrius, Ervin, Roy and Timothy—volunteered for a total of 10 sessions, committing their Saturdays to hosting exercise and bingo sessions for clients, in the midst of also having to prepare for their GCE O-Level examinations.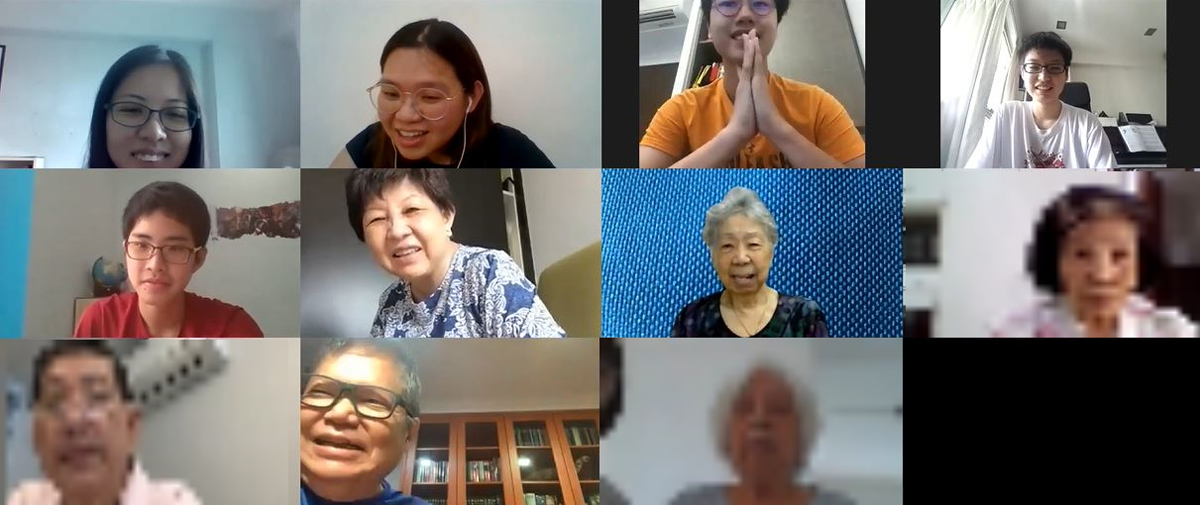 It's all smiles around as student volunteers from Project CURAE, clients and staff enjoy a fun game of digital bingo together.
On top of virtually volunteering, the students created video tutorials such as how to fold origami, and designed a puzzle book in English and Mandarin, which were shared on ADA's social media platforms with the dementia community. ADA is heartened by the enthusiasm of such exemplary youths and the newfound virtual platforms to continue the spirit of volunteerism!
Our heartfelt thanks also goes to CapitaLand Hope Foundation (CHF), the philanthropic arm of CapitaLand focused on community development. To date, staff volunteers from CapitaLand have virtually volunteered with ADA for 10 sessions. In addition, the organisation has also generously donated tablets and accessories for lower income clients to enable them to benefit from the online activities.
"Adjusting to new measures during this COVID-19 situation can be challenging for seniors as they forgo familiar activities and interaction with friends. CapitaLand Hope Foundation is glad to partner with ADA for the CapitaLand #LoveOurSeniors initiative. This initiative helped to improve digital access for vulnerable seniors by keeping them engaged and connected with the community through the donation of tablets and virtual sessions conducted by our staff, " said Mr Tan Seng Chai, Chief Corporate & People Officer for CapitaLand Group and Executive Director of CapitaLand Hope Foundation.
The CapitaLand team also engaged persons living with dementia in activities like karaoke and exercise.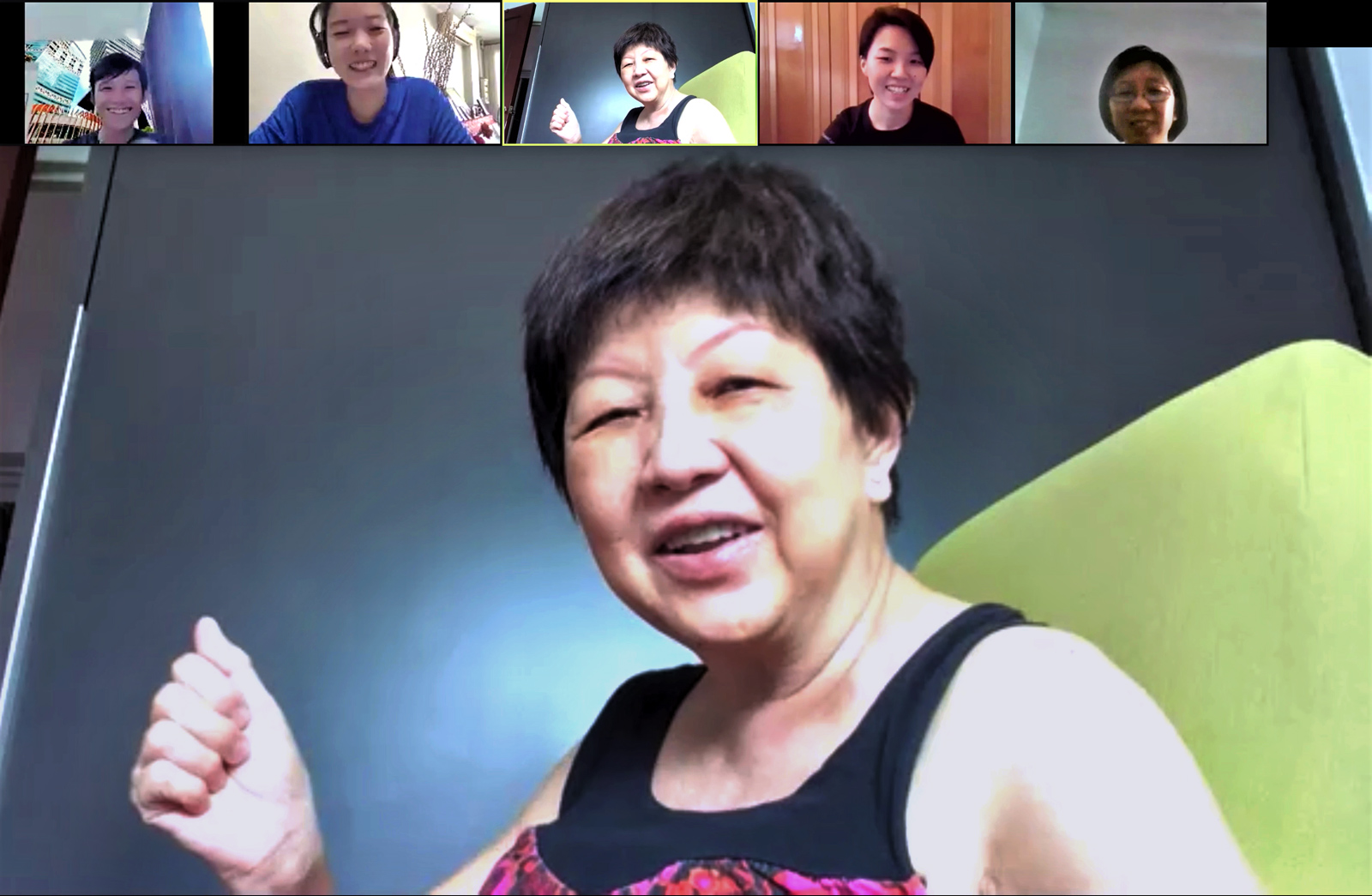 A client happily dances along during a karaoke session with CapitaLand staff volunteers.
The sessions conducted by CapitaLand were well-received, and one of ADA's clients, Ms Lim Swee Har said, "The exercise movements and songs remind me of my younger days, very nice!"
To date, the virtual sessions have garnered more than 180 participants and ADA is encouraged by the positive response.
In a post-COVID-19 world, virtual volunteering will likely remain the new norm and ADA is excited to continue looking for innovative ways to keep the volunteering community connected with our clients!
To volunteer with ADA, visit https://dementia.org.sg/volunteer/ for more information.