Despite the gloom of the pandemic still shrouding the world in 2021, these generous individuals and companies are doing their utmost to spread the spirit of social good and cheer to the dementia community.
MUS.za: A Jewellery Store with a Heart of Gold
For fine jewellery store MUS.za, choosing to give back to the dementia community to commemorate its first anniversary in November last year instead of having a traditional birthday bash was a no-brainer. Founder Esther Ho launched a two-month fundraising initiative to achieve the goal of raising $100,000 for ADA.
In preparation for the initiative, MUS.za reached out to The Social Co., a think-tank enterprise with the aim of solving social issues in Singapore, which linked them up with ADA. A digital campaign, #BringASparkleBackToTheirEyes, was then created to raise funds and awareness for people living with dementia and their caregivers, in the name of ADA's vision to build a dementia-inclusive society.
Supporters of the initiative who donated their jewellery and/or purchased from MUS.za during this fundraising period received styled photography sessions as a "Thank You" gift and became digital ambassadors – a powerful force in helping to spread the word to their networks.
Reaching the targeted sum was no easy feat. We were incredibly heartened to see both individuals and other companies rally together to meet the amount. From long-time friends and clients who pitched in to aid MUS.za's efforts, to companies that offered part of the proceeds from the sales of their products to go to the fundraising effort, it was truly a community effort.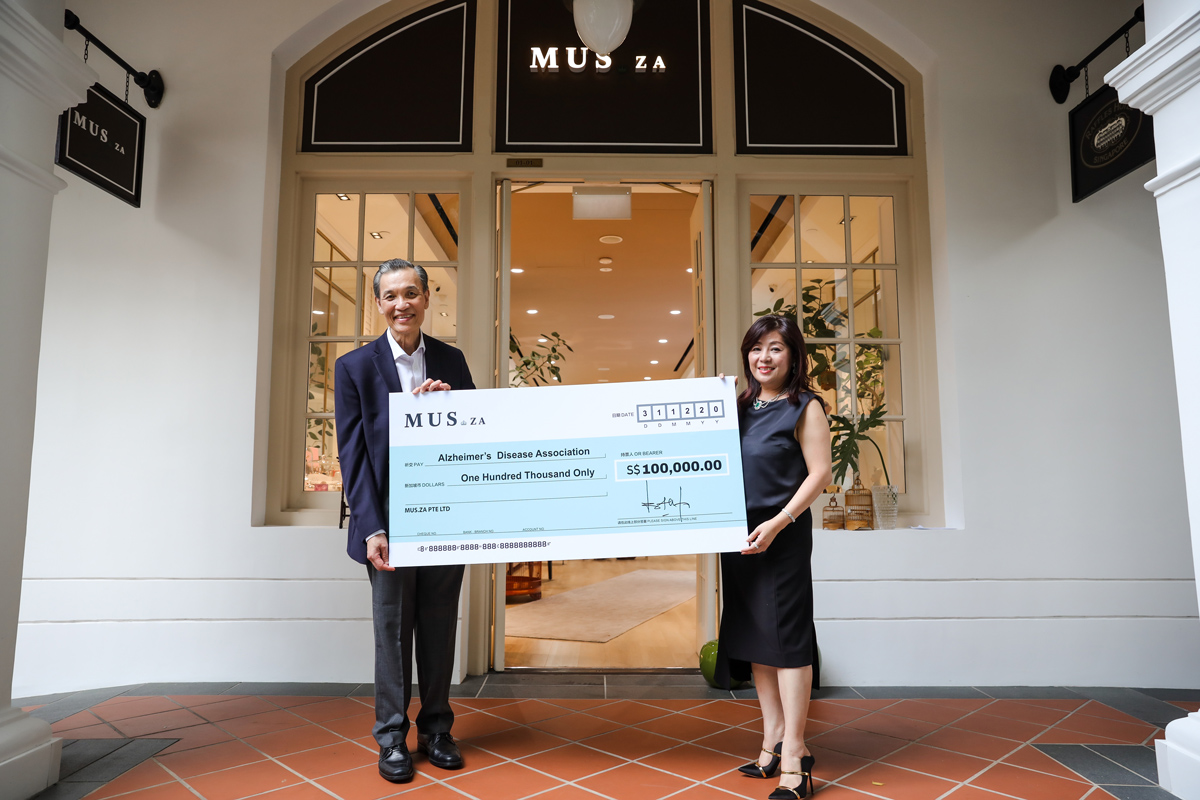 Ms Esther Ho, Founder of MUS.za (right) presenting the $100,000 cheque to Dr Ang Peng Chye, President of ADA (left) at a ceremony at MUS.za's store.
On 15 January, Ms Ho hosted ADA Founder and President Dr Ang Peng Chye and CEO Mr Jason Foo at a cheque presentation ceremony at MUS.za's store at Raffles Hotel Arcade.
"We are most grateful to MUS.za for believing in our work. Their confidence and trust in ADA are testament that we are doing something right. The generosity of MUS.za and its customers has indeed brought a sparkle to the eyes of the dementia community," said Mr Foo. "With this support, we will be able to bring more quality dementia care programmes, services and support to our clients and caregivers."
Spreading the Festive Cheer through the Power of Food
This year's Chinese New Year was extra special for all of us at ADA as our CNY Charity Cookies Fundraiser saw us cross our donation target, raising over $21,000 with the support of all our generous donors! Donors received a premium selection of Pineapple Tarts, Chocolate Chip cookies and White Chocolate cookies which were lovingly packed by our volunteers from ADA.
Cookies are all packed and ready to be sent out to our donors in time for the Chinese New Year festivities.
A massive thank you to our key donors and partners, such as Ho Bee Land, Mr Richard Loi Chee Keong and Mr Francis Chua. Your support and generosity are the fuel we need to continue to work harder and reach out to more persons living with dementia and their caregivers in Singapore. All proceeds from this fundraiser will go towards the continued provision and improvement of various ADA programmes, services, and operations.
The festive period continued without losing momentum in February, as another donor, Soup Restaurant Singapore, stepped up to spread the cheer to one of our Family of Wisdom (FOW) clients who is living with dementia, Mr Lai Hoong Sen, and his caregiver, Mdm Chan.
On 1 February, Mr Lai and Mdm Chan were treated to a very special lunch set up by Soup Restaurant, which included a scrumptious variety of Chinese New Year favourites, their signature Samsui Ginger Chicken, and a Yusheng course for the Year of the Ox festivities.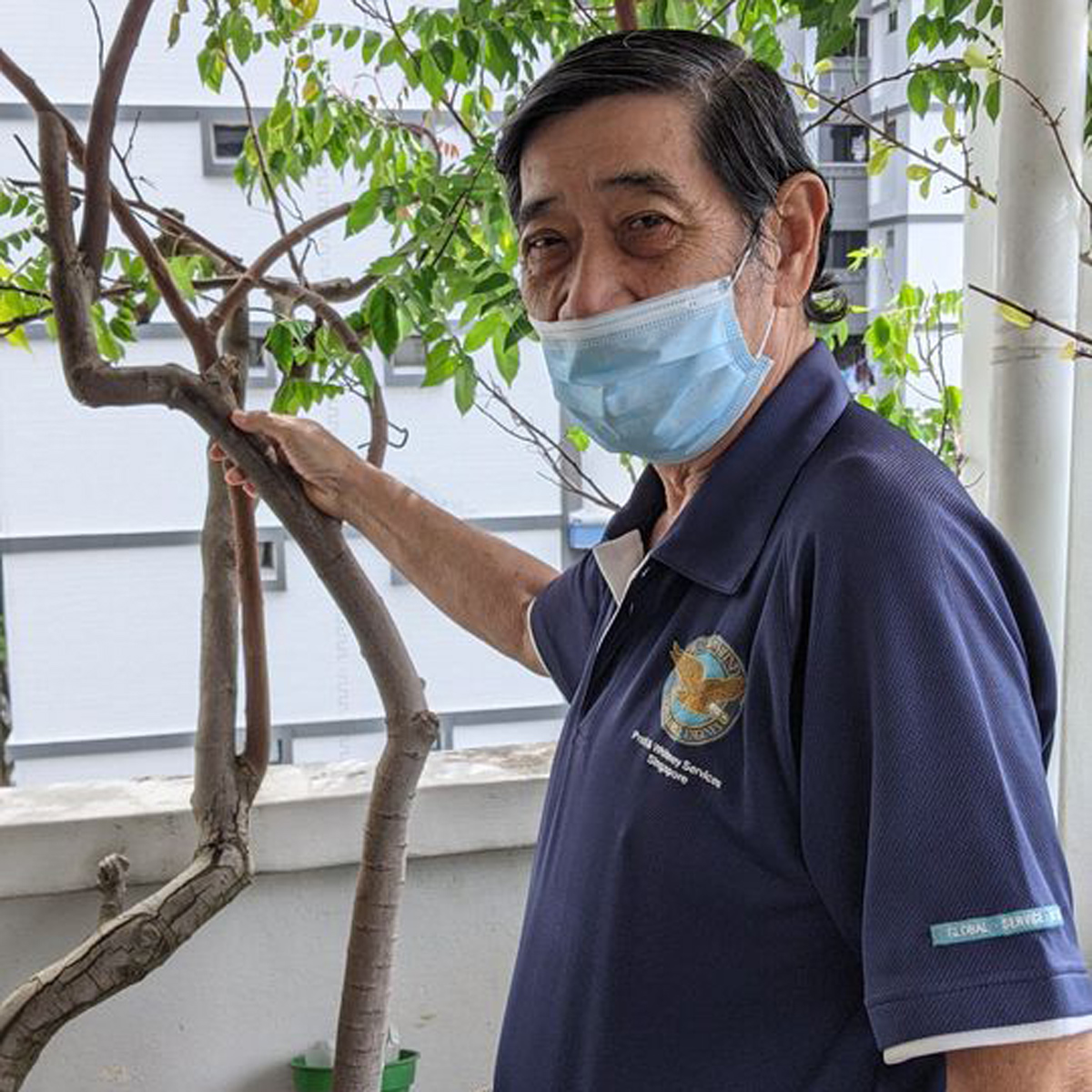 Mr Lai Hoong Seng, 73, is living with dementia and is a Family of Wisdom programme client.
We were especially touched by the staff at Soup Restaurant who went above and beyond to find Mr Lai and Mdm Chan a comfortable seat location, assisting Mdm Chan with her wheelchair, helping to look out for Mr Lai throughout the meal, and conversing with the pair in Cantonese.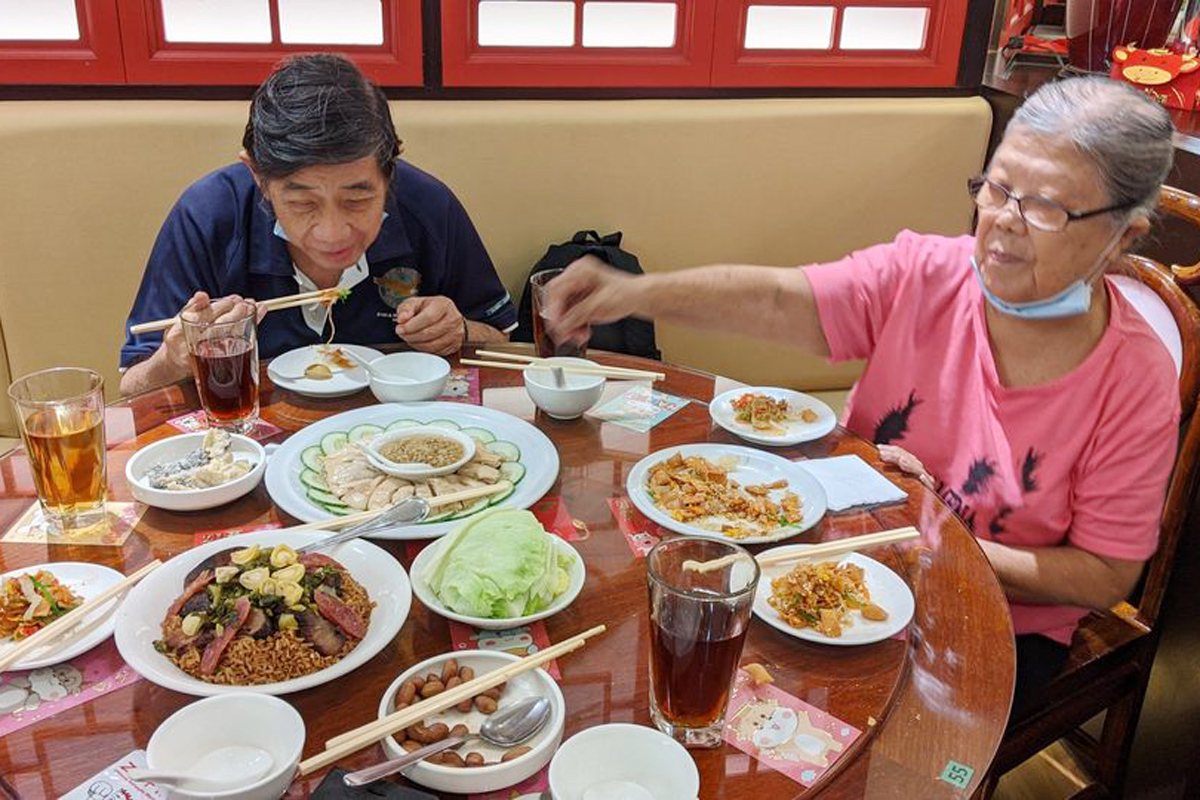 Mr Lai (left) and his neighbour and caregiver, Mdm Chan (right) enjoying a Chinese New Year spread prepared specially by Soup Restaurant.
It is individuals and companies like these who go the extra mile that spur us on to achieve our vision of building a dementia inclusive society. And in a time where very little is certain, we are thankful to be able to count on the kindness, love, and support of all our generous donors.