Despite the COVID-19 pandemic, the Voices for Hope programme continues to coach persons with dementia and care partners, giving them a boost in their confidence as they actively contribute to the community through their stories and sentiments.
2020 ended on a high note as we witnessed two cohorts (4 and 5) graduating from the Voices for Hope programme at Professor Brawn Bistro, Enabling Village in December. With a total of 12 persons with dementia and care partners who shared their lived experience with dementia and caring for someone with the condition, it had undoubtedly tugged the audiences' heartstrings.
It takes tremendous courage to step up and share personal stories revolving around dementia. Many care partners, like Rohani Binte Rahmat, had their reservations about participating in Voices for Hope. Yet, the programme brought solace to her over the weeks. With the many exchanges of anecdotes from other participants, she soon realised that the journey to care for someone with dementia need not be a lonely one.
"I am quite an introvert and to be honest, I felt rather shy and even frustrated when I first joined the programme. Why would I want to speak about dementia and the challenges that we face? However, the knowledge and empowerment that I gained through this programme and the friendships forged will forever be useful in my caregiving journey," shared Rohani.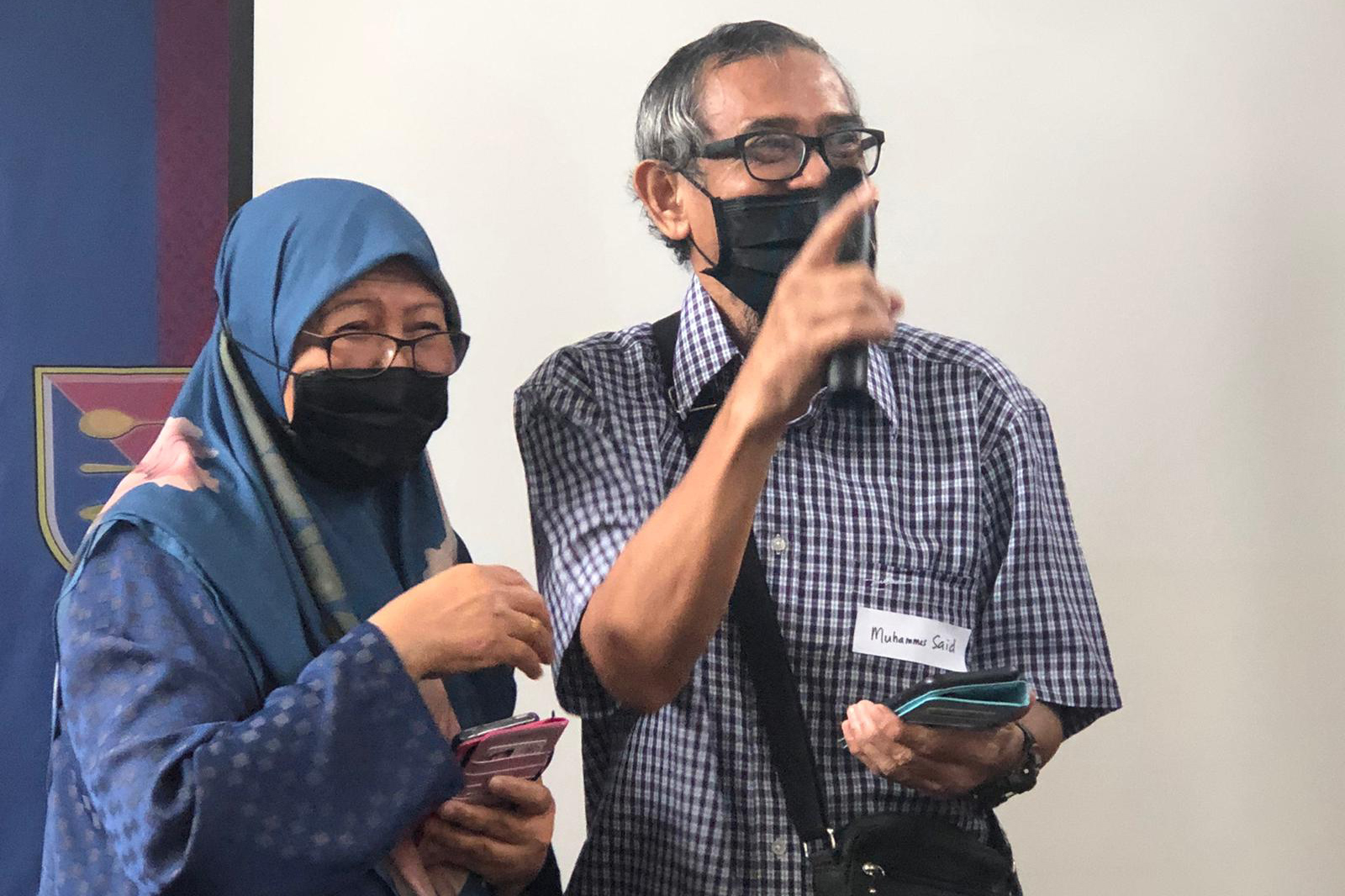 Rohani Binte Rahmat (left), care partner to Muhammad Said, 65, who is living with vascular dementia. The couple has graduated from the Voices for Hope programme.
Rohani has since been involved in two significant events; being a panellist for the Singapore Mental Health Festival, and being invited as a closing speaker at the Alzheimer's Disease International 2020 virtual conference, which was attended by more than 1,600 delegates across the globe.
Voices for Hope has also benefitted others with dementia, including Lim Swee Har, 64, who is living with young onset dementia. "I was able to interact with others who have the same condition, and it has helped me think deeper. I learnt that I should never shut myself out, as it will deteriorate my condition," she shared.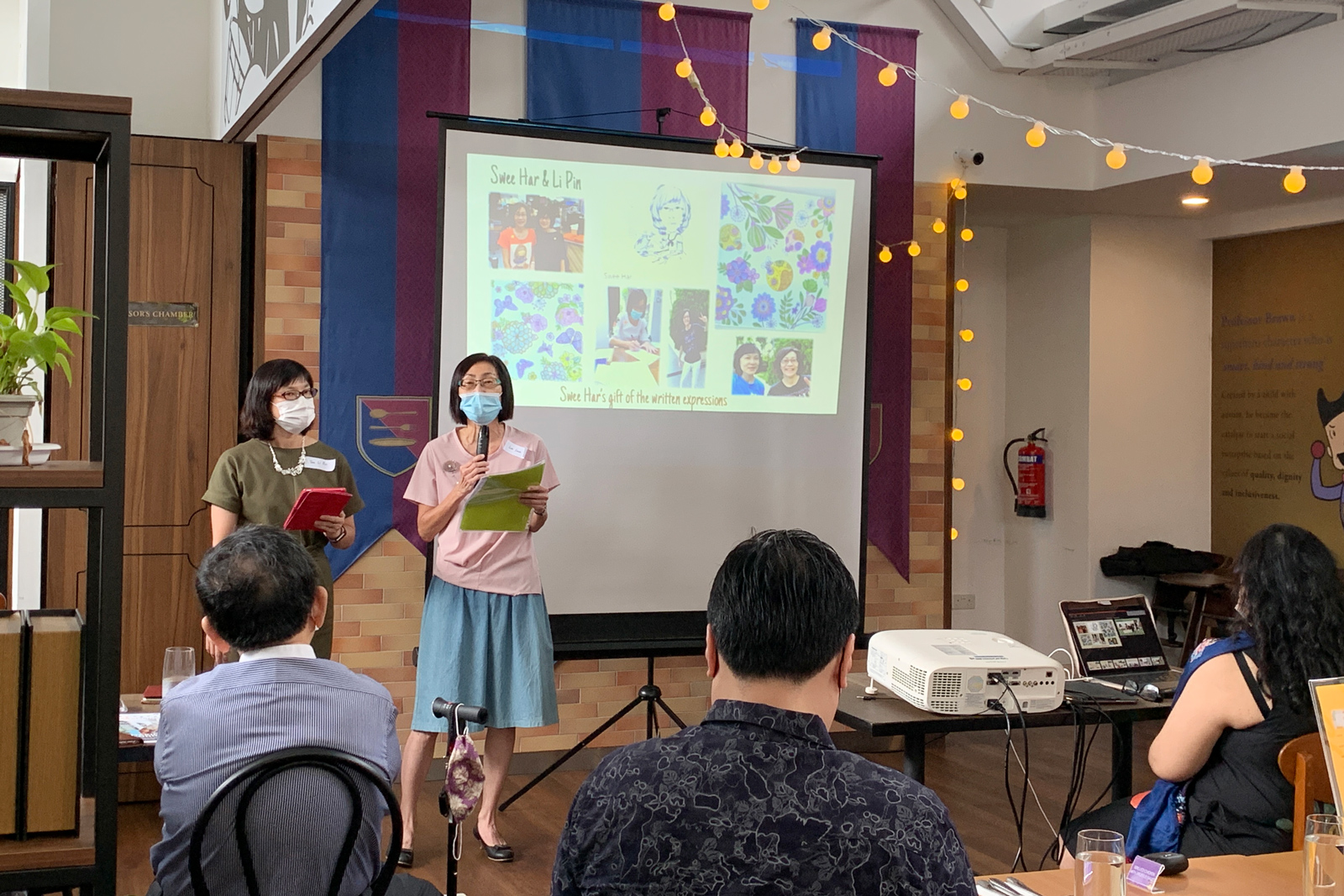 Accompanied by Tan Li Pin, Lim Swee Har (right, in pink), shares that she has acquired new skills after joining the programme.
Swee Har's friend, Tan Li Pin, also gained the knowledge to empower someone with dementia. "I have learnt the 'we do it together' instead of 'I'll do it for you' approach. With patience, it has helped Swee Har establish her routine," Li Pin added.
The Voices for Hope programme would not be possible without the support from community partners including the National Council of Social Service (NCSS) and the Agency for Integrated Care (AIC). Thomas Ong, who was diagnosed with Alzheimer's Disease in 2018, reminded everyone that it is important to acknowledge the help of others. On behalf of the participants and ADA, he extended his thanks to NCSS for investing in this meaningful programme, and thanked programme facilitators Ruth Wong and Emily Ong for their endless support and care.
About Voices for Hope:
Voices for Hope is an empowerment programme that aims to bring persons with dementia and their care partners on a self-advocacy journey. Piloted in 2019, it is a 10-week programme that equips participants with relevant skills and fosters confidence in them to actively share their stories, their needs and views publicly. The goal of Voices for Hope is to change societal attitudes, reduce the stigma of dementia and improve the landscape of how persons with dementia are perceived and supported. As of February 2021, 23 persons with dementia and 21 care partners have graduated from this programme.