Kicking off 2022 on a high were our Voices for Hope graduates! Now, even with its eighth cohort, the transformation of each graduate is remarkable and continues to be an important reminder of why it is important to empower our dementia community on their unique journeys.
How does one's self-advocacy journey begin? From the outside looking in, dementia self-advocates are courageous men and women who provide a much-needed voice for those in the dementia community. And for these courageous men and women, the real journey begins much earlier and is filled with ups and downs at every turn – from first coming to terms with the dementia diagnosis, to learning how to live well with the condition, to discovering a renewed sense of purpose and identity, and ultimately, learning how to speak out against the dementia stigma, and advocating for the needs of others in the community.
Riding these waves and achieving self-advocacy may not be easy, but doing it together with a community of support can make it a smoother and more rewarding experience. This little community comprises loved ones, care partners and other persons with dementia and caregivers.
Well-acquainted with this journey are our Voices for Hope graduates from Cohort 8, who bravely stepped up to share their thought-provoking insights and heartfelt takeaways during their graduation ceremony held on 19 February 2022 at CANA Centre.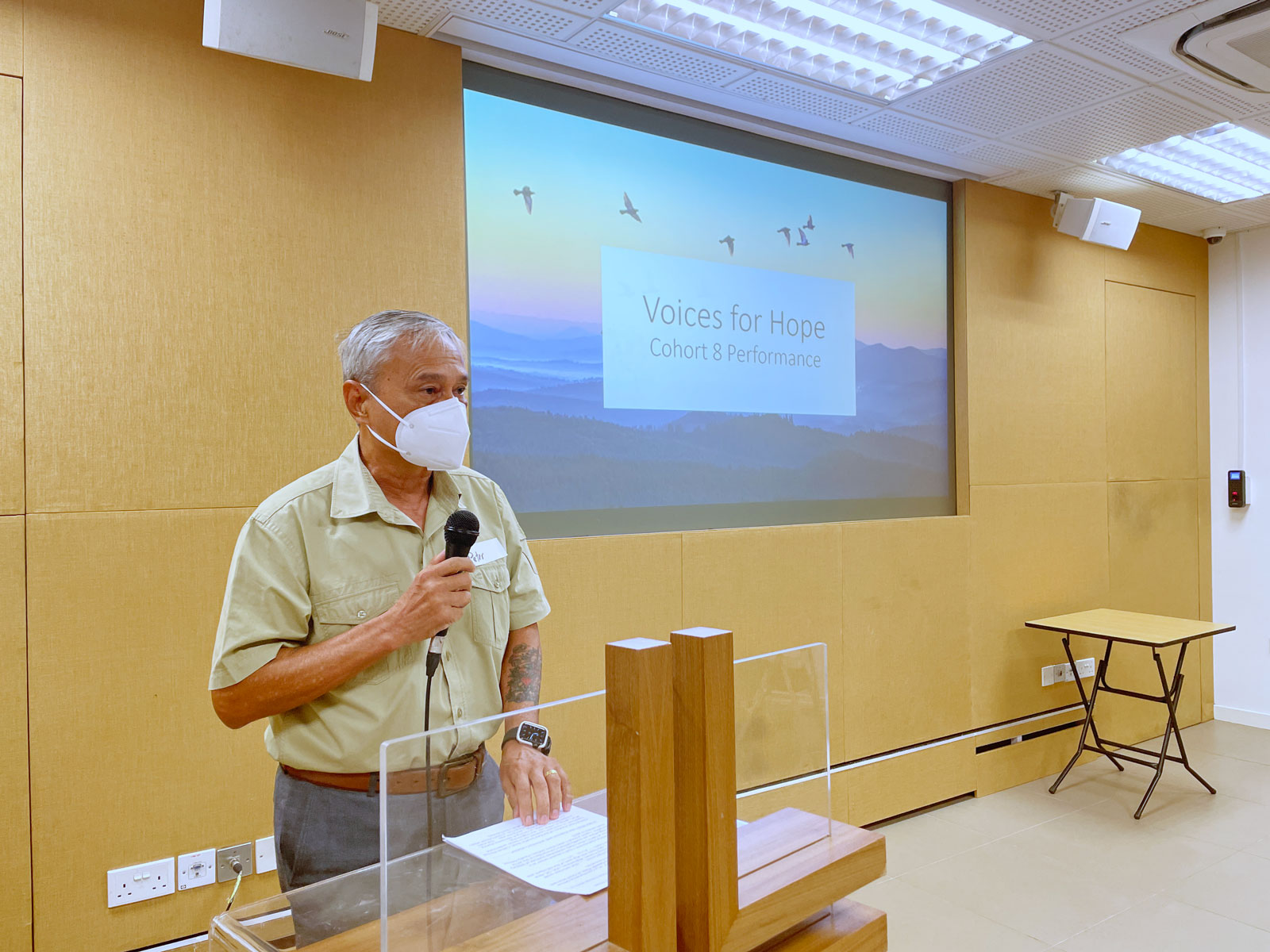 Peter Estrop reflects on how he felt when he was first diagnosed with dementia and his hopes for the road ahead with his loved ones.
For graduate Peter Estrop, getting diagnosed with dementia was scary and confusing at first, but with the support of Evon, his wife and care partner, he was able to get the answers he needed to move forward in his new phase in life.
"If you know the problem, you will be able to address the problem. If you don't, it might take a little while or a little longer to define what is really happening. My wife has been my rock, stabilising me during this challenging part of my journey," he shared.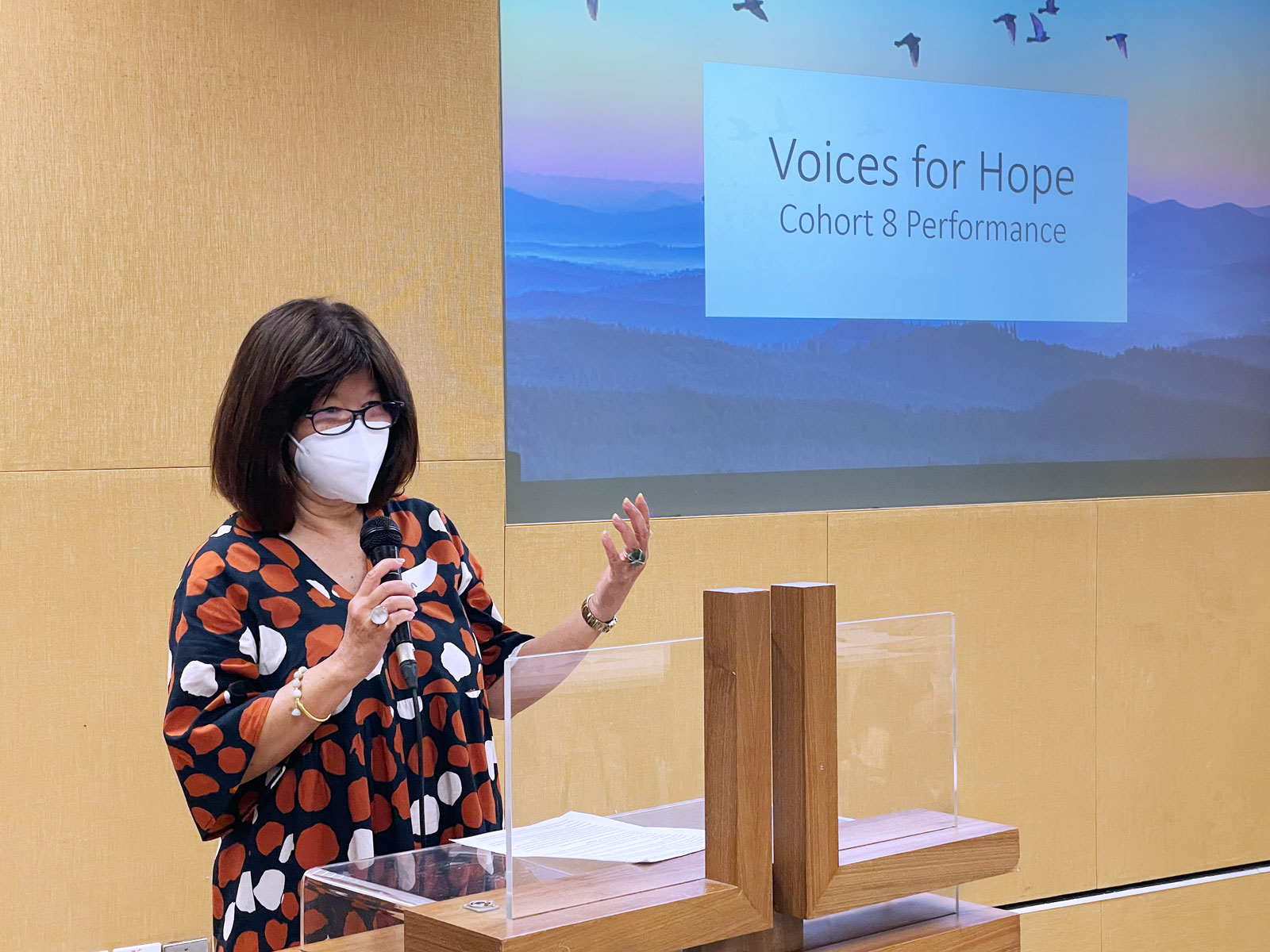 Evon Estrop candidly shares her experiences as Peter's care partner and how they navigate their new journey together.
For Evon, having a community of support behind them helped to make their journey smoother. "I have a degree from the University of Hard Knocks, and I had to quickly snap out of the 'What the hell is happening?' state to seek answers. Fast forward to 6 months later and help came in the form of these angels," she shared, referring to her new Voices for Hope peers.
"Pete and I are grateful to the medical team at Changi General Hospital for the early diagnosis and referral to Bridget Goh [from the Post Diagnostic Support team] at Dementia Singapore, where we were also introduced to Ruth Wong, facilitator of Voices for Hope. From our first meeting with her, we could already sense that she was passionate and supportive of people living with dementia."
"We are also truly in awe of the insights provided by co-facilitators and self-advocates Emily Ong, and Thomas Ong, who is supported by his daughter, Michelle. They have opened our eyes to better understand what is happening, what may happen, and how we can be proactive in our dementia care journey," Evon also said.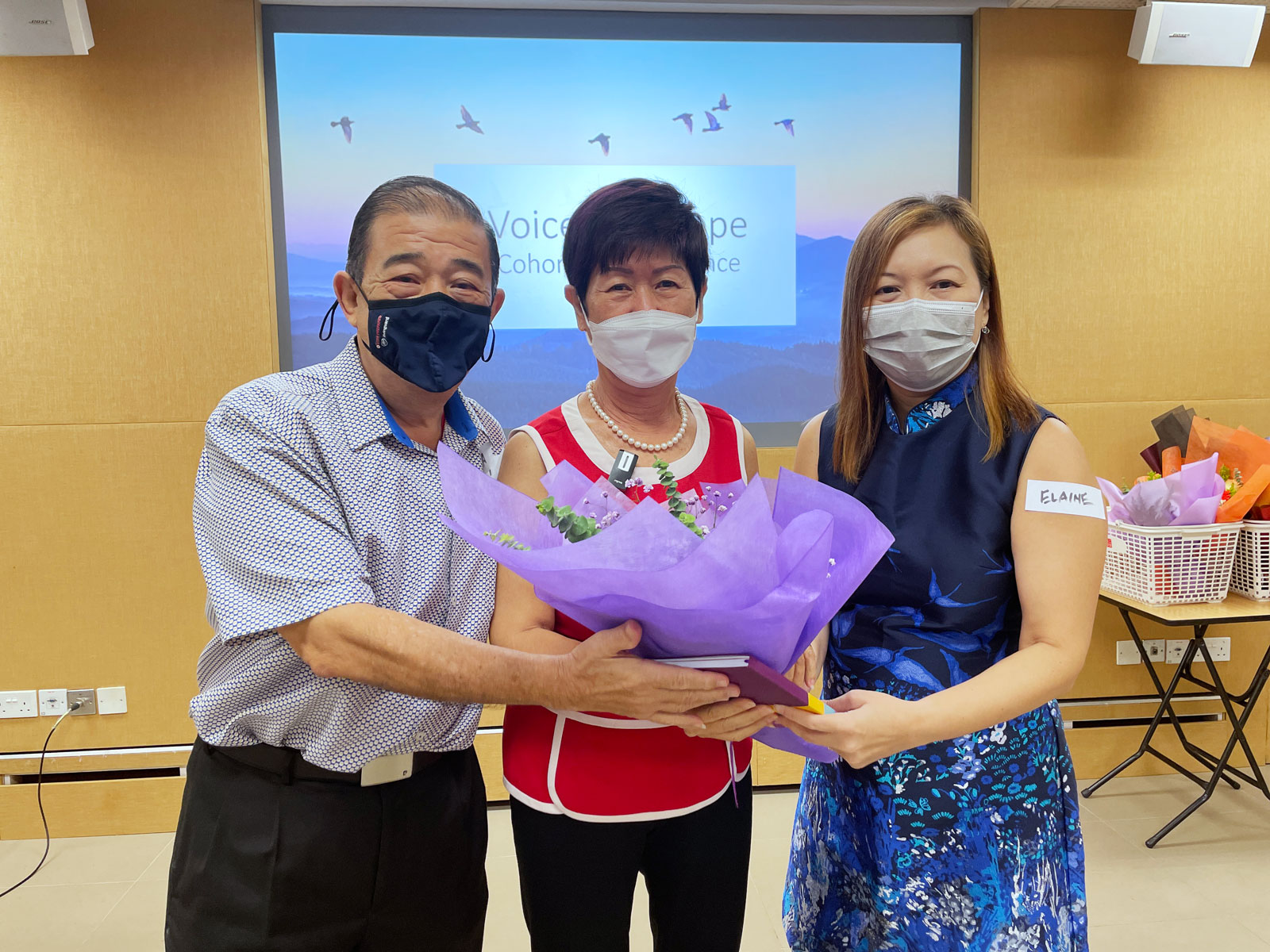 Husband and wife duo, Albert Ng and Mabel Lim, are all smiles as they receive a token of appreciation from Elaine Loo, Director, Service Strategy & Innovation and Director, Capability Funding, National Council of Social Service (NCSS).
As for Geanette Yam, while the start of her new journey has not been the easiest, her acceptance of her condition and renewed confidence in her abilities have enabled her to move forth with a remarkable zeal for the next phase of her life.
"I first discovered I had dementia when I started forgetting things that I needed to do. I struggled to come to terms with it in the initial stages. However, I realised that I needed to change my mindset and accept the fact that dementia cannot be cured, and I'll need to journey with this condition forever. At the end of the day, I can still do many things, and I want to be able to maintain my way of life. I aim to work hard to focus on this so that I don't get left behind," Geanette shared.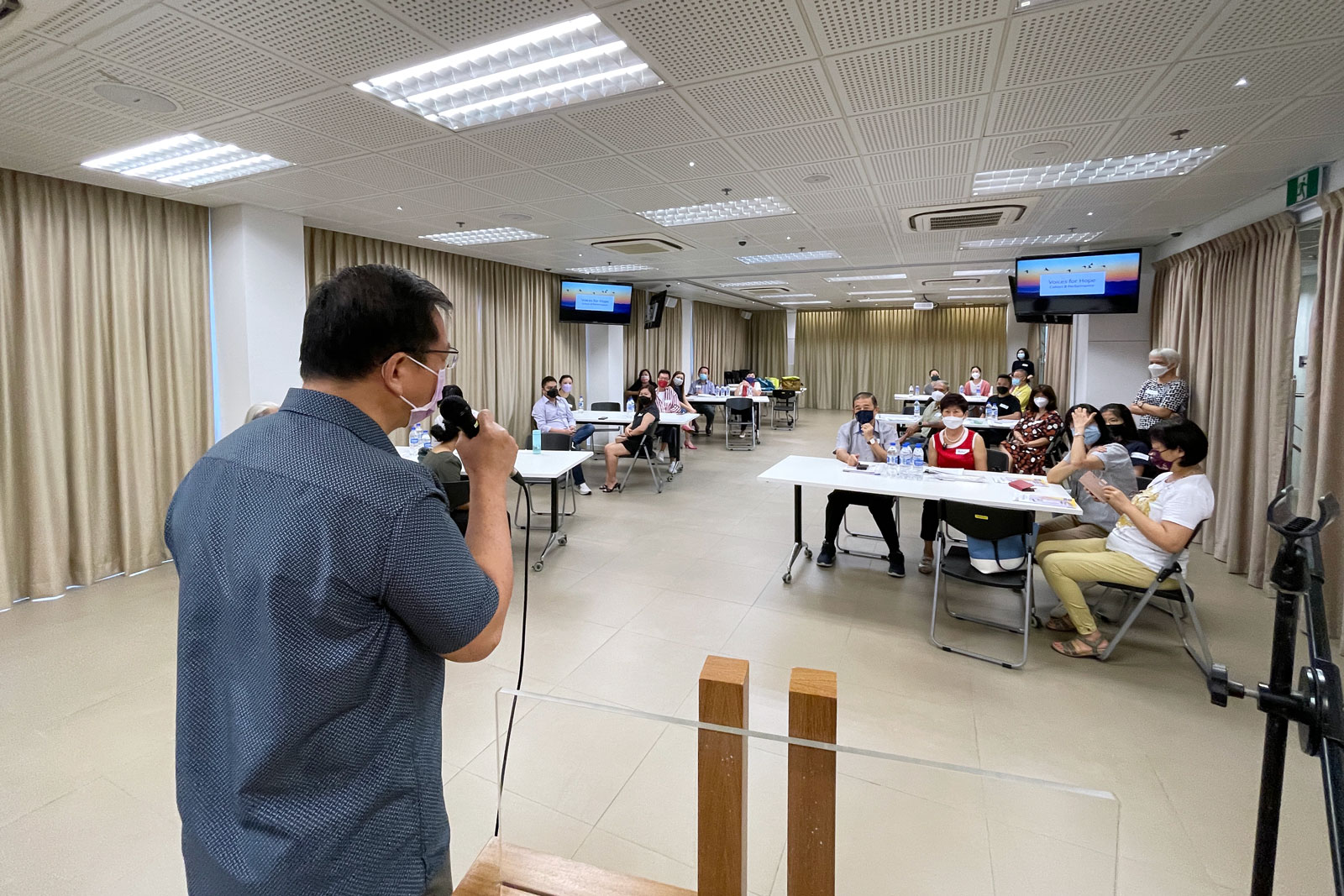 Jason Foo, Dementia Singapore CEO, addresses the graduates of Voices for Hope Cohort 8 and their loved ones.
As Dementia Singapore CEO Jason Foo summed up in his opening speech during the ceremony: "When we see our persons with dementia and their caregivers in action, we realise how talented they still are and that really inspires us!"
To all our graduates of Cohort 8, your tenacity and courage to live life to the fullest, despite dementia, is exactly why we do what we do to serve the dementia community. And as with our previous cohorts, we look forward to your advocacy milestones in time to come!
The Voices for Hope programme would not be possible without the support from community partners, including NCSS and the Agency for Integrated Care.
About Voices for Hope:
Voices for Hope is an empowerment programme that aims to bring persons with dementia and their care partners on a self-advocacy journey. Piloted in 2019, it is a 10-week programme that equips participants with relevant skills and fosters confidence in them to actively share their stories, needs and views publicly. The goal of Voices for Hope is to change societal attitudes, reduce the stigma of dementia and improve the landscape of how persons with dementia are perceived and supported.
As of February 2022, a total of 34 persons with dementia and 34 care partners have graduated from this programme.
More information here.