"What's there to be unhappy? Must always have a smile." With an easy smile and the occasional hearty chuckle, Madam Alice Lim certainly embodies the spirit of someone who has seen it all and appreciates the simple things in life. Decked in a flowery green and red ensemble, and adorned with accessories and a twinkle in her eye, she looks nothing like a woman about to hit the magical 100 mark.
Instead, she exudes a cheerfulness and humility which she claims to have been part of her personality from young; traits that have contributed to her reaching the impressive milestone, along with abstaining from smoking and drinking. When quizzed further on her secrets to longevity, Madam Alice simply cracks another of her warm smiles and quips, "Nothing special. [Being able to] live like that [despite] being so old is very good already".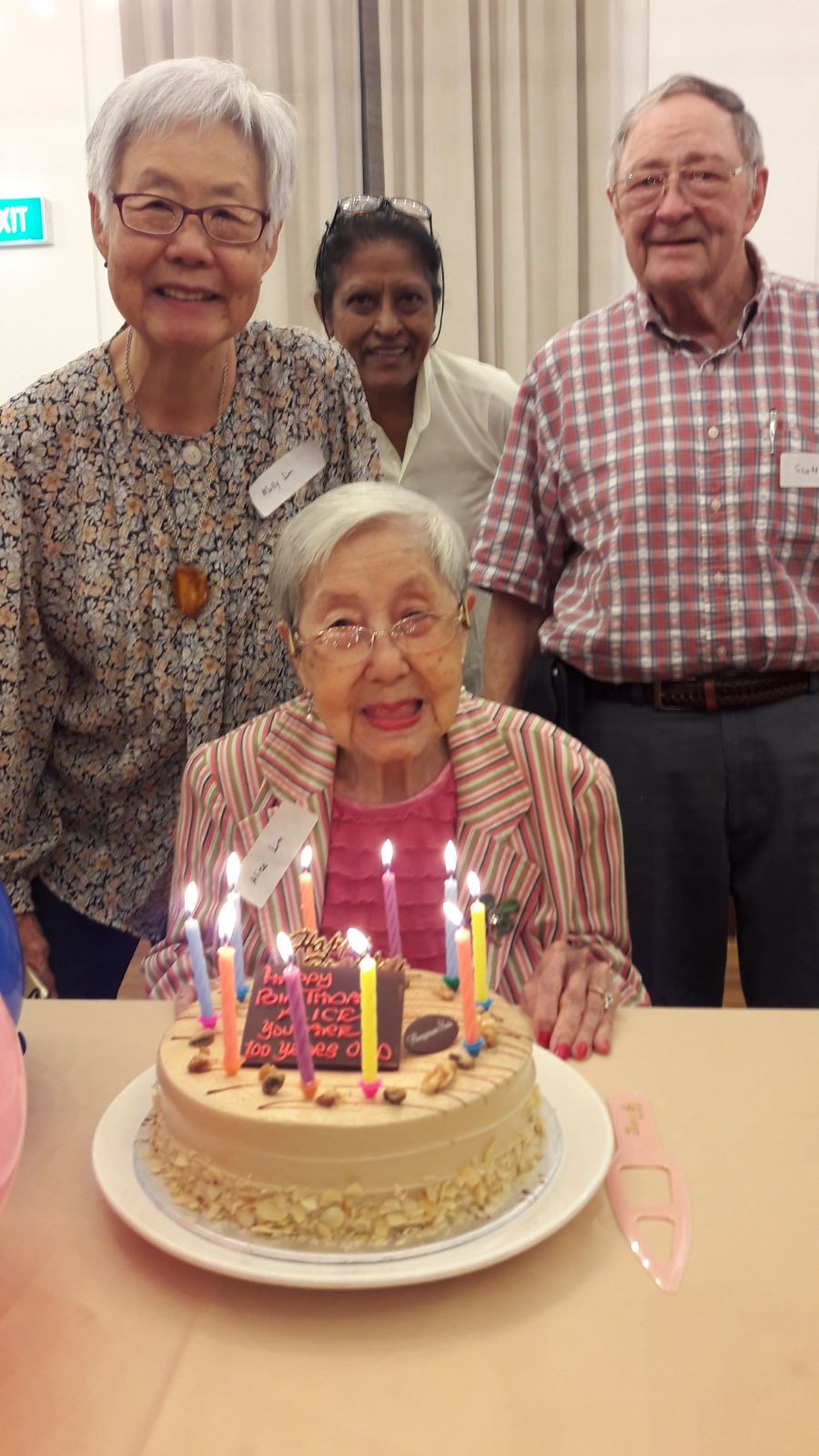 A former assistant to an orthopaedics professor at the then General Hospital in her heyday, Alice enjoys painting, with red her favourite colour, and dancing. She is also an animal lover, with Animal Planet her favourite TV channel and a preference for dogs over cats. "Dogs are better. Cats can scratch you," she says. Beneath her jovial, vibrant appearance, however, lies a steely, silent determination not to let life get the better of her. Alice has been battling Alzheimer's disease for more than a decade. This makes her centenarian status even more amazing, and she would not have made it if not for her daughter, Molly.
A Love That Transcends Distance
Like her mother, Molly, 72, projects an inner strength and resilience honed by years of patient caregiving and loving sacrifice. Throughout the interview, she was always tending to her mother, paying attention to her every need. She also keeps the tradition of preparing red eggs and mee suah for every birthday Madam Alice celebrates. "I do it for mummy now because she used to do it for us when we were young," she explains. A medical social worker based in the United States, she always makes it a point to be in Singapore during Chinese New Year and September for her mother's birthday.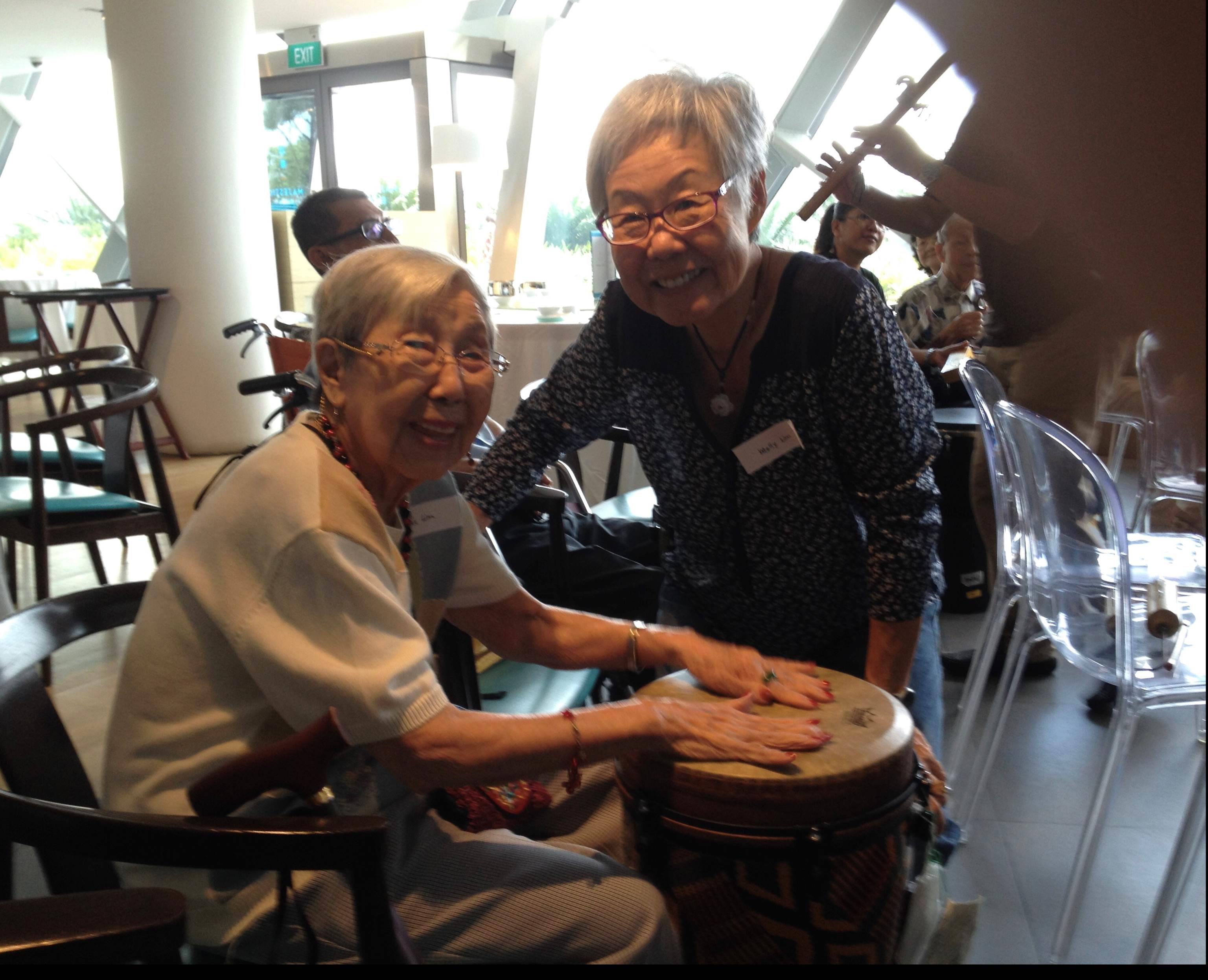 Fortunately, Molly's intuition and experience from her social work training led her to recognise that all was not well with her mother.  "We got an early diagnosis around 2002. When I came back [from the US] I felt something wasn't quite right, so I insisted for a visit to our family physician and pointed out to him what I was seeing. At that point, he made a referral to a geriatric doctor and that's where she had her diagnosis," recalls Molly. "At that time, I was totally unfamiliar with the diagnosis, and thought she could still manage if I organise food service and so on. But after a couple of years, it was quite clear that she needed much more than that."
Village Of Support
Having attended workshops in Singapore and where she was living in the US, and talked to professionals who shared their personal experiences with Alzheimer's Disease, Molly learnt that it was critical for Alice to not only have physical but mental stimulation. "I was absolutely convinced in my own mind that we could not provide the stimulation at home," she says. Through a referral by CODE 4 Medical Service, a home-based physician nursing service, Molly came across the Alzheimer's Disease Association (ADA) and decided to give it a try in 2004.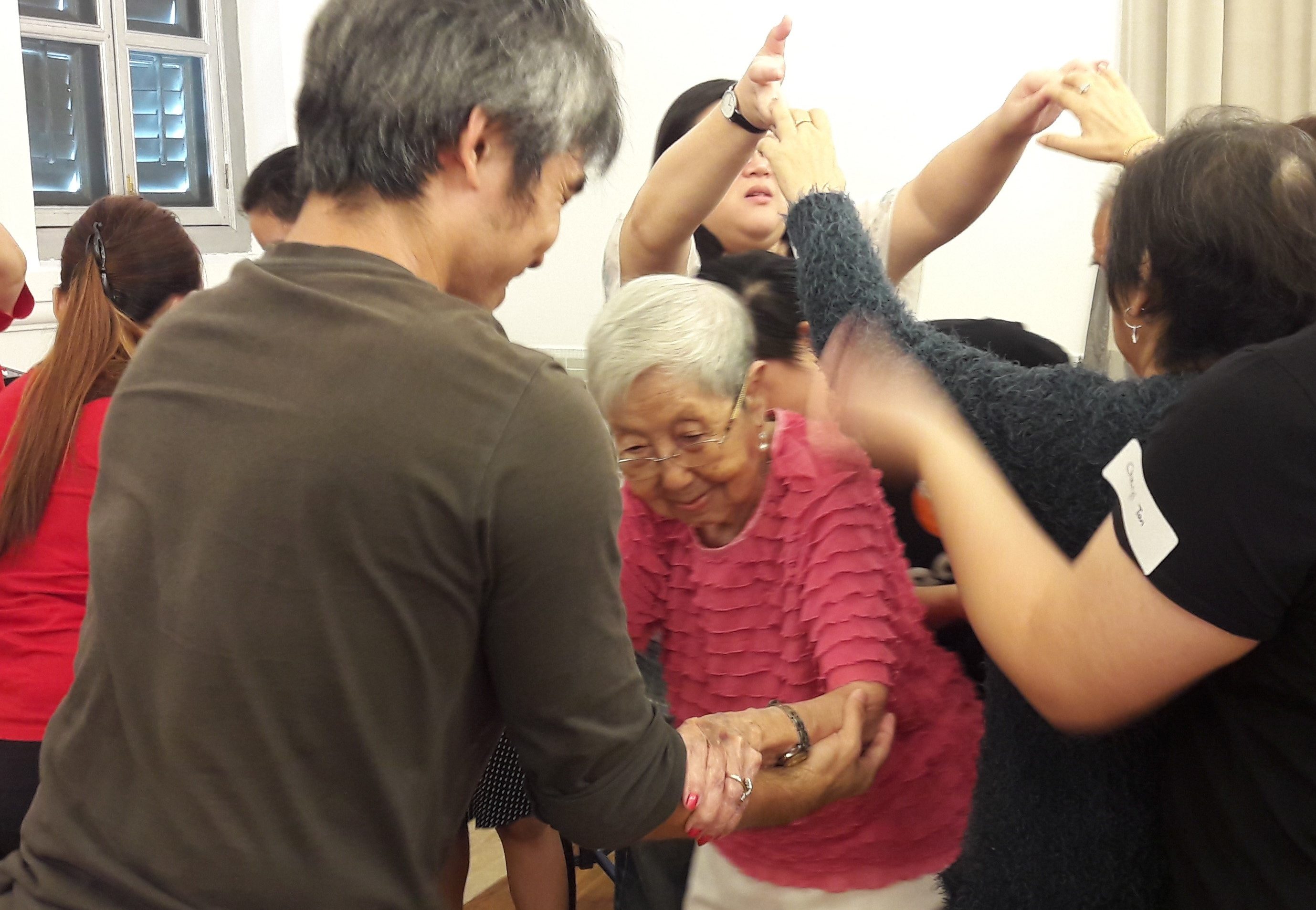 Going to a strange place, meeting new people, and being there on a structured and regular basis was tough for Alice, and Molly had to find ways to 'trick' her into attending the sessions at the New Horizon Centre at Toa Payoh. "It was a firm conviction on my part that I had to do what's best for her even if that was not what she wanted to do," recalls Molly. "I was and still am very convinced that the structure and variety of stimulations provided through the various programmes at the centre has absolutely helped her through these years. ADA is part of that village that has helped Mum reach this 100 mark."
Friends also formed a key part of Alice's support system, with people helping out and checking in on her in Molly's absence. "Lots of people have helped along the way; in terms of being available and being the on-the-spot contact person to make sure her caregiver has monthly expenses, and they've stuck with it through the years."
Better Early Than Sorry
Looking back, Molly acknowledges that it was the presence of a strong support structure, coupled with steps she took which were enabled by early diagnosis of the condition, that allowed mummy to reach this milestone. "It's a scary diagnosis that no one wants to know about. But If I did not have the diagnosis then, I would not have delved into researching about it," she reflects. Besides gathering information, getting the Alzheimer's diagnosis early enabled Molly to introduce much needed structure in her mother's daily routine through a diary on her meals and activities, and weekly chats over the phone at fixed times. "Through this, you can see how much she's deteriorated," explains Molly.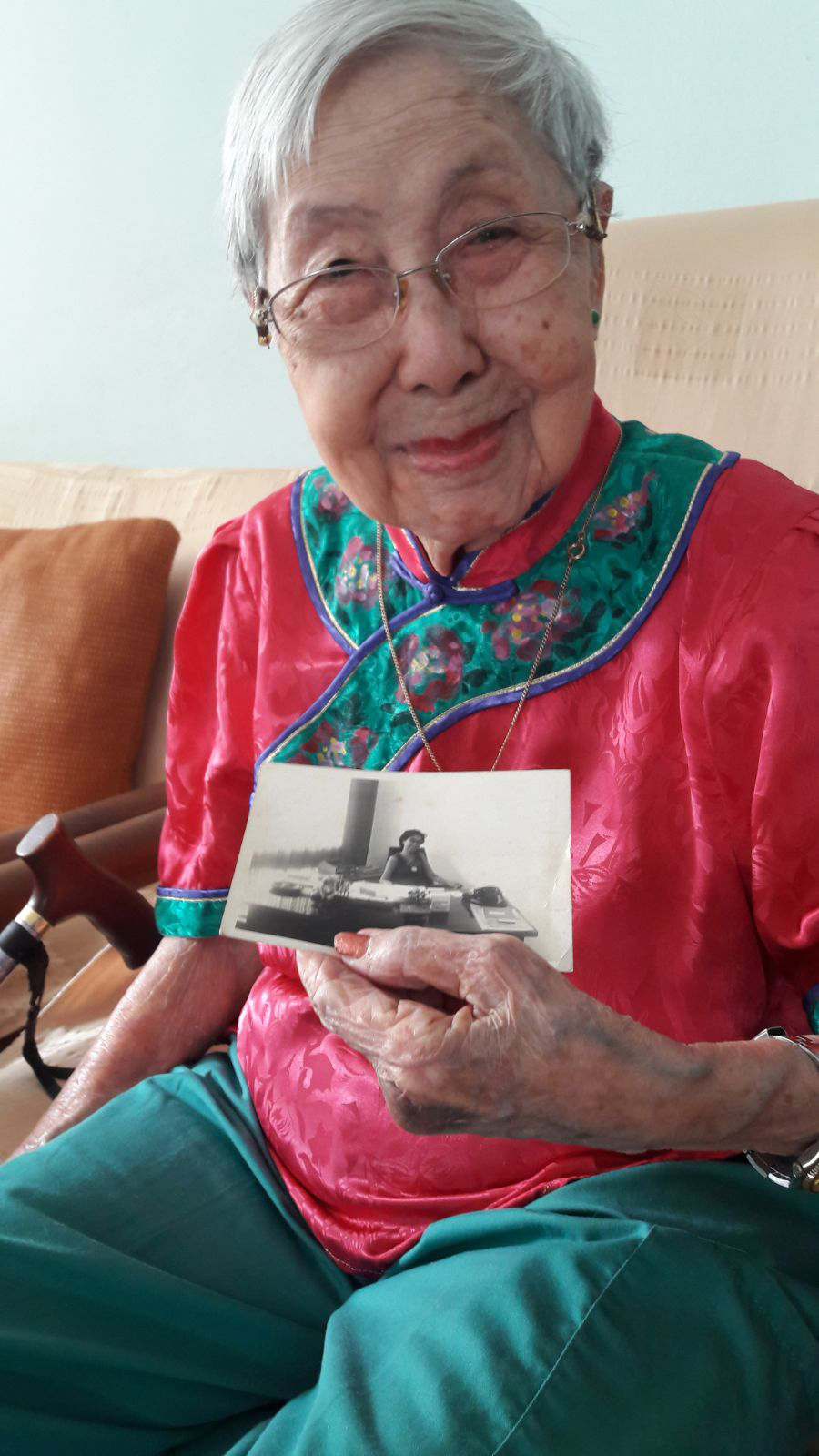 Alzheimer's Disease can be an extremely difficult disease to accept for loved ones, and is especially challenging for people like Molly who are unable to be physically present all the time. Early diagnosis allows caregivers to come to terms with the disease and equip themselves with important knowledge to better care for their loved ones. Molly says, "The disease has taught me that there are some things in life that you can't change. When you live through it, you begin to learn how to understand it".