Persons with dementia and their caregivers experience rejection, loneliness, shame, and feel less competent, according to the first national survey on dementia in Singapore.
More than 5,600 across Singapore participated in the survey by the Singapore Management University (SMU) and Alzheimer's Disease Association. Respondents included persons with dementia, caregivers, and the general public.
It revealed that nearly 3 in 4 persons with dementia feel rejection and loneliness, and more than half feel that others act as though they are less competent due to their condition. On caregivers, the survey found that nearly 30% feel embarrassed while caring for their loved ones with dementia in public, with more than 1 in 10 feeling like people around them seemed awkward on these occasions.
Commenting on these findings, Mr Jason Foo, Chief Executive Officer of Alzheimer's Disease Association said, "Stigma affects more than just the quality of life for persons with dementia and their families. It really emphasises that we should use the right type of language; show more empathy for persons with dementia and their caregivers, and aim to integrate persons with dementia into the society by building dementia-friendly communities to support them."
Improving Perceptions and fighting stigma
Unsurprisingly, those who hold no connection to dementia showed the highest stigmatic attitude. However, this was closely followed by persons with dementia themselves, with 1 in 2 feeling ashamed of their condition. In these cases, stigma was cited as the main reason.
Survey findings also reinforced the need for more dementia education and awareness, with 57% of the general public rating themselves low in dementia knowledge.
Encouraging to note is that nearly 8 in 10 of all respondents want to do more to improve the lives of persons with dementia. In fact, 70% of all respondents agreed that Singapore needs to provide more dementia-friendly amenities. "We need to strive towards changing the mindset of society and break stereotypes. All of us should not focus on their (persons with dementia) deficits, but on what they can still do with their remaining abilities. It's important to recognise that they can still lead purposeful and meaningful lives," Mr Foo shared.
Prof Lim Kian Guan, Vice Provost (Undergraduate Matters) and OUB Chair Professor of Finance, commented that creating greater awareness among students about society's perceptions of dementia, is one of the first steps towards nurturing citizens who can make meaningful impact to society.
"Forging an inclusive society is by no means an easy task. Remember.For.Me. gave SMU students enormous exposure to a societal challenge and contributed to the ongoing national discussion on Singapore's steep greying gradient. Through this project, students gained a deep, immersive and practical hands-on experience of applying statistical methods to analyse the realities of Alzheimer's disease and dementia beyond the classroom. We hope our statistical findings will spur Singaporeans to learn more about what can be done to improve the lives of those living with dementia, as well as that of caregivers,"  said Prof Lim. 
Mr Foo also thanked all the SMU students for their hand in helping ADA to conduct the significant survey: "I want to acknowledge all the hard work done by Ms Rosie Ching and the undergraduates from her Statistics module, who spent the last four months on this nation-wide survey, investing time and effort to develop the questions with ADA, conducting the interviews and putting these presentations together," said Mr Foo, adding that without the partnership with SMU, Remember.For.Me would not have been possible.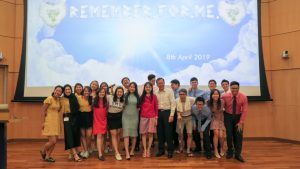 Remember.For.Me. Alzheimer's Disease & Dementia Project by SMU Senior Lecturer of Statistics, Rosie Ching (in red long-sleeved jacket) and her Statistics students. Photo includes Mr Jason Foo, CEO of ADA (in white long-sleeved shirt). – Photos by SMU
For those interested, full survey results are available at Screening Statistics.
Media Coverage