Hearing personal stories are often significant and meaningful. Through Voices for Hope, ADA wants persons with dementia and their families to partner with us in our dementia awareness and advocacy efforts.
Persons with dementia are generally perceived to be incapable of making decisions and their opinions are rarely consulted. Such perceptions will only intensify the stigma towards dementia.
In January 2019, with the support from National Council of Social Service, ADA introduced a pilot programme 'Voices for Hope' to empower persons with dementia and their caregivers in Singapore. The programme aims to enable persons with dementia to be confident and equipped with relevant skills to "step up" and actively share their stories, needs, and views in public platforms.
Since its inception, two cohorts consisting of 12 persons with dementia have graduated from Voices for Hope.
Take Peter Lim for an example, who has lived with dementia for at least a decade now. He and his wife, Tan Quee Eng, have attended eight three-hour sessions together every Saturday to equip themselves with self-advocacy skills.  "I am delighted to be an advocate for dementia because it has allowed me to share my situation with others. I want to be involved and still be able to contribute to our community," Peter shares candidly.
A Glimpse into Voices for Hope
The session begins with an introduction as they may have forgotten each other over the week. Based on the group's interest, activities such as scrapbooking and letter writing to a significant person are conducted. To build their confidence on public speaking further, the programme also includes an open-mic session, where persons with dementia and caregivers can speak on a topic that they care about.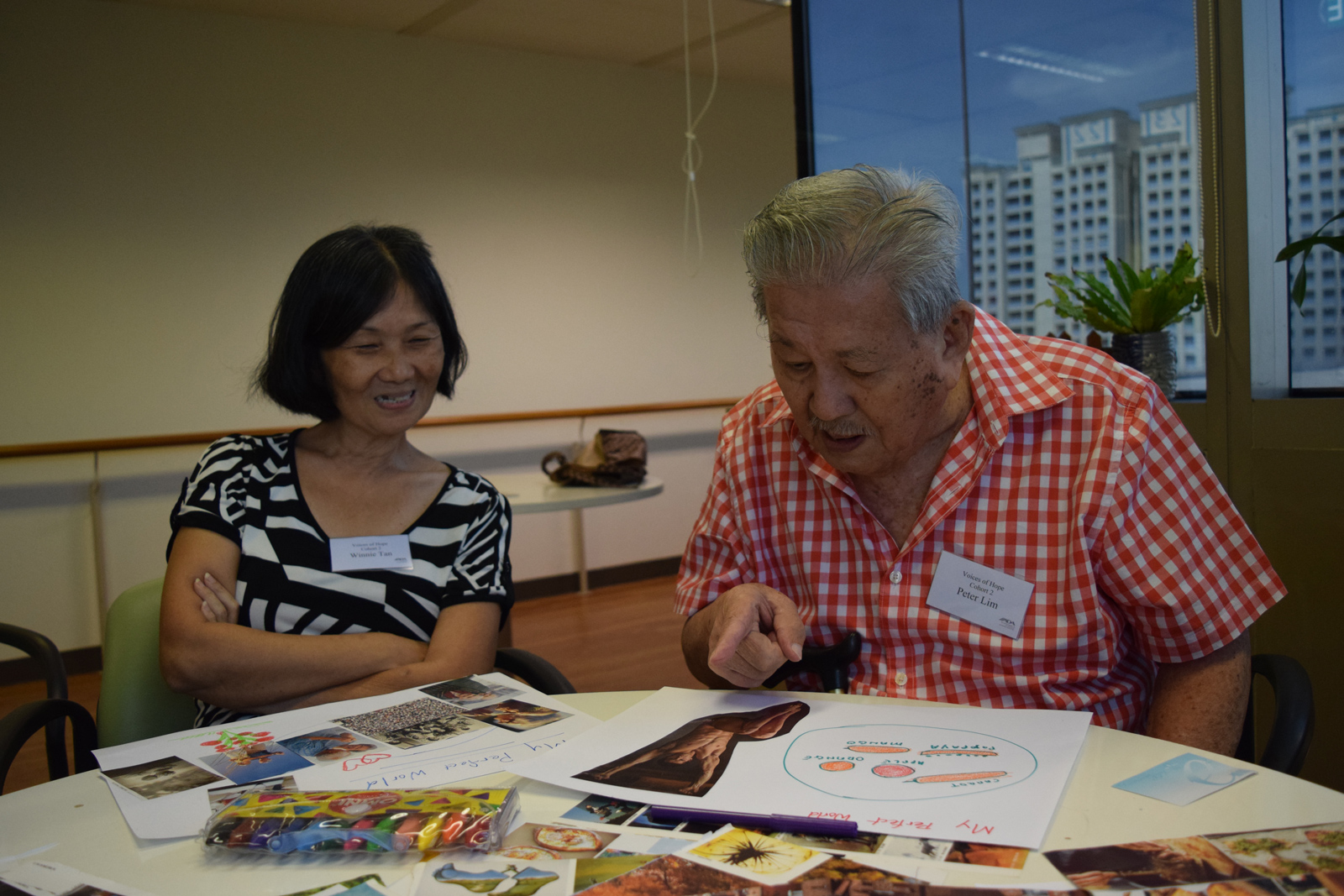 Peter shares the story behind his collage with Winnie Tan, a participant with dementia.
Voices for Hope will run for three years. The programme is about more than getting a small group of people to speak up. The ultimate goal is to change societal attitudes, reduce the stigma and improve the landscape of how persons with dementia are perceived and supported.
Upon completion of the programme, the participants are invited to be members of the Forget Us Not (FUN) Network, supported by Lien Foundation, which continues to provide support, ongoing training and speaking opportunities.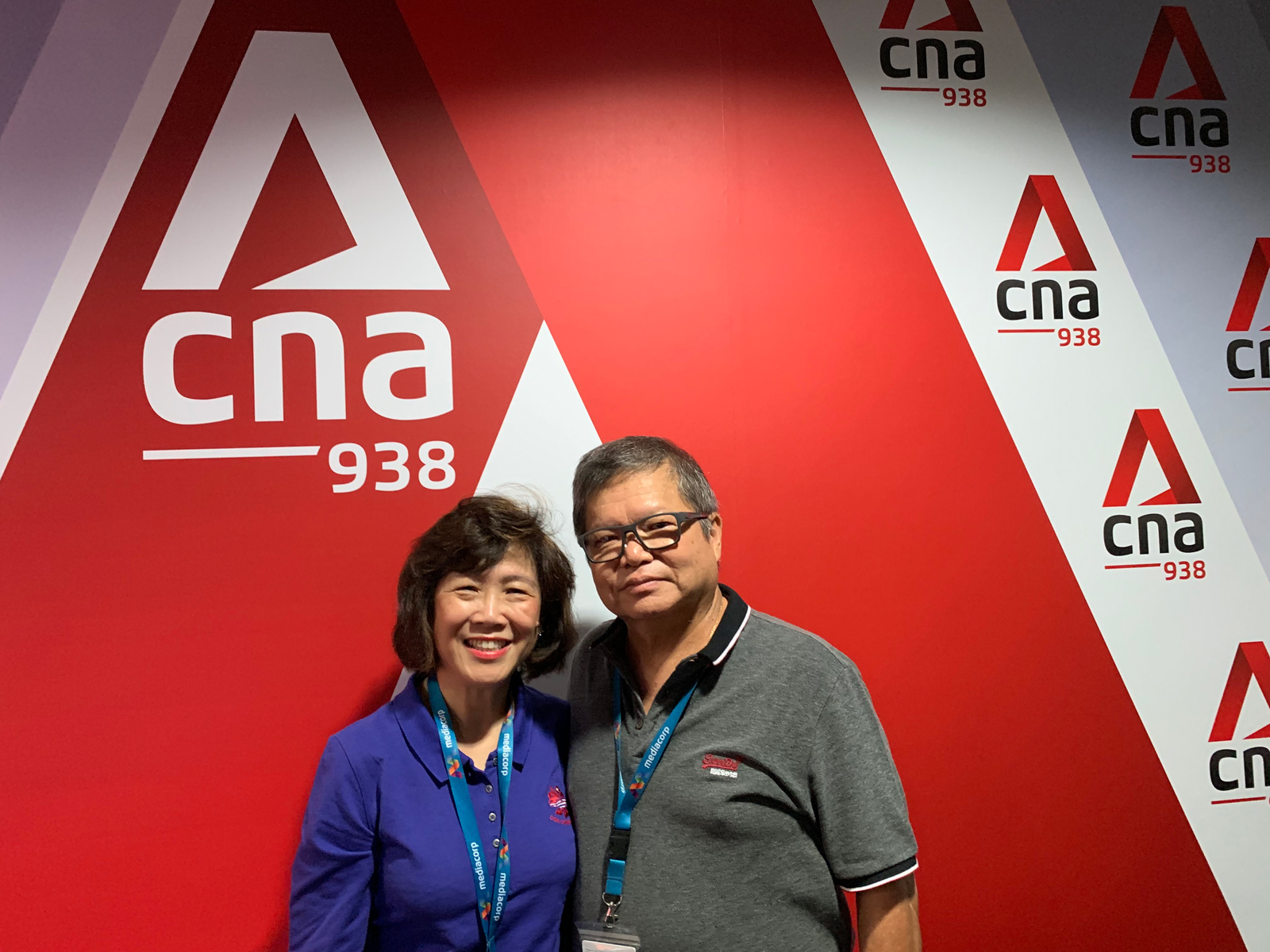 In June 2019, Steven Lau, who has moderate dementia, was invited for a LIVE radio talk-show with his wife, Wong Lai Quen. The couple shared about living their lives despite dementia, an experience that was eye-opening for them.
"Despite dementia, my husband is still the same. He is independent and still has his sense of humour although he needs reminding and assistance with dates and commitments. He believes having dementia is not the end of life and is blessed with loving, patient, and understanding family members. By taking the first step to speak up, I hope it encourages other families to do the same. Like a ripple effect, one day we will be able to reduce the stigma on dementia and make a positive impact for those living with this condition," Lai Quen shares.
If you and your loved ones would like to step up and join the Voices for Hope programme, write to Ruth Wong at

[email protected]

.