In order to make important healthcare and financial decisions for someone who has lost their mental capacity, it's important to begin the process of applying for a Lasting Power Of Attorney (LPA) early. Here's how, and what you can do if a loved one has lost their mental capacity before they were able to successfully apply for an LPA.
Planning for the future by saving up and buying insurance is par for the course for many of us. It's something that only makes sense if you want to be prepared for a rainy day, and can potentially save our loved ones from too much inconvenience should something occur that results in us needing extra medical care.
Having said that, not all of us are aware that we should also plan for the possibility that we lose our mental capacity. You might assume that your family members will naturally be able to make important medical or financial decisions for you, but did you know that this right is not automatically given by the state? This can make it challenging for your loved ones to make otherwise simple decisions for your healthcare and finances, whether it's opting for a new treatment or selling your house.
This makes starting conversations about future arrangements for when they no longer have mental capacity important, especially for those with early-stage dementia, or before any issues even occur. With the number of people living with dementia in Singapore expected to increase, it's important that we be aware of how we can protect our interests in the event we no longer have the mental capacity to make decisions.
The Power To Make Decisions
If you wish to appoint someone to manage your affairs should you lose your mental capacity, you'll need to apply for a Lasting Power of Attorney (LPA).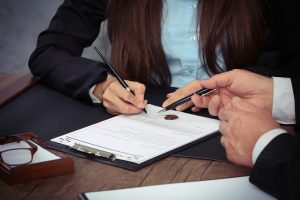 An LPA is a legal document that allows you (the donor) to appoint an individual (the donee) to act on your behalf. You will need to be at least 21 years old before you make the application, and you must have the mental capacity to make this application. Do note that if you're applying your LPA for property and affairs matters, you will need to ensure that you're not an undischarged bankrupt.
Since 1 Aug 2019, changes introduced have made the process of applying for an LPA to be faster and easier, with the mandatory waiting period halved from six weeks to three. An online portal has also been set up that allows people to access their registered LPA electronically, although this only applies to LPAs received from 1 Aug onwards, and the submission still has to be done through a physical copy.
When making your application, you'll need to start by deciding between LPA Form 1 or LPA Form 2. LPA Form 1 grants general and wide powers to your donees with regular restrictions, and has basic conditions and restrictions listed as checkboxes on the form, which you can complete on your own. LPA Form 2, which allows you to grant customised powers to your donees, includes free text spaces; you'll need to engage a lawyer to draft Form 2.
Typically, it's recommended to not have more than 2 donees, as the decision-making process might be hindered if too many people are involved. However, should you need more than 2 donees, it's recommended that you use LPA Form 2.
Your LPA will not be activated automatically after application; as this document is designed to protect your interests in the event that you lack mental capacity, you will need a medical report certifying that you are incapable of taking care of your own affairs to activate your LPA. Once the LPA has been activated, your donees will be able to use your LPA when acting on your behalf. Different organisations might require other documents to verify the LPA, and your donee will need to contact them to clarify the necessary documents.
Losing Mental Capacity Without An LPA
In the event that your family member is in a later stage of dementia and is not certified to have the mental capacity to apply for an LPA, you will need to apply to Court to be their deputy in order to be authorised to make decisions and act on your loved one's behalf. This process will take a longer time to complete and will cost more, but is an alternative if you do not already have a valid LPA.
For orders involving a use of monies of up to $60,000, or matters listed in Annex A of the Family Justice Courts' Quick Reference Guide, you will be able to apply using the simplified filing track. Otherwise, you will need to go through the regular filing track.
Once you've filed your application, the court will review your case before calling you to court for the hearing of your application. On the simplified filing track, this can happen within three weeks of the application date; for those on the regular filing track, expect the process to take between four to six months on average.