Witnessed by Guest-of-Honour (GOH), Mr Masagos Zulkifli, a Memorandum of Understanding (MOU) was inked between AIC and Dementia Singapore to enhance efforts in meeting the needs of those living with dementia.  (From left) Mr Jason Foo, CEO of Dementia Singapore, Mr Masagos Zulkifli, Minister for Social and Family Development and Second Minister for Health, and Mr Tan Kwang Cheak, CEO of AIC
On 20 November 2022, the Agency for Integrated Care (AIC) launched the national campaign, the #DementiaFriendlySG movement. The launch event received great support from individuals (including persons with dementia), corporate and community partners. To cement its commitment, a strategic partnership with Dementia Singapore was also formalised to spur collaborations and explore efforts to meet the needs of people with dementia and their families.
Held at Bedok Town Square, GOH Mr Masagos lauded the significance and achievements of the Dementia-Friendly Singapore (DFSG) initiative, which was under the Community Mental Health Masterplan (2016), spearheaded by AIC and Ministry of Health (MOH).
Mr Masagos also highlighted the importance of expanding efforts to prepare for the growing prevalence of dementia and encouraged the nation to support the #DementiaFriendlySG movement to build a more caring and inclusive society!
Mr Tan Kwang Cheak, AIC's CEO emphasised, "As Singapore's population ages, more are expected to have dementia. Through this movement, we hope to inspire and rally more individuals, community partners and corporates to step up and join us in making a difference within the community. Together, we can go a long way in making our nation a place where persons living with dementia are enabled to live independently, and caregivers are well-supported."

More than 200 supermarket outlets listed as Dementia Go-to Points (GTPs)
At the event, it was also announced that local supermarket chains such as NTUC FairPrice and Sheng Shiong have joined the  movement to be listed as dementia GTPs.
Since July 2022, over 1,000 managers and supervisors from NTUC FairPrice and Sheng Siong supermarkets went through the dementia awareness training and GTP briefing conducted by AIC and Dementia Singapore.
Together, over 200 outlets of the two supermarket chains were added as new GTPs, a boon to the existing list of more than 350. These supermarket outlets is the largest group of GTPs island-wide.
Strategic partnership between AIC and Dementia Singapore
As a part of this partnership, both organisations will align core strategies to synergise and maximise efforts in capability building, communications and support for persons living with dementia, as well as their caregivers. At the same time, the two organisations will be co-developing initiatives and networks by engaging key stakeholders to meet emerging needs.
Mr Jason Foo, CEO of Dementia Singapore said, "This partnership with AIC will complement Dementia Singapore's efforts in improving Singapore's capability and capacity for dementia care. Through this collaboration, we will introduce quality services and help shape national policies that will better the lives of those impacted by dementia.
As we continue to engage those living with dementia and their families, Dementia Singapore will endeavour to improve the care models and enable higher care capabilities within the community through close partnerships," he added.
Anyone can be a Dementia Friend!
As part of the #DementiaFriendly Campaign, 13 individuals were showcased in a mini exhibition to demonstrate how each of them have contributed in supporting persons living with dementia and their families. One of the 13 featured individuals was Ms Alison Lim, a dementia self-advocate who is living with young onset dementia.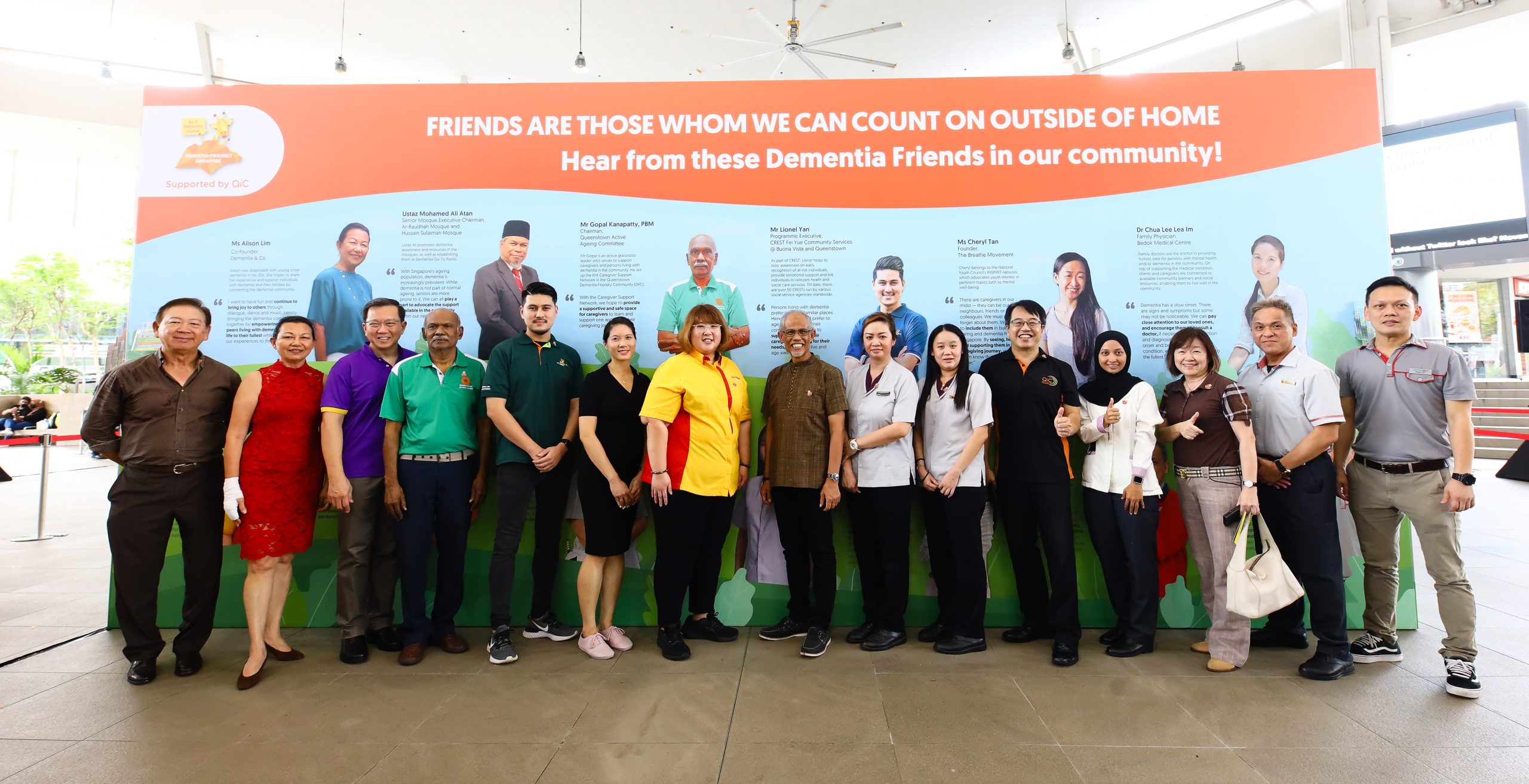 "As a person living with dementia, let's get rid of FEAR. It hinders people from seeking proper diagnosis, creates depression for persons living with dementia and families as they hide at home and stops the society from extending support to the dementia community. I encourage everyone to learn about our different challenges and also their abilities. Persons with dementia have a lot to offer. You will likely have at least one close friend or relative with dementia in your lifetime, so come talk to us and we will be more than happy to share our experiences," Ms Alison encouraged.

Play a Part in the #DementiaFriendlySG movement!
Here are some ways to be part of the #DementiaFriendlySG movement:
Learn more about dementia through the DementiaHub.SG portal
Follow the @DementiaFriendlySingapore Facebook page to be updated on the latest happenings, news and resources; and
Download the CARA app to offer support to those in need.