Dementia Singapore's theme for World Alzheimer's Month (WAM) 2022 was, "Together, there is Hope". Through the series of events and campaigns we ran in September, our goal this year was to encourage people from all walks of life to remember that it is a whole-of-society effort to find various ways to involve, enable, and inspire persons with dementia as they continue to lead meaningful and purposeful lives despite their condition.
Walk2Remember 2022
WAM got off to a great start as we embarked on our annual nationwide virtual steps challenge, Dementia Singapore Walk2Remember 2022. The 21-day virtual steps challenge was organised in collaboration with four of our Partners from the Ang Mo Kio Partners' Network – namely, AMKFSC Community Services, AWWA, Tan Tock Seng Hospital, and TOUCH Community Services. It is also in support of the Dementia Friendly Singapore (DFSG) initiative by the Agency for Integrated Care (AIC). As with previous years' editions, Walk2Remember 2022 was supported by Cerecin.
A physical Walk2Remember Walkathon was also organised at Bishan-Ang Mo Kio Park on 17 September 2022. The event saw some 500 residents from all walks of life coming together in solidarity to support families impacted by dementia. The highlights of the walkathon included the launch of the Community Living Resource (Ang Mo Kio Edition), a fireside chat with a caregiver, a person living with dementia and a social worker, Zumba, a lucky draw, and interactive activities at various information booths.
Culminating on World Alzheimer's Day, 21 September 2022, Walk2Remember 2022 was indeed an encouraging display of solidarity with those impacted by dementia, with a whopping 519 million steps clocked and over 3,500 participants joining in!
As part of this year's challenge, 10 lucky winners walked away with prizes from Fitbit, with 2 participants winning a Fitbit Versa Lite each for clocking in over 200,000 steps and 8 participants winning a Fitbit Charge 4 each for completing the 'Missions' challenge. Another 500 lucky winners who completed 100,000 steps and above also walked away with a limited edition Walk2Remember T-shirt each. A big congratulations to all our winners!
Keppel supports Dementia Singapore with $1 million donation
On 15 September 2022, Keppel Corporation had, through its philanthropic arm, Keppel Care Foundation, pledged $1 million over the next three years to support Dementia Singapore, Singapore's leading social service agency in specialised dementia care.
The partnership was launched on 15 September 2022 by Guest-of-Honour President Halimah Yacob, together with Mr Danny Teoh, Chairman of Keppel Corporation, Mr Loh Chin Hua, CEO of Keppel Corporation, as well as Dr Ang Peng Chye, Chairman of Dementia Singapore, and Mr Jason Foo, CEO of Dementia Singapore, at Dementia Singapore's New Horizon Centre (Toa Payoh).
The donation from Keppel will support Dementia Singapore's various programmes and services to meet the growing demand for dementia care and strengthen the effectiveness of the dementia care ecosystem.
Click here for the full feature on the launch.
#CranesforDementia
This year, Dementia Singapore also introduced '1000 Cranes', our headline campaign for WAM.
According to the ancient Japanese legend of senbazuru, anyone who folds 1000 paper cranes will be granted their deepest desire. This tradition symbolises hope, joy, good fortune, good health, and longevity. The Crane represents our hope for those living with dementia. The goal of our campaign was to bring the nation together for a conversation about dementia, to inspire solidarity with the dementia community, and hope for the future.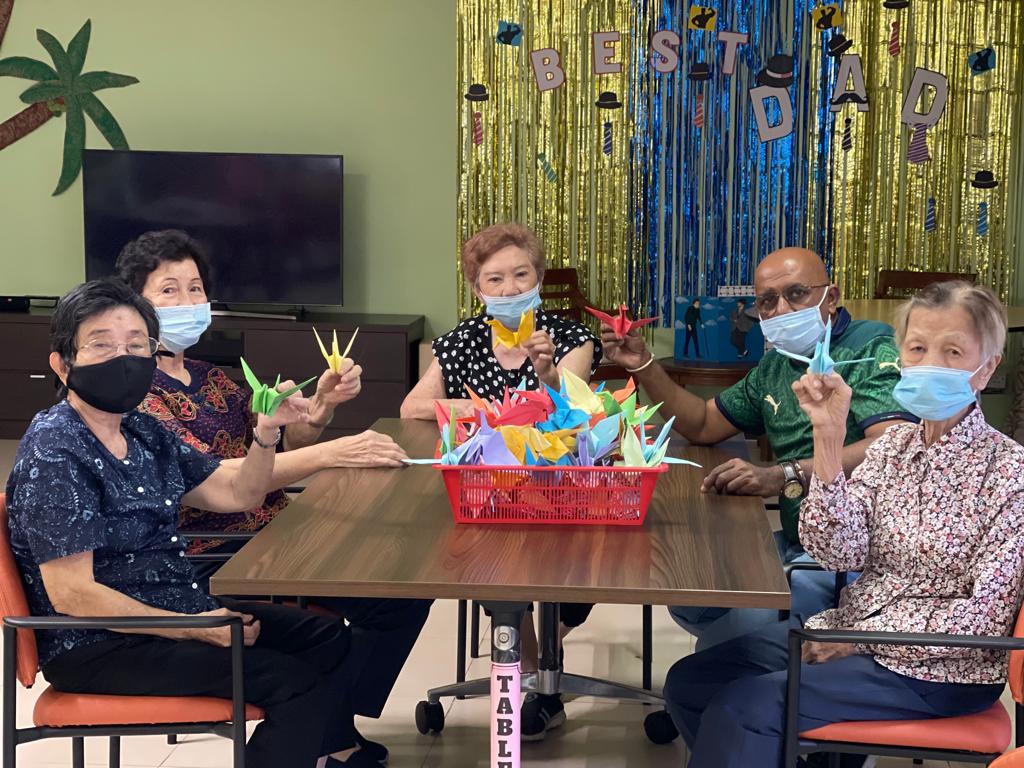 As the first phase of the campaign, Dementia Singapore engaged persons with dementia across Dementia Singapore's programmes in an origami crane-folding activity. With this activity, we aimed to show that despite the condition, they still have the skills to create meaningful and beautiful art. We also encouraged our staff and volunteers to join in, as a symbol of their allyship with our dementia community!
Next, we launched a #1000Cranes online movement, digitalising the senbazuru concept, where members of the public could send their 'Virtual Cranes' – messages of solidarity and love – to the dementia community via our 'Wall of Hope' on our campaign microsite. Click here to read all the inspiring and heartfelt messages!
Lastly, Dementia Singapore embarked on a special short film, '1000 Paper Cranes', to spotlight the profound impact dementia can have on families and celebrate the love and bond they share through their unique journeys.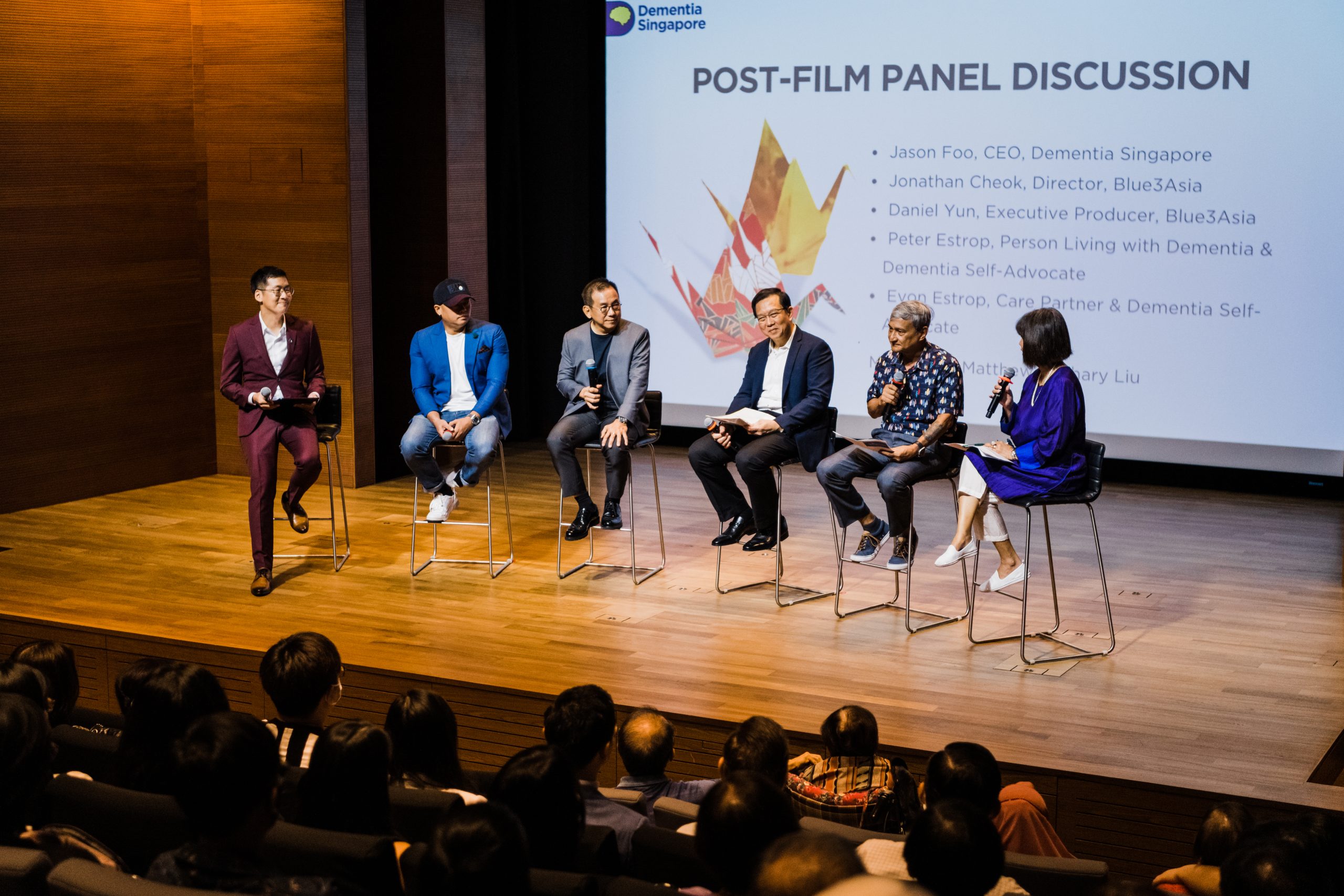 The film was launched on World Alzheimer's Day at National Gallery Singapore to an audience of our clients, caregivers, donors, and volunteers. As part of the event, guests enjoyed a scrumptious brunch and networking session before watching the film and thought-provoking post-film panel discussion with our CEO, Jason Foo, Blue3Asia's Daniel Yun, Executive Producer, and Jonathan Cheok, Director, as well as our inspiring dementia advocates, Peter and Evon Estrop. The event was livestreamed on Dementia Singapore's Facebook LIVE. Watch it here.
To watch the full film, click here.
Shine for Dementia 2022
World Alzheimer's Day culminated on the evening of 21 September with Dementia Singapore's historical light-up of five iconic landmarks dedicated to Singapore's dementia community. Esplanade – Theatres on the Bay, Marina Bay Sands, National Gallery Singapore, Singapore Flyer, and National Stadium painted the central city skyline purple and yellow from 7pm onwards. Purple is the symbolic colour universally associated with dementia, while yellow represents positivity, providing an enlightened contrast to the stigma and negativity often associated with the condition. As with Walk2Remember 2022, the light-up is in support of the DFSG initiative by AIC.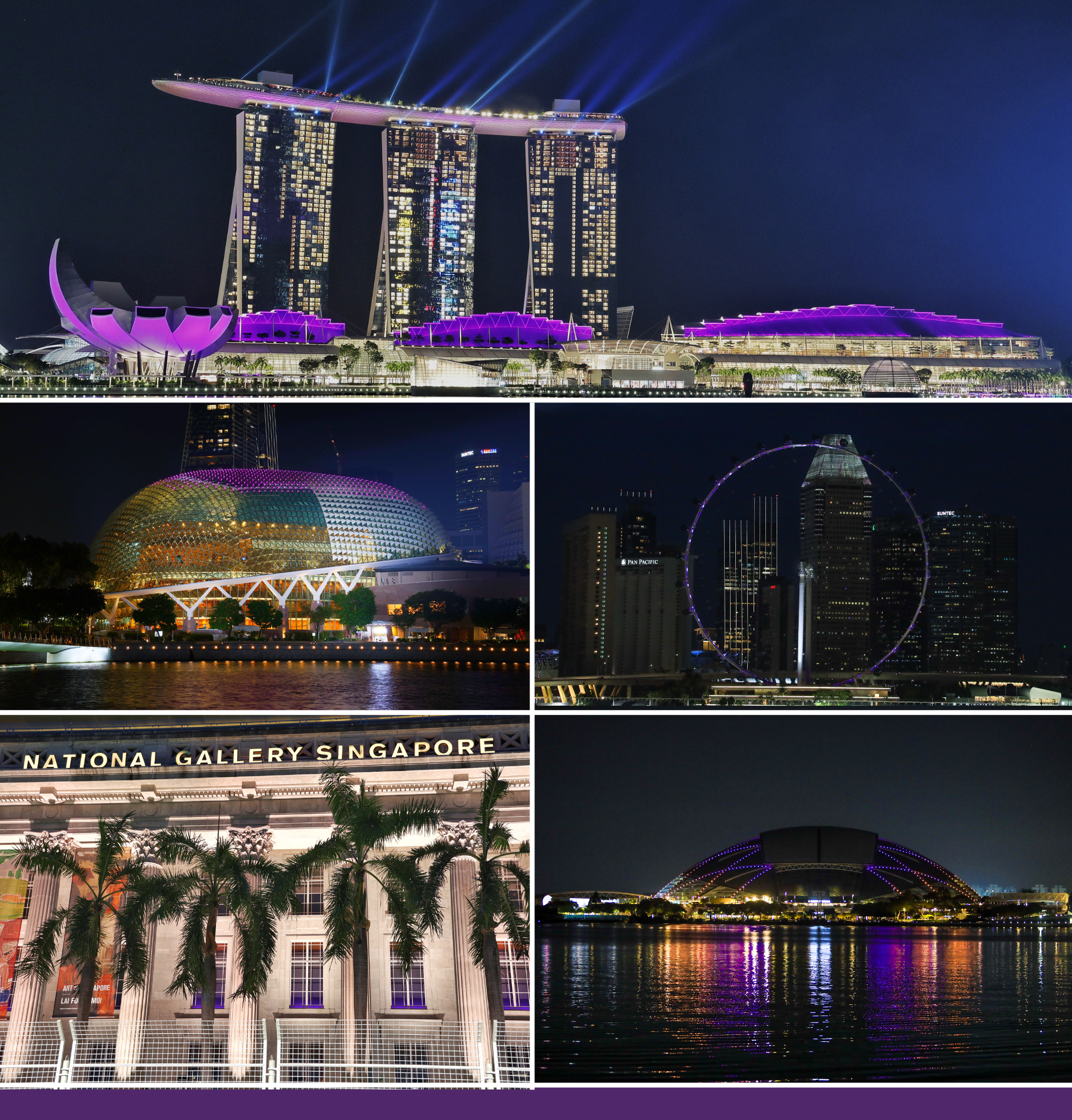 Indeed, WAM 2022 turned out to be an exciting one, filled with campaigns and events that have provided opportunities for our nation to stand with those impacted by dementia as allies. As we close out 2022, we hope to continue encouraging wider communities to join our efforts as we strive towards a dementia-friendly and inclusive Singapore!